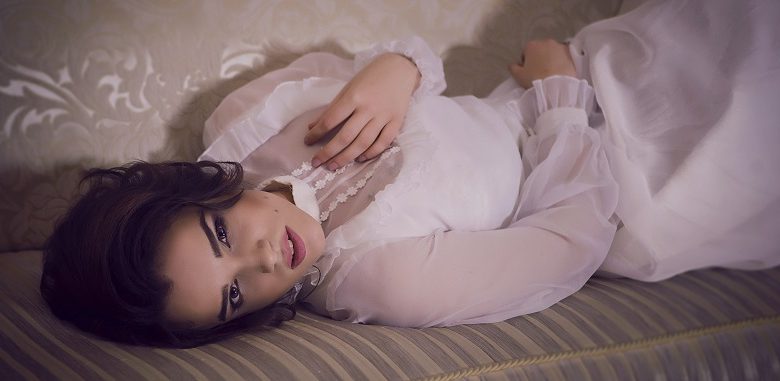 Lifestyle
Alexandra Kutas: meet the disabled model challenging the fashion industry
Alexandra Kutas suffered a spinal cord injury during birth, but she's never let her disability hold back. She is Ukrainian's first disabled model in a wheelchair, and hopes her position can change perceptions of disabled models in the fashion industry.
But it doesn't end there, not only is Alexandra the first disabled model to make a name for herself in Ukraine, she's also campaigning for change to the basic rights of disabled people.
Ukraine is not very accessible for wheelchair users, but Alexandra hopes to change that with the work she is doing in association with the Government. Our feature writer Zubee caught up with her to find out more about her career and her passion for modelling.
Please can you tell Disability Horizons readers a bit about yourself and how you started your career modelling?
I remember the moment I fell in love with the process of photoshoots. It happened the first time I worked with a photographer. I was 16 and relaxing by myself in a café when a girl came up to me and said: "I'm a photographer and I'm amazed by your beauty, could we have a photoshoot together?"
Of course I agreed. Just like every other 16 year old girl, I wanted pretty pictures of myself. But it became much more than that – I loved the process of creating images and working with a photographer. I felt more alive.
So I started to search for information about models with disabilities, and back then there weren't many stories around. But one woman in the public eye, Aimee Mullins, who wears prosthetic legs, truly inspired me.
After seeing her, I decided that there should be models in wheelchairs as well. So I sent my photos to the best modeling agencies, and some of them even replied. But the responses I received said I was very pretty,  but the market is not ready for a model like me.
At the time I decided that I should give it some time and try later, because I had other things I wanted to do. But modeling remained my biggest passion and for many years after that I continued to find photographers whose work I loved and to build my portfolio.
You made your modelling debut last year at Ukraine's fashion week. Can you tell us what the experience was like for you as a disabled model?
I do not even remember how many calls I had to make before I finally found someone who would invite me to come to Ukraine's fashion week as a hostess. Of course, being a hostess was not exactly what I wanted – I wanted to be on the runway. But I thought I could meet people from the fashion world, make connections, so I agreed.
Life is funny though and you never know what it's going to throw at you. On the first day of the fashion week, when I had the highest expectations, I didn't feel like I had any results. But by coincidence I met the photographer Andrey Sarymsakov, with whom I later collaborated with on the biggest exhibition of my life so far: Break your Chains.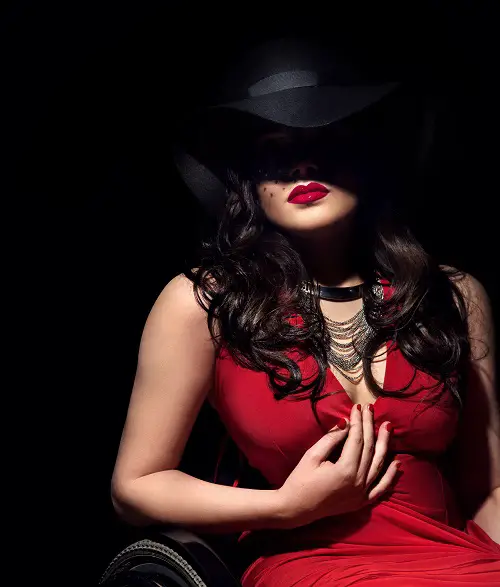 Tell us more about Break your Chains, which aimed to highlight the stigma around disability?
The exhibition Break your Chains, which features images of me literally tied up in chains, has been travelling around Ukraine showing people how we need to break the chains of how people view disability.
I keep getting requests to present it in different cities. I do hope that one day I will be able to take it abroad to show the world, so anyone who is interested feel free to contact me (see details at the bottom of the article).
How do you manage to stay motivated despite modelling agencies refusing to work with you because of your wheelchair?
I just strongly believe that if something is your passion and you are ready to take risks and work hard for it, no disability should stop you. So I just keep going, trying different ways, and I'm sure one day I will find people who think the market is ready for models like me. Also, a new pretty dress and a piece of chocolate (not too much) helps as well 🙂
I understand that you've done some volunteering at a military hospital in Ukraine, which inspired you to advocate for disabled people. Please can you tell us about your experience and what you learnt from it?
I met a lot of injured soldiers who inspired. Despite their difficult circumstances, they always to continue to maintain their dignity.
It was an experience that changed the course of my life. It made me realise that I wanted to do my best to improve accessibility, because everyone should have a full life.
You have developed projects on improving accessibility for disabled people living and working in Ukraine. What are you currently working on and how is it going?
I serve as the first ever adviser to the mayor of Dnipro, Ukraine, on disability and accessibility issues. We are at the very beginning of making a change. I'm writing a strategy at the moment with help of foreign experts and I have identified three immediate priorities for the city:
Encourage businesses to increase accessibility by creating a public accessibility label to be granted to accessible businesses.
Create an online accessibility map and mobile version to identify areas that have the greatest need to improve accessibility, which will in turn improve transparency and accountability. As well as providing a useful recourse for both citizen and tourists, the map will help us to track our progress as we make changes.
Accessibility and disability-related training needs to be conducted in order to build capacity and spread best practices, because the local knowledge base is still developing.
What advice would you give to other disabled people who may wish to go into modelling, but don't know where to go or where to start?

First of all, it's not easy, so only pursue modelling if it's something that drives you. If it's something you cannot imagine living your life without, then find photographers who inspire you and try to inspire them to work with you.
Also try to find your unique style and way of working, because unfortunately a successful, full time model with disabilities is exception than a rule., so you need to stand out and make yourself known for something extraordinary.
Stay passionate, stay hungry, trust yourself and be confident in yourself and in what you are doing. Also, make sure you enjoy the process more than results – it takes only a minute to look at photos, but it can take a year to arrange the photoshoot.
What would you say is the best thing about being a model?
Being able to explore yourself and to show different sides of yourself.
What are your goals/aspirations for the future?
To sign a contact with a brand.
To start my travel show.
To go to London Fashion Week.
To manage accessibility changes in my city.
And finally have a vacation 🙂
By Zubee
You can find out more about Alexandra Kutas by visiting her website, Facebook page and Twitter account, @AlexandraKutas.