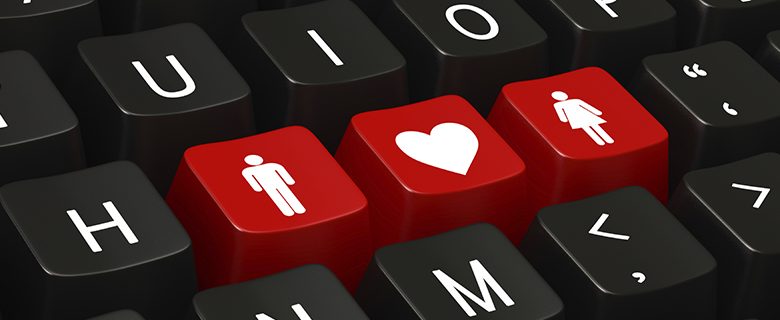 We all know that online dating can be tricky, even before you go on the date. Once you've signed up online, how do you find the right person for you, what is the best way to approach someone, and how should you set up a date that will work for you both? To answer all these questions, we've asked David Miller from disability dating site DisabilityMatch.co.uk, to give tips on the best way to clinch that first date.
So, you've checked out all the disability dating sites, maybe even tried a few free ones before settling on the premium paid-for site you like the best (a lot of people do this). And you've written a witty and interesting profile that's sure to hook you a date – if you haven't, read my last article on writing the best dating profile.
You're now ready to go 'fishing'. So you start to browse the seemingly endless profiles of potential dates. But after a few days this myriad of profiles blur into a mass of photos and usernames. So how do you whittle it down, decide who to approach, and if you do, how should you proceed?
Choose dates wisely
The first thing to bear in mind is that you will be faced with what is known as 'the paradox of choice' – there are seemingly hundreds of profiles that come as matches when you enter your search criteria. So, your first task is to pare down the number of matches to contact.
I would suggest that the first thing to look at is location – you're best to be very specific on the geographical areas you are happy to meet and date in. Disabled dating sites are, by their very nature, populated by singles with mobility problems. So, even if someone looks ideal for you in lots of ways, you might find that meeting up is not practical if you are faced with accessibility issues.
Disability dating sites, including disabilitymatch.co.uk, let you filter matches by physical condition on a handy dropdown menu, so you can decide in advance which challenges you would be comfortable sharing with other members. At this stage you should also be focusing in on suitable age ranges too, although true ages are not always as stated on the profile.
Don't be disheartened
This brings me to another point, which is true of every dating site: just because a profile shows up on a search it does not guarantee that the person still exists or is interested in being approached.   Even the best-tended databases can be out of date, so don't take it personally if you don't hear back from specific members, as they might not even exist.
Similarly, every reputable dating site invests heavily in monitoring for scam profiles, but inevitably some slip through the net. This often results in you getting messages from members that seem 'too good to be true'. Sadly, they usually are.
Be a little cautious on dating sites
Do tread warily if someone enthusiastically suggests moving the discussion off the dating site messaging system onto a public system, such as Yahoo, Microsoft Messenger or similar app. You are safest insisting on corresponding through the dating site until you are sure you want to progress the friendship. A genuine member will understand your caution in these matters.
Messaging someone to get their attention
Once you've chosen your selection of potential dates to email, it's time to consider your opening messages. A great tip is to send a message to someone when you can see they are online. Most sites have this feature and it is worth using. People are more likely to respond if they are actually on the site when you message them.
Avoid cheesy message subjects like 'Hello Beautiful' or 'I'm what you're looking for'. Openers like this get a yawn at best. Use offbeat openers like 'I bet I can guess your favourite TV soap' or 'Quick question for you' are better.
Do read the member's profile carefully to pick up clues you can use when you contact them. On a niche disabled dating site, in particular, you'll have lots of opportunities to send interesting messages. For example, if someone says they like travelling and they are in a wheelchair, you can talk about accessible places to visit for wheelchair users. Be careful not to focus too much on disability though – you don't need to make it the only focus of your conversations.
You can also ask chatty questions about them and their disability. But keep to a maximum of two questions or topics so as not to make your message complicated or confusing, and expand out on those topics.
Focus on their interests and their personality, rather than just on their looks. You want to come across as someone who is actually interested in a meaningful conversation and not just sending a bunch of random emails in the hope of getting lucky.
Before you send your email, do a thorough spell check and make sure it makes sense – you only get one chance to make a first impression.
Arranging a date
Assuming you get back some positive responses from your messages, you'll want to start looking at arranging a meeting. Before you think about actually meeting in the real world though, fix a phone or Skype chat. That way you can both see you're who you say you are, and can start to build more of a rapour. It is not wise to be pushy at this stage, let the opportunities for meeting face-to-face develop naturally.
It also makes good sense before meeting to move from the dating site to a Facebook friendship to give a bit more social context to your relationship. You might find you have friends in common or belong to similar support groups, which could lead to natural first dates.
Where to go on your date
From your previous conversations, it may be obvious what your date would like to do for a first meeting. For example, if they've said they can't wait to see the new Bond film, you can be pretty sure a cinema date would go down well. But if not, there's nothing wrong with asking a few questions.
Keep in mind that your first date doesn't have to be elaborate. TV shows like The Undateables give a very unrealistic idea of what dating should be about. A quiet drink in a mutually convenient pub, or a morning muffin at your local Starbucks, is a good icebreaker and lets you escape quickly if the chemistry isn't there.
Also, it's key to make sure you're both going to be able to get to the date easily and be comfortable on it. There's no harm in being up front about your requirements and asking theirs.
Be specific too – if they have a hearing impairment, for example, would a quiet park be better than a bar? Just make sure you're not pushy when it comes to asking questions – some people don't want to share too much.
It's worth taking a look at sites listing accessible venues, such as Blue Badge Style. If you have all the information you need and have agreed the meeting place, you'll both be able to focus on getting to know each other better, not where the nearest accessible loo is.
Whatever happens, don't beat yourself up if it takes a while to find 'the one'. Online dating is not a science and the element of luck is a very important factor. So relax and browse the profiles, new members sign up every day so you never know what tomorrow may bring.
By David Miller, DisabilityMatch.co.uk
Check out…
Have you tried online dating? We'd love to hear your story. Get in touch by messaging us on Facebook, tweeting us @DHorizons, emailing us at editor@disabilityhorizons.com or leaving your comments below.