Lifestyle
Disability and fashion: inclusive catwalk breaking boundaries
Last month Disability Horizons' fashion guru Alicia Searcy, also known as the Spashionista, ran Nashville's first ever inclusive fashion show with models of all abilities. She was making a point – that disabled people are no different to anyone else when it comes to fashion.
Fashion is for everybody
Being disabled doesn't mean we want to live in a segregated world; that we want to be separate from the rest of society. And I'm not just talking about bigger issues here, such as access to buildings or equal opportunities. I'm talking about the day-to-day things too. And one key element of everyday life we all partake in and use to express ourselves is the way we dress. Just because we may require specialised clothing or alterations, our fashion sense is no less than that of anyone else.
It's just the same as men and women who don't conform to the stereotypical 'model' size, shape or even age. They still want to be included in the conversations about style, to be considered by designers and boutiques as they create and sell their latest collections.
Most of us fall into at least one of these categories, so all of us matter. Fashion is for everybody.
So, to prove this statement is true, last month I co-produced and modeled in Nashville's first inclusive runway show. It featured men and women of all ages, shapes, sizes and abilities, wearing designs by 11 of the region's best designers and vintage boutiques.
The show took place at abrasive Media, an artists' studio and events venue in Nashville. Twenty models walked/rolled five runway segments wearing clothing from local designers, many of whom had previously shown collections at Nashville, New York and Austin Fashion Weeks.
Local designers Templar, Catland Forever Couture, Amanda Valentine, Eric Adler, Ola Mai and Black by Maria Silver showed some of their iconic Nashville fashion. Clothing from Pura Vida Vintage and Opium Vintage was also featured, and adaptive jeans company Alter Ur Ego presented its debut collection.
Models ranged in age from 18 to 50+, and from sizes 00 to 20. Those with physical disabilities shared the same runway as their able-bodied colleagues.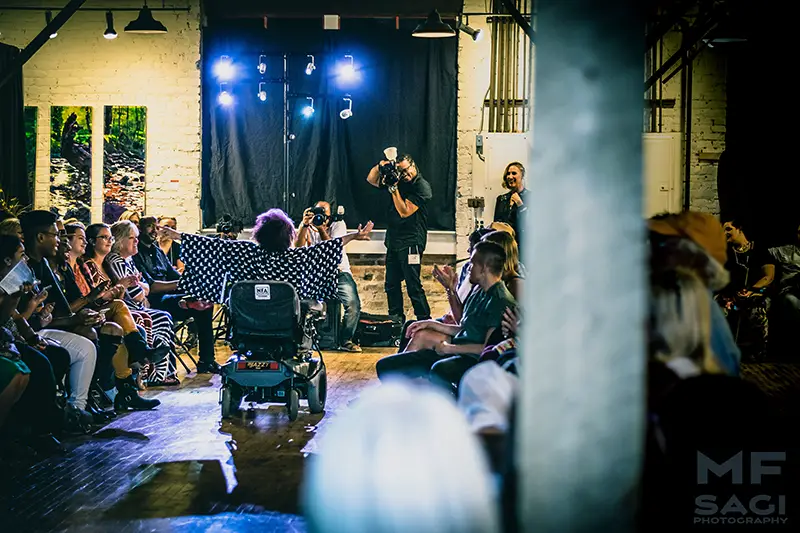 Kimmie Jones, model, PR Director and author of That Girl in the Wheelchair said; "Of course, I had that shared fear that people would see it through a condescending lens of 'isn't it precious. Look at those wheelchairs pretending to models. They think they're really doin' it.'
But I knew, after meeting the folks on board, that this was as legit as it gets. It was neat to see a six-foot-tall fashion-week pro walk the same runway as a wheelchair user who had never done this before, and who wasn't actually walking."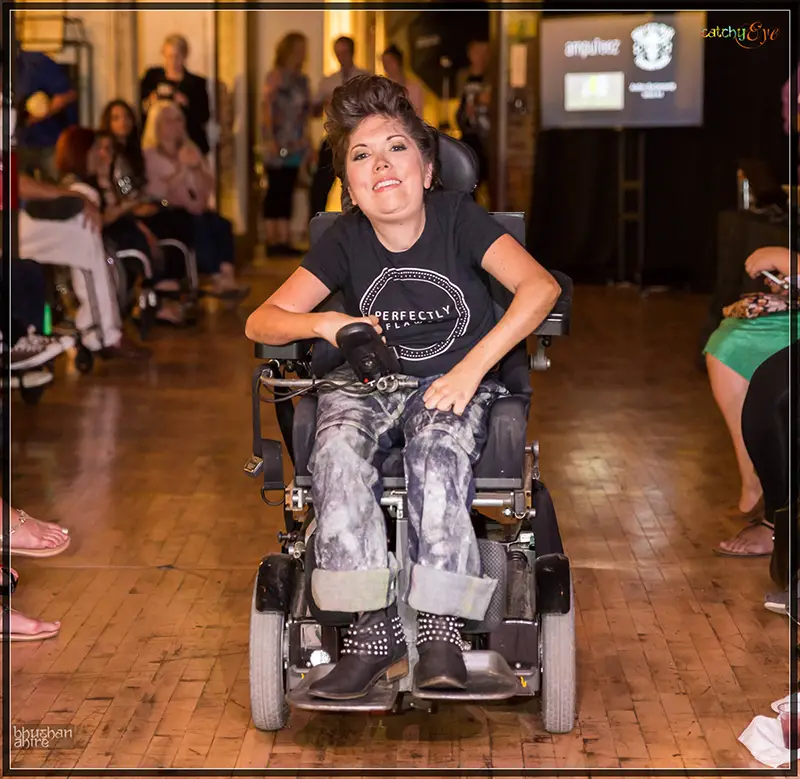 In order to accommodate the amount of time needed for wardrobe changes between segments, we also created a documentary-style series of interviews, which played during the breaks. These showed models and designers' views on their contribution to fashion and inclusion in today's Nashville.
At the core of it all was the inspiration and ultimate impetus for the show – David Bowie. A paragon of fashion, style, and self-acceptance for me, Bowie's death was a wake-up call that I needed to stop dreaming about this inclusive catwalk idea and make it a reality.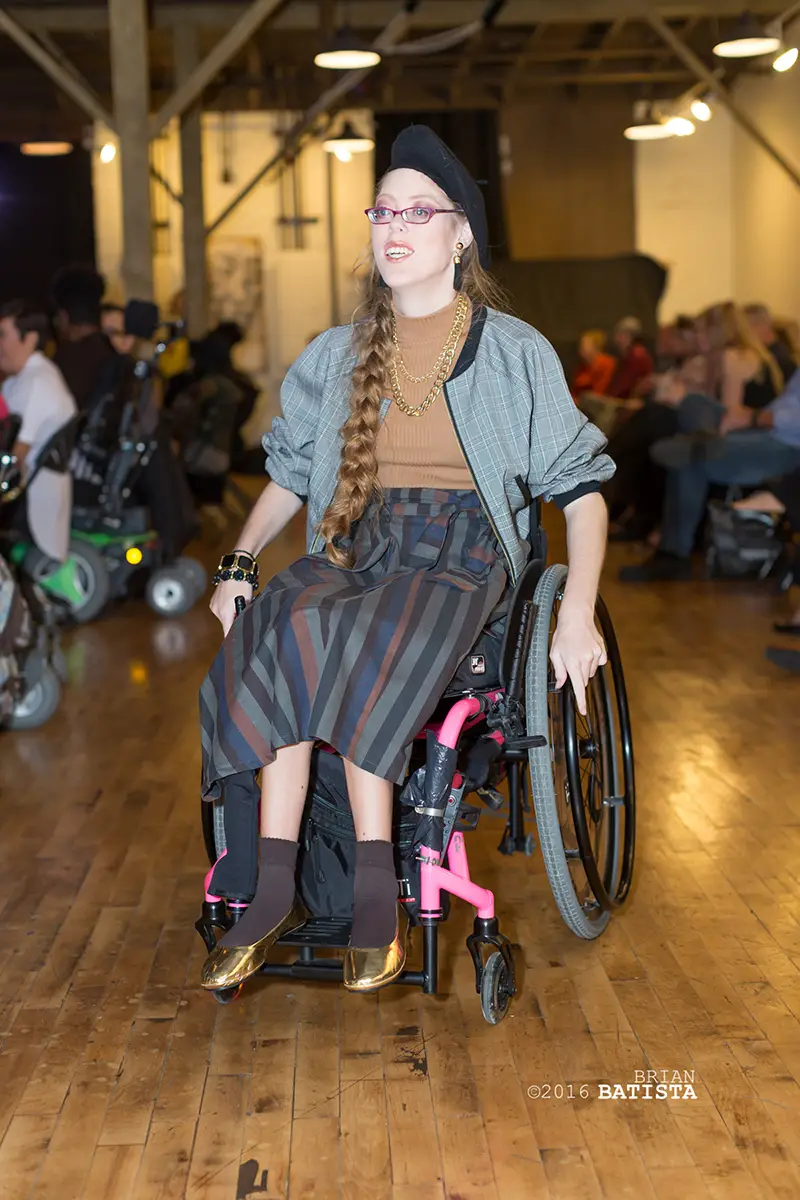 This was by no means a lone effort. Indeed, if you count the crowd-funding element, publicity, hair stylists, make-up artists, wardrobe stylists, photographers, disabled parking co-ordinators and other volunteers, we had the support of more than 100 people. We also sold out the venue four days before the actual show, and ended up with a standing room only audience.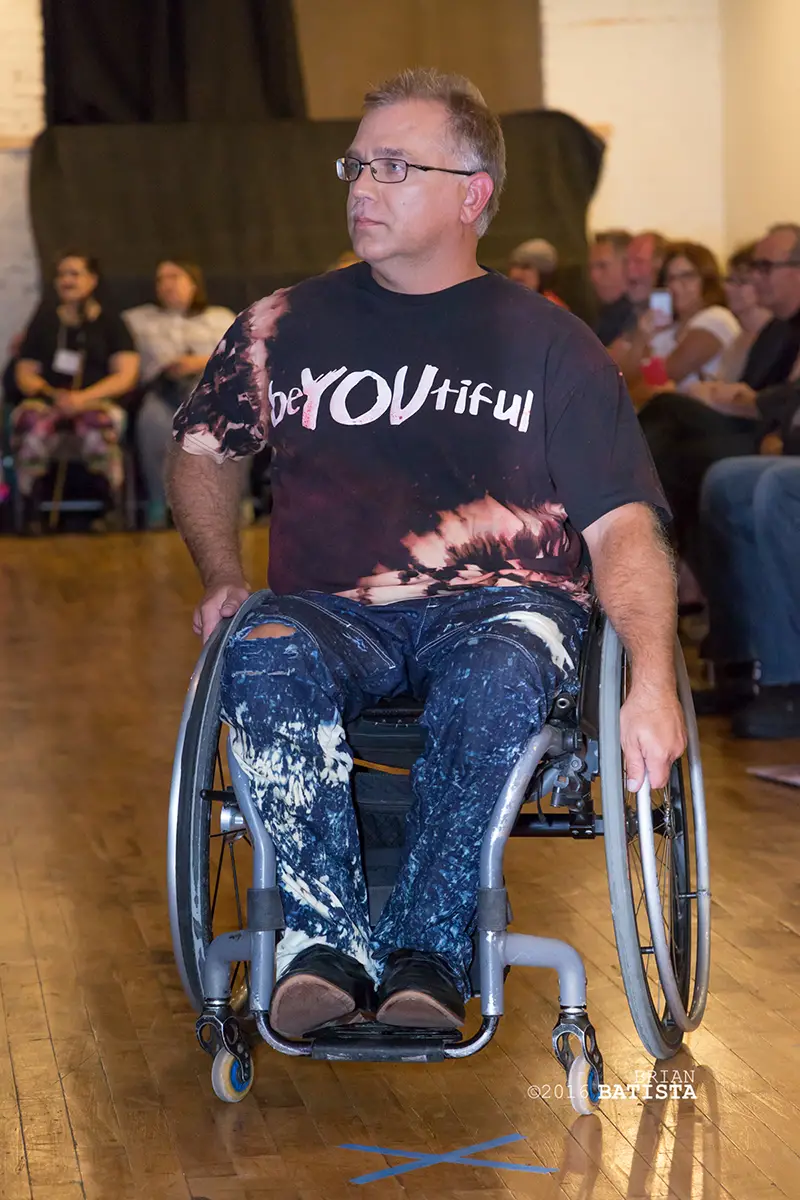 There were six wheelchairs on the runway and eight in the audience. The venue was a renovated turn-of-the-century factory with limited disabled parking, which required special attention on our part. It was important to me that our disabled guests had the same experience as our able-bodied audience members, so I was pleased to receive the below email from one of the guests:
"I just wanted to thank you for a great experience last night. I fit into several of the categories of models who were represented (middle-aged, plus-sized, and in a wheelchair), so it was incredibly refreshing to see them all rock the runway.
And they did rock it!
I also want to express my appreciation for the conscientiousness of the staff. To tell you the truth, I was operating as I normally do – just planning to scout things out myself and figure out any possible work around to any problems that may have arisen.
Chelsie [the venue's wheelchair-accessibility volunteer] surprised me by reaching out and asking if I had any needs for accommodation and/or other questions. She answered the ones I had, which gave me peace of mind. My husband and I were able to just come and enjoy ourselves.
When the announcement was made that the caterer had disappeared [she never showed up, and we had to file a complaint with PayPal to get our money back] we were cool with that. We figured we'd just eat after it was over. With so much going on, it must've been a real scramble to go find food for that many people, so I want to show appreciation for whoever did that.
Thank you all for your hard work. Please continue doing what you do."
There is no better validation for me than those words. They're proof that, with a lot of help and support, I delivered exactly what I promised – and I am going to continue to do so. 'Fashion is for Every Body' will be turned into a non-profit organisation that will promote body positivity and inclusion in fashion. Just watch this space…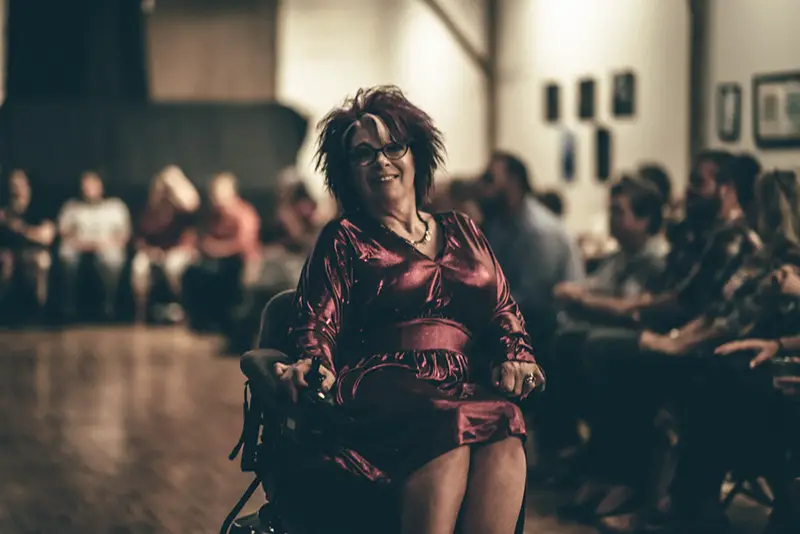 By Alicia Searcy
Check out…
We'd love to hear your fashion tips and to see you're fashion pictures. Get in touch by messaging us on Facebook or tweeting us @DHorizons and @Spashionista.