Tourism is for Everybody is a campaign aimed at encouraging individuals, businesses and policy makers to work together to deliver a warmer welcome for ALL visitors, no matter what their disability. Charity Tourism for All, who is running the campaign, tells us what it means for disabled people and how you can get involved.
The campaign Tourism is for Everbody is not just about installing accessible facilities. It is about understanding, awareness and respect. Disabled individuals, tourism businesses and policymakers, can all get involved in spreading the word and improving the experience of disabled travellers and tourists in the UK.
Through this campaign, we're broadening society's understanding of exactly what 'accessible tourism' looks like – how it feels, how we measure it and what it really means to disabled people.
We're also listening to real experiences and sharing advice. We're helping tourism businesses ensure a positive experience for every individual. Everybody can be part of this conversation.
We're asking travel and tourism businesses who agree to display our campaign badge to houour nine commitments. More than 50 businesses have already signed up.
Accessible tourism commitments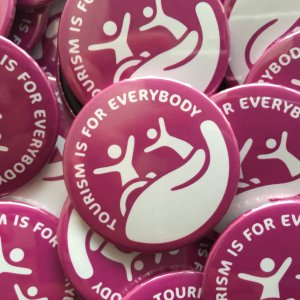 1. We recognise equality
We recognise that everybody, including disabled and less able visitors, has the right to enjoy all aspects of tourism and travel. We work to promote and support this.
2. We welcome all customers
We make it our priority to meet customers' individual needs through personal attention. We aim to provide the same high quality levels of service for everybody.
3. We train and empower our staff
We train our staff in disability awareness as well as customer service and strive to meet the needs of everybody to ensure an enjoyable and rewarding travel experience.
4. We provide access information
We have completed an Access Statement, which we will keep up to date. It is available to everybody through our website and through other channels.
4. We seek an inclusive environment
We are committed to planning and carrying out improvements to our infrastructure, products, services and information. We aim to use a 'design-for-all' approach, in order to remove or minimise access barriers.
5. We have an Access Champion
We have appointed a member of staff to be our Access Champion. They will:
ensure that we comply with Disability and Equality regulations;
be a contact point for disabled customers;
co-ordinate our staff disability awareness training;
maintain our Access statement;
review the accessibility of our infrastructure, products, services and information;
evaluate and follow up on customers' comments and complaints.
6. We monitor our performance
We monitor our customer service standards through our feedback systems. We evaluate all comments and complaints received from customers and seek always to resolve issues promptly and fully. Our Access Champion evaluates and responds to comments and complaints that relate specifically to the accessibility of our infrastructure, products, services and information.
7. We expect high standards of our suppliers
We strive to only work with suppliers who recognise and respect the principles contained in our Code of Practice. Their performance and reputation are of paramount importance.
8. We act responsibly
We regard accurate and helpful information, good access for all visitors and the employment of enthusiastic and helpful staff, regardless of race, gender or ability, as being part of our wider social responsibility.
Businesses that have joined Tourism is for Everybody
The Royal Yacht Britannia aims to be as accessible as possible. It has an online access statement addressing all types of impairment and tablets with British Sign Language are available on the Britannia tour. It actively requests feedback from disabled visitors, and has been assessed for access by VisitScotland.
Sandcastle Waterpark is proud to be an accessible venue that works with each individual to ensure the best day out possible. It encourages visitors to discuss individual requirements, and has members of staff who are Accessible Ambassadors, specifically trained in welcoming and assisting disabled visitors. The waterpark also has a dedicated accessibility section on it's website, with a wealth of information available.
Dorsett Shepherds Bush welcomes people with disabilities and has developed an access statement to address some of the more common issues that disabled people face. It caters for guests with any impairment, including mobility, sight, hearing, learning disabilities or any hidden impairment. The hotel understands that every guest has different needs and is committed to ensuring that hotel facilities are accessible to all guests and associates equally.
Croft Bungalow is a level access bungalow and has recently been converted to be fully accessible. It has hard floors, wide doorways, a wheelchair ramp, wetroom and a visually impaired friendly paint scheme.
Outside is private parking and large flat slabbed areas at the front and rear. The back is a beautiful suntrap retreat with a picnic table, barbeque and stunning views over the Peak District countryside. Croft Bungalow's website has an access statement, brochure and video available.
Join the conversation
Free Tourism is for Everybody toolkits are available for individuals and businesses. Sign up on our dedicated website www.tourismisforeverybody.org, where you'll also find a helpful section for people looking for advice on stress-free travelling.
Individuals and businesses can also get involved on social media by following @TI4Einfo on Twitter using the hashtag #togetherweareable, where you can share stories of good practice. There is also a dedicated Tourism is for Everybody Facebook page.
By Tourism for All
We'll be tweeting our support of the Tourism for Everybody campaign, so follow our tweets and tell us your opinion @DHorizons.
Check out…