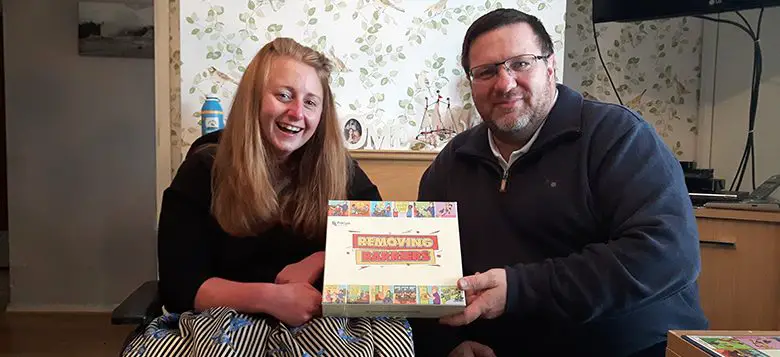 We all know that being disabled means life comes with barriers. But how much do people who aren't disabled know about the challenges we face? To ensure they're educated, social entrepreneur Toyah Wordsworth has developed an inventive the board game, Removing Barriers. Here's her story…
My life so far has been a multitude of experiences: some amazing times, but also much pain and trauma. But I can now say that I look forward to my future.
From the age of 8, my life began to change forever. My walking and balance began to deteriorate – I wasn't walking straight and kept falling over and banging into things. It took two years to be sent for a brain scan, and it wasn't until I was 13 that I was diagnosed with Friedreich's Ataxia, a rare genetic disease that affects balance, co-ordination and speech.
After that, my symptoms became more pronounced. As a teenager, I felt despair, no hope and had a grim vision of my future. I went to the lowest place possible with no fight left in me.
But fight I did. I realised that this disease wasn't going to beat me – I was going to live my life and turn my pain and suffering into something positive.
Living life undeterred
By 19, I was permanently using a wheelchair. This was when I started to recognise the barriers that disabled people have to face every day of their lives, just because they're disabled. Not only that, but I also realised that it is society that creates disability – it's just not set up to accept disabled people.
This inadvertently led me to my career. Although I'd experienced a lot of rejection while looking for a job, I began working for a charity, where I started holding disability training workshops for corporations and government organisations, educating employers and their staff.
I also started mentoring other disabled people through voluntary work. By this time, my condition had become more aggressive, so I'd employed a personal assistant to support me.
All these new experiences were invaluable – they raised my self-esteem, and encouraged me to study for a City & Guilds Teaching Certificate and a post-graduate certificate in Disability Studies.
Starting my own business
I felt it was time to start my own enterprise, Equal Equality, which delivers disability equality training. This got me thinking – what kind of disability education was needed for different types of organisations, such as schools. I knew children might struggle to concentrate on me speaking to them for an hour, and so an idea formed in my head – how about I create a board game that could be used to educate and inspire a wide variety of people about disability?
I gathered information and used my own experiences to create a fun and interactive game – and so the Removing Barriers board game was born. It had instant success in my Disability Equality Training workshops. People loved it!
I continued to change and improve it based on feedback and, in 2008, a Princes Trust Award meant I could have a professional copy printed, featuring cartoon artwork by Dave Lupton from Crippen Cartoons.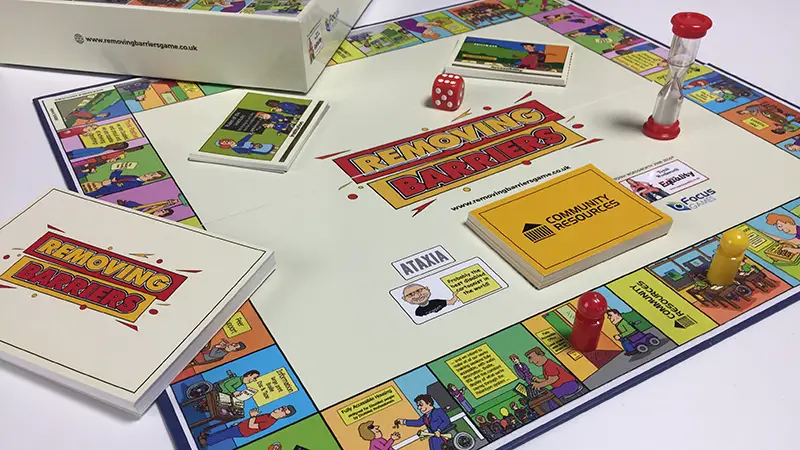 This recognition and success made me realise just how valuable it could be to a much wider audience. So, I started work on making the game available to everyone, not just those attending my training courses. I first of all secured funding from Unlimited Awards, which offers money to social enterprises.
Though this, I partnered with Focus Games Ltd, which has more than 12 years of experience in developing board games for training, learning and education, and has produced more than 40 educational games.
The team at Focus Games used their experience to refine the game, and I'm delighted that it is now available for any individual or organisation to buy online (see details at the bottom of the article).
Barriers are often overlooked simply because people don't realise they exist. The Removing Barriers game helps organisations, in any sector, to think about the issues disabled people might face when accessing their service, and what they can do to remove them.
Developing the Removing Barriers game gave me back my passion for life. It took me a long time to accept my disorder, and to feel part of a society that has marginalised me. But this is mainly due to a lack of understanding.
My vision has always been, and will always be, to educate as many people as possible about disability. I want people to understand it better, and I want to spread awareness to as many people as possible. The Removing Barriers game is my way of doing this.
My dream is for as many people as possible to play the game and take what they've learned into their own life, so they can play a part in removing barriers for disabled people.
Visit the Removing Barriers board game website to learn more and to buy the game, and follow Removing Barriers on Twitter @BarriersGame.
By Toyah Wordsworth
Get in touch by messaging us on Facebook, tweeting us @DHorizons, emailing us at editor@disabilityhorizons.com or leaving your comments below.