London is a bustling city filled with culture, history and entertainment for all ages. But how easy is it to navigate if you're disabled? We talk to Dom from assist-Mi, an app designed to help disabled people get around more easily, for advice on what new assistive apps are available to help you enjoy this great city.
My name is Dom and I have Brittle Bones, otherwise known as Osteogenesis Imperfecta. It means that I am of short stature and always use a powered wheelchair to get about.
I've been commuting into London now for approximately 10 years and, in that time, I have had my share of shockingly horrible experiences. I've been dropped off by taxis in the bitter cold outside unmanned stations where there are no staff. I've battled through packed stations with broken lifts and mountainous flights of stairs. I've been left unable to get off at my desired train station due to an assortment of errors, and then had to find an alternative route home. I sometimes feel like these experiences should be worn as a badge of honour!
There is a huge array of problems disabled people face when trying to get around the capital, from cabs that don't have wheelchair access to venues with steep steps to climb. But there is also now a whole host of apps and services available to make travelling around London easier. Here, we round up some of the best…
Accessible taxis in the capital
One of the best inventions to hit London cabbies since the birth of the smartphone is apps to book taxis. No longer do you have to sit idly by the side of the road waiting for a taxi, which will, in many cases, just drive straight past. Now you can book one whilst still at the venue or attraction you're visiting. Once you do, all you'll need to do is wait in the warm for a notification to tell you that the taxi is ready and waiting for you outside.
One example is Gett. It offers instant access to 10,000 fully-accessible black cabs in the capital. It also allows you to book wheelchair-accessible vehicles in a whole host of other cities across the UK with just a couple of clicks on your smartphone. It also allows you to see when the cab on its way and track its progress in real time.
An alternative to Gett is Uber. It's recently unveiled its UberACCESS vehicles, which are accessible for wheelchair users. It has fewer taxis in the capital kitted up for assistance, but Uber taxis are a potentially cheaper alternative to metered ones, especially on longer journeys.
London buses
London's buses are completely accessible and, although there have been some difficulties and high-profile law suits around the rights of wheelchair passengers, they continue to be an amazing way to get from A to B for many.
Now, with apps such as Bus Checker and even Google Maps, you can find your nearest bus stops, when the next one will arrive and plan the most efficient routes all in real time. All you need to do is enter your desired bus route, and/or destination, and the timetable of buses and their proximity to you will appear. So if three buses to come along at the same time, at least you know about it in advance!
Wayfinder
The Wayfindr app is a concept that 10 years ago would have seemed impossible. But as technology has developed, so have the most amazing solutions to some of life's problems.
The app uses beacon technology to help those that are visually impaired navigate their way around the London transport network with audio navigational instructions. For example, using the Wayfinder app, someone could travel from one underground station to another solely using the audio instructions, triggered by beacons, in the app.
Currently operational on the London Underground network, the app is a joint venture between Ustwo and the RNSB, who have developed the app in such a way that the technology will hopefully start to crop up all over the UK, not just on the transport network in London.
Please Offer Me a Seat badge
Sometimes the simplest solutions can be the most effective. After successful trials in 2016, Tfl has now launched a Please Offer Me a seat badge. It's designed for people with hidden disabilities or impairments who don't look like they need a seat, for example because they don't have a walking stick, but could greatly benefit from sitting when on public transport.
The badge and card can be used on all Tfl services: London Underground and Overground, Rail, Buses, DLR, Trams and River Services.
Assist-Mi app
Assist-Mi looks to revolutionise the way disabled people can get the assistance they need when accessing goods and service out and about, with the help they need being ready and waiting on their arrival.
With the assist-Mi app you can simply search a destination from across the UK and make a request for the assistance you may need on arrival. This could include being met at your car for assistance with your bags, being greeted at a front door to help get into the building, or signposted to the nearest disabled toilet.
You'll be notified that the service provider has seen and accepted the request, allowing you to head on your way with the peace of mind that someone will be ready and waiting for you when you get there.
The app also includes accessibility info about the venues, such as whether it has level access or disabled parking, as well as contact details for places and directions to them.
The app is totally free to download and works on both Apple and Android phones.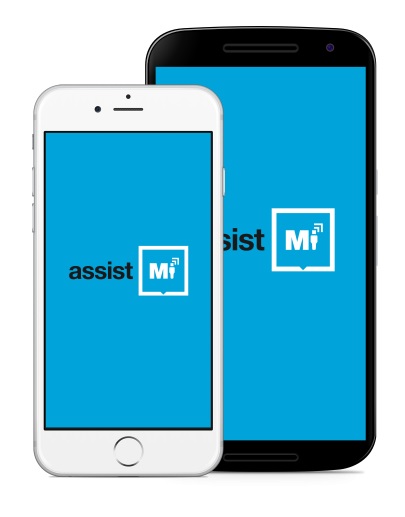 We are currently looking to expand the app. We're working on projects across a number of sectors including fuel, rail and retail. We hope that, with these updates, disabled people will be able to turn up at a petrol station and there will be someone ready and waiting to help fill them up. We also want those travelling on trains to be able to use the assist-Mi app to book assistance there and then, instead of having to book 24 hours in advance. And, if they're going to the supermarket, they know before they turn up that there will be someone ready to help them around the store and carry their bags to the car.
But for now, please download the app and suggest places you would like to see it included. We will keep you updated as and when all the developments we have in the pipeline go live!
Similarly, if you want to help us trail the solution, send us an email at trials@assist-Mi.com.
Keep calm and carry on
Although these great tools exist, I'm under no illusion that the transport system is perfect. With so many challenges still to overcome, one huge dose of composure, determination and patience are often what can see you through a tough journey!
Wherever possible, I find informing the related operator or service provider of the problems I have faced ultimately helps to change procedures and attitudes around access. Although it can be a frustrating use of your time, hopefully, it saves more frustration for you and others in the same situation in the future.
Do you have any tips for commuting in London? What apps do you use?
If you have any questions about the above please feel free to contact me at @domhyams or @assistMi.
By Dom Hyams
Get in touch by messaging us on Facebook, tweeting us @DHorizons, emailing us at editor@disabilityhorizons.com or leaving your comments below.
Flying solo: my first experience of travelling alone as a disabled passenger