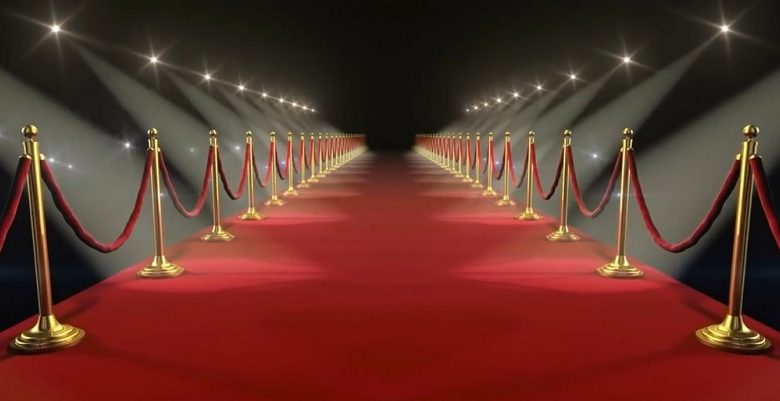 We recently rounded up the top 10 female disabled celebrities. This time, it's the boys' turn. Here are 10 awesome disabled men, from Paralympians to singers and actors, all making a difference to how disability is portrayed in the media.
Ade Adepitan
Ade Adepitan is a former wheelchair basketball player and has played for team GB in two Paralympic Games and other championships.
He was born in 1973 in Nigeria. At 15 months old, he was diagnosed with Poliomyelitis, which caused him to use a wheelchair. When he turned 3, his parents decided to move to the UK in search of a better quality of life for him.
Ade came across basketball when he was a teenager and took part in his first Paralympics at the Sydney Paralympic Games in 2000. He continued to play for five years, winning medals in the 2002 and 2005 European championships, captaining the Great British team at the World Championships in 2002 and winning a medal at the Athens Paralympics in 2004.
After retiring from basketball, Ade got involved in a number of television shows. He was a presenter for the CBBC show Xchange, starred as a basketball coach in the series Desperados and presented the London 2012 and Rio 2016 Paralympic Games for Channel 4. He has also featured in numerous documentaries and campaigns against disability and racial discrimination.
RJ Mitte
Roy Frank (RJ) Mitte is an American actor and activist. He is best known for playing Walter White Jr. in the television series Breaking Bad.
He was diagnosed with a mild form of cerebral palsy (CP) as a toddler after a family friend noticed the signs of CP and suggested he get assessed by a specialist. His character Walter Jr. also has CP, but uses crutches and has a partial speech impairment, which Roy doesn't.
In his early career, Roy appeared as an extra in the Disney kids show Hannah Montana. After Breaking Bad, he appeared in a few more television programmes, including Vegas and Switched at Birth. He has also had roles in films including Stump, House of Last Things, Dixieland and Who's Driving Doug, as well as more to be released this year.
If that wasn't enough, in 2016, he got the chance to be a presenter at Channel 4's coverage of the Rio Paralympic Games.
As well as an actor, Roy has been an activist for disability and has been involved with numerous campaigns, trying to change perceptions and stereotypes towards disability. He was a celebrity spokesman for Shriners Hospitals for Children's campaign Cut the Bull, where he told his experiences of being bullied as a child.
Stevie Wonder
Stevie Wonder is an American musician who is believed to be one of the most famous blind people in the world.
He was born in 1950, six weeks premature, which resulted in him developing the condition retinopathy of prematurity. This caused his retinas to detach and he became blind.
He began playing music at a very young age. At age 4 he was given his first instrument – a six-hole harmonica. He signed his first recording contact aged 11 and has continued to be a worldwide success for over 50 years.
His most accomplished and well-known songs include 'Signed, Sealed, Delivered, I'm Yours', Superstition, Living for the City, 'Uptight; Everything is Alright' and You are the Sunshine of my Life – to name a few.
The song I Just Called to say I Love You was Stevie's first UK No.1 single in 1984 and won him an Oscar in the movie The Woman In Red in 1985. He has also won Grammy Awards and numerous lifetime achievement awards. In 2010 he received the first Image Award presented by the American Association of People with Disabilities.
Stevie joined The Rolling Stones on their US tour in 1972, worked with Paul McCartney in 1982, headlined Glastonbury Festival in 2010 and appeared on Carpool Karaoke in 2015.
Johnnie Peacock
When Peacock was 5 years old, he contracted meningitis and had to have his right leg amputated below the knee and have a prosthetic leg fitted.
He's a British Paralympic sprint athlete and was first in the public eye in 2012 when he competed in the Paralympic World Cup in Manchester. In September of that year, he shot to fame after winning gold at the London Paralympic Games.
In 2013, Jonnie was awarded an MBE for services to athletics in the New Year's honours list. In 2016, he defended his title at the Rio Paralympic Games and set a Paralympic record of 10.81 seconds in the T44 100m race.
Jonnie is also a frequent guest on the comedy programme, The Last Leg, where he has had a 'bromance' with co-host Josh Widdicombe and battled presenter Adam Hills, also an amputee, in a 100m race.
And finally, let us not forget that Jonnie is facing a new challenge. He has taken a step back from the racing track and stepped onto the dancefloor, competing in the 15th series of Strictly Come Dancing. He aims to be the first disabled celebrity to win the show.
Jules Robertson
Jules Robertson is a British actor well-known for playing Jason in the drama, Holby City. Jules has Aspergers, a form of autism, as does his character. He is also the son of Australian comedian Kathy Lette (pictured above).
Jules began acting when he joined the theatre group Access All Areas, a theatre company specifically tailored to people with autism and other learning disabilities.
Since getting the role in Holby City, Jules has been campaigning for more disabled people to get into paid employment. Only 17% of autistic adults are in full-time employment.
He is also trying to fight for more television and film companies to cast disabled actors to play disabled characters. He helped launch the organisation Purple, which aims to expand employment opportunities for people with disabilities by helping both businesses and those seeking work.
Ray Charles
Ray Charles is an African-American singer-songwriter and musician. He was born in Albany Georgia, in 1930. He was registered blind at the age of 7 after contracting glaucoma, which was caused by him staring at the sun.
In the 1950s, Ray created the soul music genre, combining rhythm and blues with gospel music. His biggest hits include Georgia On My Mind, What'd I Say and I've Got A Woman. He's won more than two dozen Grammy Awards and several Lifetime Achievement Awards.
A biopic film of Ray Charles, titled Ray, was released in October 2004, four months after his death. The film was critically acclaimed and earned more than $125 million at the box office. Ray is still said to be the number one biopic of all-time.
In 1986, Ray established The Ray Charles Foundation. It was set up to give educational support to young people with hearing disorders. It aims to inspire young people, saying: "there is no challenge too great one cannot overcome."
Jack Osbourne
Jack Osbourne is a reality star and son of Ozzy Osbourne. In 2012, he was diagnosed with Multiple Sclerosis (MS), a progressive condition that causes nerve cell damage in the brain and spinal cord. Symptoms include numbness, fatigue, loss of vision and impaired speech.
Jack is known for being an adventurous type and his ITV show Jack Osbourne's Adrenaline Junkies, where he took part in adventurous and dangerous activities, such as skydiving, white water rafting and bungee jumping. He began the show after being a drug addict as a teenager.
Despite Jack's MS diagnosis, he is determined to continue an active lifestyle. In 2013, he took part in Dancing with the Stars, the US equivalent of Strictly Come Dancing. Also, in the summer of 2016, he embarked on an adventure with his Father called Ozzy & Jack's World Detour, where they explored different landmarks and learnt about their history from local experts.
Jack has campaigned for awareness of MS and has appeared in a video promoting the charity MS Society.
Peter White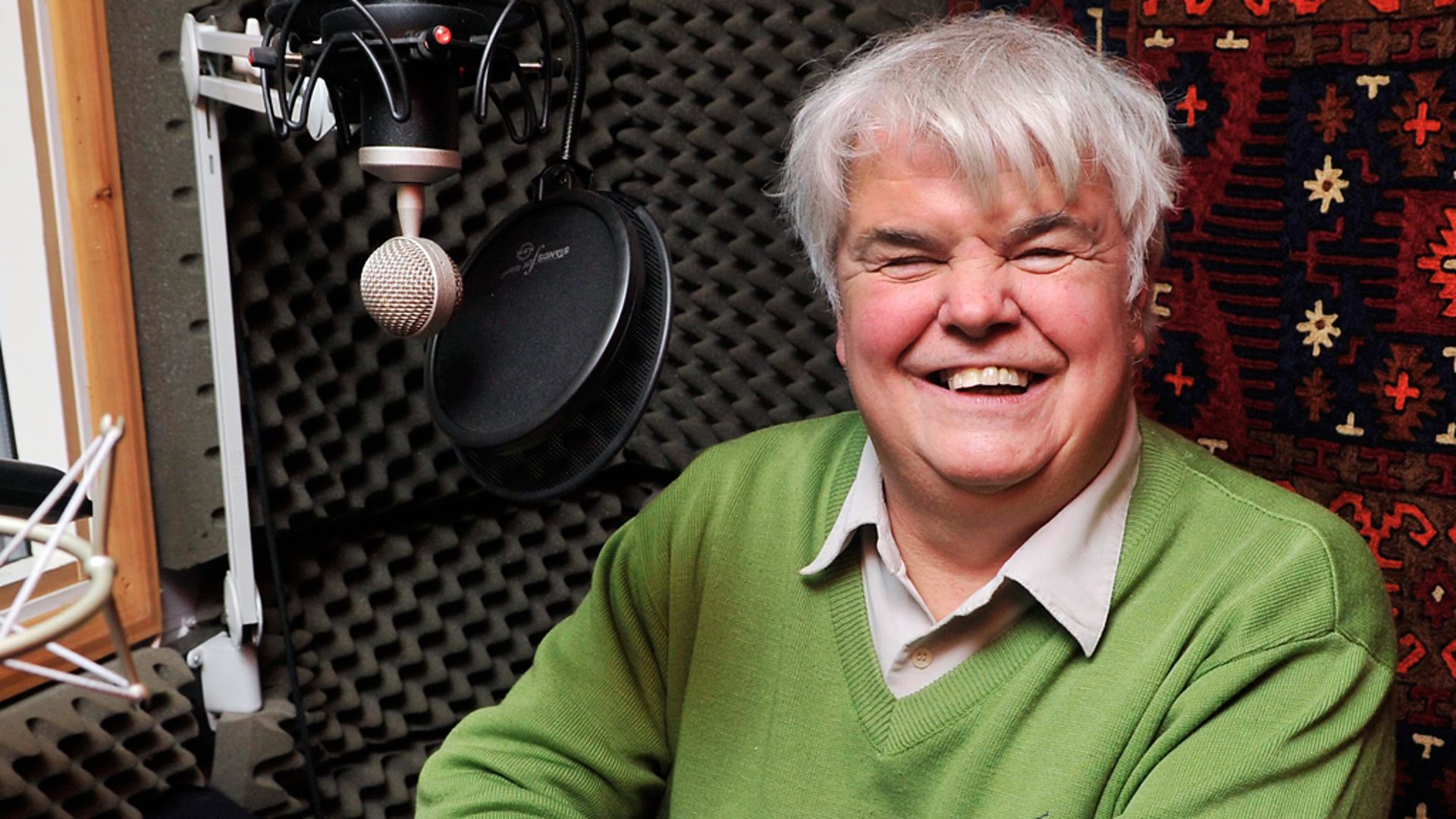 Peter White is a broadcast journalist and presenter best known for his programmes on BBC Radio 4. He was born in 1947 and has been blind since birth.
He began his career at BBC Radio Solent when it launched in 1971. In 1974, he started presenting the BBC Radio 4 programme In Touch, a radio show that discusses the news, views and information for people who are blind or visually impaired. In Touch still airs on Tuesdays at 8.40pm on BBC Radio 4.
In addition to radio, Peter is also the Disability Affairs Correspondent for BBC News, which he began doing in 1995. He has also done editing, producing and presenting for the disability programmes Same Difference and Link. Moreover, he writes columns in various national newspapers.
Peter received an MBE in 1988 and has taken part in several charity events, including Radio 4's Stand up with the Stars, and embarked on a trek across Kenya's deserts for Comic Relief, but had to pull out half way due to bad blisters.
Mik Scarlet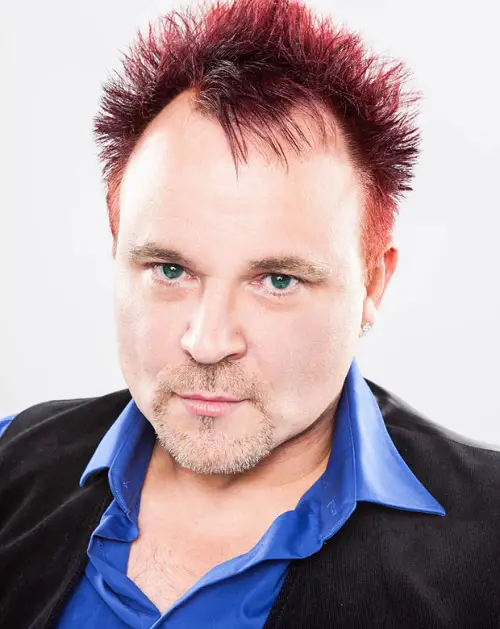 Mik Scarlet is a British presenter, journalist, actor and musician  As an infant he had cancer, which resulted in him needing to use a wheelchair.
In his early career, Mik played and wrote music with various bands and worked as a club DJ. He is most famous for having presented the award-winning children's programme Beat That, which first aired on Channel 4 in 1990. The show involved a group of children being given a task to complete and learning the skills they need to organise it.
Mik has also presented numerous documentaries and been a news reporter for news channels BBC News 24, BBC London News and Channel 4 News.
In 2012, Mik got to perform at the opening ceremony of the London Paralympic Games and later presented coverage of the wheelchair rugby.
In addition to his media work, Mik has created an Equality Consultancy to create awareness and make changes to the way businesses can improve access and attitudes towards disabled people.
Lee Ridley
Lee Ridley is a stand-up comedian from Newcastle-Upon-Tyne. He has cerebral palsy and performs using a Lightwriter machine instead of speaking. He's known to his fans as The Lost Voice Guy.
His first gig was at Mission in Sunderland in February 2012. From there he has gone onto performing at various places across the UK, including The Stand, The Glee Club and The Comedy Store. In 2013, Lee took part in his first ever Edinburgh Fringe Festival and has returned every year since.
Little Britain star, Matt Lucas, describes Lee as "a wonderful comedian." As well as his own shows, he has also been the warm-up act for comedians such as Ross Noble, Patrick Kielty, Jason Manford and Jason Cook.
He is also soon to broadcast his first comedy series on BBC Radio 4 titled Ability. It follows Lee beginning his independent life. The first episode is available to listen to now and the full series is due to air in 2018.
Alongside his comedy, Lee does motivational speeches for charities and organisations. He has worked with the likes of Barclays, Scope, Motability and the Royal College of Speech and Language Therapists. Moreover, he is a patron of Smile For Life Children's Charity, Find a Voice, Communication Matters and The Sequal Trust.
By Emma Purcell
Is there anyone we've missed? Let us know about any male disabled celebrities you think are awesome by messaging us on Facebook, tweeting us @DHorizons, emailing us at editor@disabilityhorizons.com or leaving your comments below.
More on Disability Horizons…