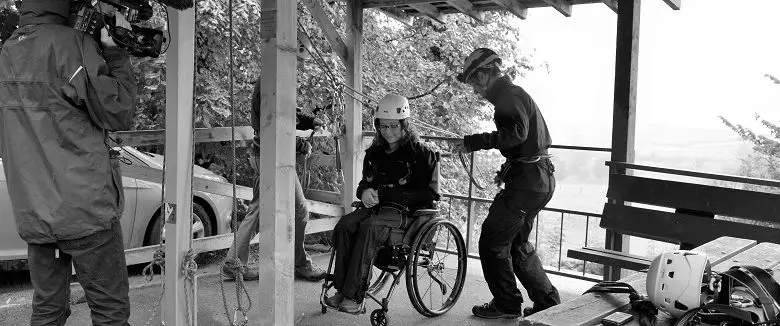 Accessible travel expert Carrie-Ann Lightley from Tourism for All tells us about her recent experience abseiling with the Calvert Trust and BBC in the beautiful, but usually inaccessible Lake District. 
I'm wearing head-to-toe waterproofs, walking boots, and a safety helmet. I'm strapped into a harness, which is attached to an abseil rope, and I know that behind me is the most stunning view of Bassenthwaite Lake. So far, this doesn't sound like an unusual Tuesday morning for someone who lives in the Lake District, until you learn that I'm sat in my wheelchair, which is also strapped into a harness, and hanging at a 45-degree angle off a concrete slab.
Earlier this year a BBC researcher contacted me to ask for an interview; a piece to show how wonderful accessible travel and adventure can be. I'll be able to tell you more about the programme soon, but for now, here's what happened that exciting day…
Wheelchair abseiling
The abseiling itself was made possible by the Lake District Calvert Trust. It offers wonderful experiences for disabled people who want to enjoy the countryside and test their limits. I arrived feeling anxious, as someone who many people would describe as not at all adventurous, but the lovely team soon put me at ease.
After we'd completed safety forms and fitted my harness, my instructor Matt pushed me in my wheelchair up to the abseil platform. Now was the time!
As my chair was lowered on to the ramp, I slowly fed the ropes through my hands and started to relax and enjoy it. So much so that, once I reached the bottom, I went straight back up for another go… which was as much of a surprise to me as it will be to anyone who knows me reading this.
Afterwards, I was assisted out of my kit, and given a hot drink to warm up. Once I'd come back down to earth (quite literally) I was given a guided tour of the Calvert Trust centre.
[masterslider id="14″]
Amazing facilities at Calvert Trust
I must say, the Calvert Trust centre is an amazing place. As well as the abseil and climbing walls, there is:
a fully accessible zip wire;
a challenge course;
facilities for canoeing and kayaking;
archery;
horse riding;
and sailing.
The centre also boasts a hydrotherapy pool, sensory room, games room and lots more.
But for me, the facilities only form a part of what is so good about the Lake District Calvert Trust. The setting, on the shores of Bassenthwaite is simply stunning, in the kind of environment that is usually off-limits for disabled people.
Aside from the views, the shining star is the wonderful team of staff that the trust has. From the moment I arrived, it was clear that the word 'can't' just wasn't an option. I was encouraged to get out of my comfort zone, and I was assisted in a kind and respectful way.
Testing your limits
There is no better feeling than having conquered – and enjoyed – something that scares you, and that was my ultimate takeaway from my day at the Calvert Trust.
Are you an accessible adrenaline junkie? I'd love to hear your experiences – tell me about them in the comments section.
By Carrie-Ann Lightley
Get in touch by messaging us on Facebook, tweeting us @DHorizons, emailing us at editor@disabilityhorizons.com or leaving your comments below.
Disability and travel: adaptive camping and accessible adventures