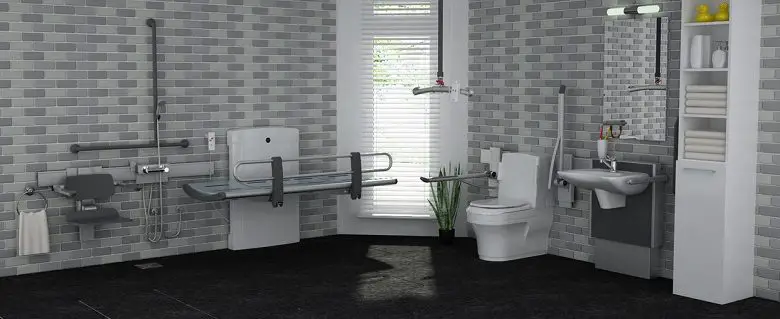 Lifestyle
Accessible bathrooms: maintaining your independence and making life that little bit easier
We hear about how for two people – disabled artist Stella, who has muscular dystrophy, and property developer Jamie, who became disabled in later life – simple bathroom adaptions by bathroom specialist Closomat have dramatically improved their quality of life.
Stella Maris Kinread
When inspiration comes to me, the last thing I want to be worrying about is comfort breaks. My work includes oils on canvas and watercolours, and are hung and sold in various galleries, as well as made into cards that I sell online. Because of my muscular dystrophy, a percentage of the proceeds go to Muscular Dystrophy UK.
Having muscular dystrophy means that I need an accessible bathroom, especially as I get older and my condition deteriorates. So, to make my life and work easier, I created an accessible studio at home, where I can have easy access to my adapted bathroom, enabling me to remain as independent as possible. It means that when I need the toilet – something we all do on average eight times a day – I know I can 'go' without needing a carer.
Widened doors and automatic door entry are key features that enable me to move around easily in my wheelchair. As a result of my condition, I can't lift myself up from sitting to stand, or vice versa, so a Closomat Lima Lifter height-adjustable wash and dry toilet addresses my toileting needs.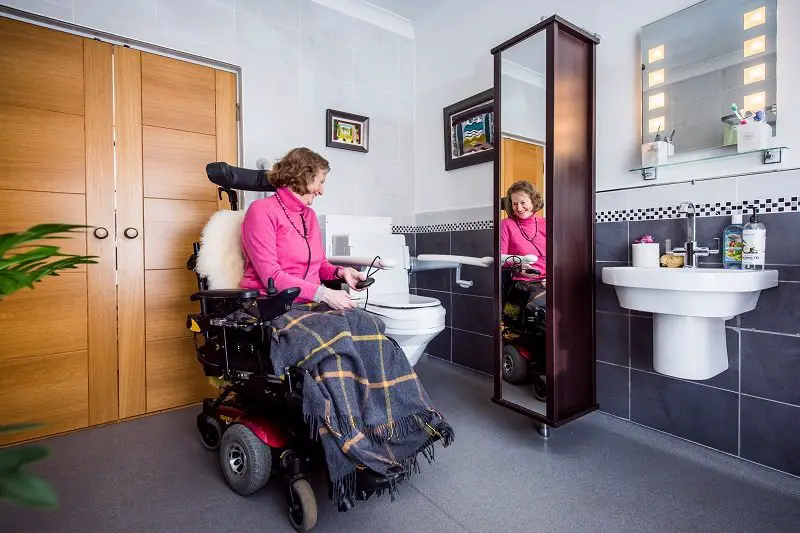 I bought the Lima Lifter after seeing it at Naidex. Looking like – and capable of being used as – a conventional WC, the Lima Lifter can automatically be raised and lowered as the user requires at the push of a button. In addition, integrated douching and drying spare me from having to manually wipe clean.
To help me use the Lima Lifter as my condition deteriorates, I have supplementary operating devices, as well as the standard buttons on the top of the cistern. I have both a remote control to lower and raise the toilet to the height I want so that I can transfer from my wheelchair easier, and a soft-touch hand switch to operate the flushing, douching and drying.
When I saw it at the exhibition, I knew it would solve my mobility difficulties for toileting. I cannot stress what a difference it has made. I am able to go to the toilet without assistance! It is fantastic for anyone with no sit-to-stand ability. The rising function is crucial for me to do anything without help – my wheelchairs, bed and bath all have that action too.
It's also safe, hygienic and reliable too – I've had it 10 years and not had a problem. I also have one of Closomat's maintenance contracts so it is annually checked and serviced.
Made in the UK, Closomat's Lima Lifter is the only wash and dry toilet that can be automatically height-adjusted with each use. The seat height can be adjusted to as low as 455mm and up to 755mm, and can bear up to 120kg (18½ st). As with all Closomat's wash and dry toilets, it delivers the best douche performance on the market (up to 8l/minute). It is WRAS approved, verifying that it complies with appropriate water regulations. 455- 755
You can see and buy some of Stella's work online by visiting: www.artygems.com.
Jamie Thompson
I was busy living a 'normal life' as a property developer with a young family when my life changed forever. I thought my sudden lack of fine motor skills whilst working on site was not due to the cold weather. In reality, it was the onset of motor neurone disease.
Now, numerous adaptations have had to be made to not only my lifestyle, but my family home too. One of the biggest problem areas was the bathroom, where being able to 'go' on my own was important to me.
Making life infinitely more manageable was the installation of a Closomat Lima Lifter toilet. It has proved invaluable in making what was becoming an incredibly difficult task very simple again, and allowed me to retain my dignity and independence.
Until something like my illness happens, you don't appreciate how fragile you actually are. I hadn't seen a doctor in 25 years until this happened.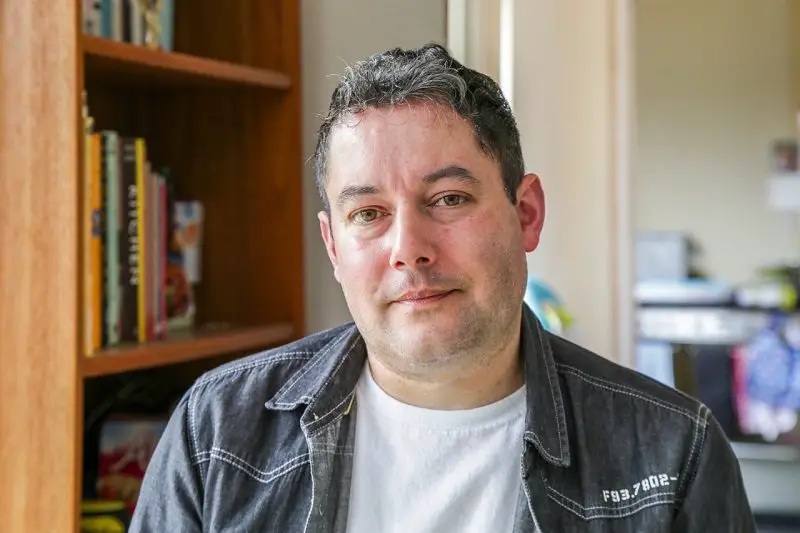 I can't say stress enough how much easier life is now, having a toilet that washes, dries, and rises. Using our conventional WC was putting a lot of strain on us, as sometimes I was forced to seek my partner's assistance.
The Closomat toilet forms part of a complete re-vamp of our family bathroom into an accessible wetroom. I have also had a lift installed inside and out, a riser recliner chair, and level access through our French windows, all covered under a Disabled Facilities Grant. All these elements have made such a big difference, as they enable me to move around the house on my own as much as possible.
The riser recliner helps, but I do feel like I could tip-off! There was originally talk about going for a similar piece of technology over the toilet, but I pushed for the Lima Lifter because I didn't want that feeling of instability. I wanted to feel in control. I do with the Closomat – it rises smoothly, and remains level.
To work my Closomat toilet I simply activate the controls in the support arm on either side of the unit. When I bought it, I could specify to have them in either left or right support arm.
The support arms themselves are hinged, so it can be folded up out of the way, or remain in position, to assist transfer. Set at 90 degrees to the wall, it really helps with the feeling of stability during use.
Closomat accessible bathrooms
Family-owned, Closomat is the longest-established provider of wash and dry toilets in the UK, and the only one that manufactures in Britain. It is also unique in its provision, in-house, of design advice, supply, installation, commissioning and after-sales service and maintenance.
The Lima Lifter compliments Closomat's brand-leading, floor-mounted Palma Vita wash and dry toilet, the Lima Vita wall-hung unit, and the company's range of assistive technology to optimise hygiene, independence and dignity in intimate care.
Details of the Closomat's assistive toilet care offerings, including 'how it works' videos etc, plus further case studies from real-life users, can be found on Closomat's website www.clos-o-mat.com.
By Closomat
Check out…