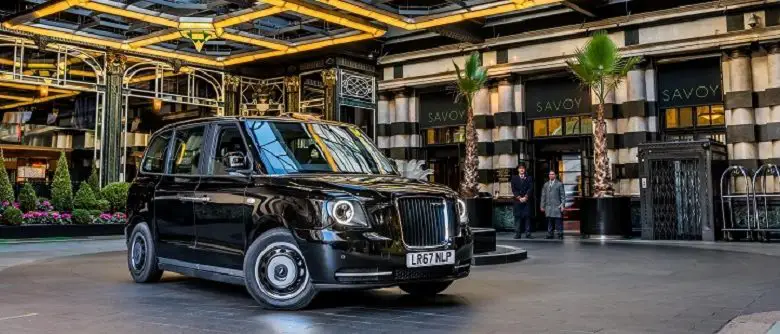 Londoner Toby Mildon, who uses a power wheelchair, tries out one of London's new electric black cabs. Read on to find out how accessible they are, and claim £50 off your next 10 London taxi journeys with the Gett taxi app.
One of the best things about living and working in London is the freedom I get from using our 21,000 iconic black taxis on our streets. Something that's particularly special, compared to any other city I've ever travelled to, is that I can get my electric wheelchair into any one of these taxis.
Because of the sheer volume of taxis on London's roads, I can start my journey within minutes and also benefit from easy taxi-hailing apps, such as Gett. In addition, I get money off my fare by using the London Taxicard, a scheme for Londoners with mobility impairments.
I've travelled to many capital cities across the world and, by comparison, transport in London is reasonably accessible. All buses are equipped with ramps, there's a great overground train network, step-free access between piers and riverboats, and even a cable car across the Thames. However, using public transport in London could be much better. So, with only 1 in 4 underground stations with step-free onto trains, I prefer to take accessible taxis wherever go.
I am, in fact, a daily user of black cabs, taking them between my home in West London and my office in the city, where I work for a large professional service firm as Diversity and Inclusion Manager.
Accessibility of the new electric London taxis
London taxis provide a reliable and high-quality service.  The highly skilled 'cabbies' graduate from their famous Knowledge test, where they must learn some 320 routes through 25,000 streets off by heart.
Using black cabs in London has just got a whole lot better with the introduction of the new environmentally-friendly electric taxis, which replace the existing TX model. Being a bit of a geek, ever since I heard that a new sleek London taxi was arriving onto our streets, I was dying to take a ride.
I hate to admit this, but I have spent quite a lot of time watching YouTube videos about the new London taxi and reading articles online. However, there is very little coverage about its accessibility. I for one was wondering how much headroom there is in the doorway, how sturdy the ramp is and what the turning circle inside is like.
So, over the last few weeks, I have been quizzing regular taxi drivers about what they think of the new taxi. Most of them have complained about how expensive the vehicle is to buy, the lack of range in its battery, the nuisance of charging the vehicle and even how small the wing mirrors are! But I still didn't really know how accessible they are. It was well and truly time to try it out for myself.
Outside my office, Martin, my electric cab driver, had the ramp ready for me. The first thing I noticed was how sturdy it looked. I have found that with some of the current TX taxis the ramp bends under the weight of my wheelchair, despite me and my wheelchair being average weight.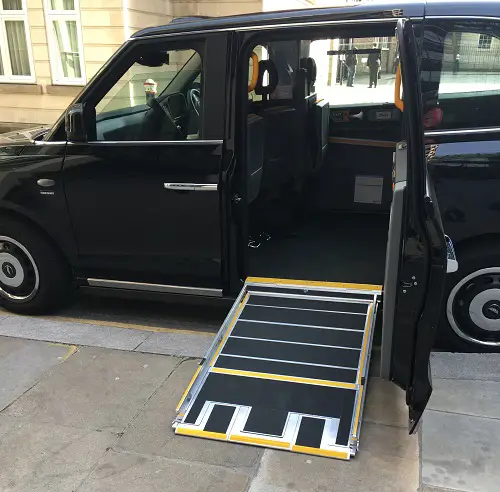 The ramp in the new taxi, however, is sandwiched in between the floor of the taxi, and can be 'rolled' out and slid away in seconds. This is amazing, particularly in the rain, and much better than the heavy manual ramps in the Mercedes Vito 6 seater taxi, which take ages to assemble.
The amount of headroom entering the taxi is generous, and there is much more space inside to turn my wheelchair around so I can travel forwards or backwards. In the current TX taxi, I have to travel sideways, which can be nauseating and painful on my neck if the driver has to break suddenly. The new electric taxi has a much simpler set of restraining belts to hold my wheelchair in place.
As we left the City, I was amazed at the quietness of riding in the back of an electric car. It was such a relaxing journey home, and much better than feeling the vibration and noise of a diesel engine.
Not only do the new electric taxis have better accessibility features for wheelchair users, but is a better ride for passengers in general. There's a lot more legroom inside, can carry six people, has USB charging points for your phone and even a regular plug for your laptop, plus touch-sensitive heating/cooling controls, which are also good for people with manual dexterity problems.
Other accessibility features include high-visibility handles – which are longer than normal, so useful for manual wheelchair users – swivel seats for easy access and getting out, a hearing loop on the intercom system and a built-in step to help you get into the door.
The most impressive feature in the new electric taxi is the panoramic glass roof.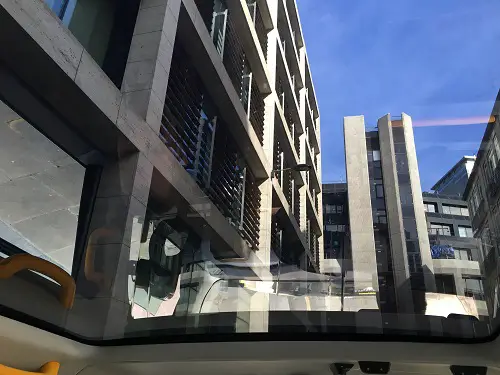 When I travel in the current TX taxi, my eye line is with the top of the door and all I can see is London's pavements and the ground floor of most buildings. Most of the interesting things to be found in London are when you look upwards! With the new electric taxi, I saw parts of London that I have never seen before. Looking to the top of buildings and on a lovely spring day when the sun was shining into the car was a great experience.
The new taxi really does turn heads. It is a beautiful design and contoured body. I cannot wait to take the electric taxi to work again. In my opinion, it's a lot more accessible than the current models on the road and the panoramic roof makes the journey so much more enjoyable. There are not many electric taxis on the road. However, this is set to change over the next few months as the Mayor of London is encouraging electric taxis to clean up our polluted city air.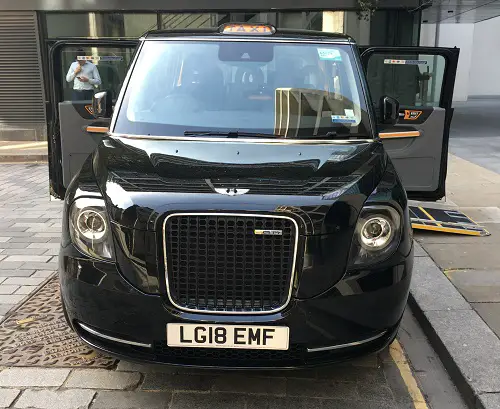 Despite the reservations of many of the taxi drivers I spoke to, Martin said that he simply loves his new vehicle and doesn't regret getting it at all. He says that he is much more comfortable driving around town, has all the gadgets of a modern car (such as automatic collision braking, heated seating and mood lighting in the back) and he is even buying his wife a new electric vehicle having experienced one for himself.
Gett taxi app – claim your £5o discount
I have an account with the Gett taxi app, and I couldn't live without it. It's so convenient to hail a taxi from the warmth of my home or office and to watch the taxi arrive in real time on the app. Thanks to its outstanding customer service and pre-booking feature, it helps me get to work on time every day.
Its monthly invoicing also means I can easily claim journeys back from the government's Access to Work scheme, and I particularly like its fixed pricing, to help control how much I spend on taxi fares.
Gett also made my day by arranging for the new electric taxi to pick me up from work and take me home so that I could review its accessibility features.
When you are in London, Gett has kindly agreed to give you £5 off your next 10 journeys (only available for new customers). Download the Gett app onto your iPhone or Android phone and enter coupon code TAXI50 to receive £50 worth of savings.
By Toby Mildon
Check out…
Get in touch by messaging us on Facebook, tweeting us @DHorizons, emailing us at editor@disabilityhorizons.com or leaving your comments below.