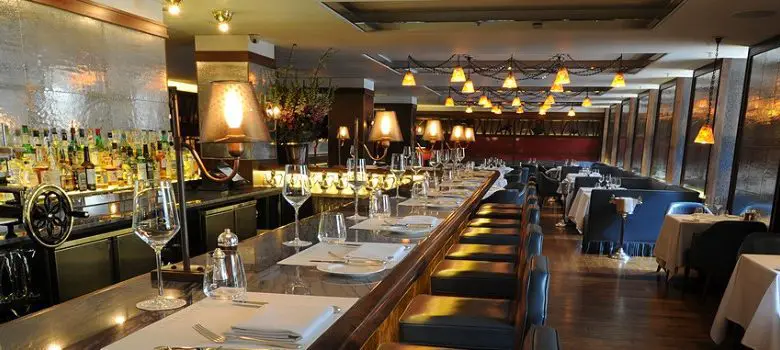 Lifestyle
Disability, accessibility and the psychology of style
Lucy Geer, who works for Blue Badge Style, which lists and reviews venues that excel in both the accessibility and style stakes, shares her blog post on just how important style is to our well being.
Last year at Naidex Fiona, founder of Blue Badge Style, spoke about the importance of style when understanding the needs of someone with a disability (you can watch the video of an extract from the NAIDEX speech on Youtube.) It never ceases to amaze that medical professionals don't see this as a critical factor in a person's well being.
This is very much the manifesto and raison d'etre of Blue Badge Style – style and disability are not mutually exclusive. Faced with no control over your body, style is the one area you can influence. It is of utmost importance, whatever your disability and whatever your style!
Why personal style is important
How do you feel when someone admires your car, loves your shoes or thinks your home is beautiful? Happy, proud, self-confident?
Psychology Today said that compliments "tell a person they are worthy of notice," and style is an "expression of your character and spirit, a conviction that you are worth knowing, worth looking at."
True style is not a magazine-look, a designer label, or a fashion item, but a very personal thing. Nor does it have to cost money. Style, self-esteem, mental and physical health are all widely accepted as being linked.
The difference between product design for everyone and disabled people
A car is not just a mode of transport, otherwise we'd all drive the same model at the lowest price. Women's shoes are an expression of style and not just a fashion item. And a person's home is the ultimate in self-expression. Take a look at these three examples…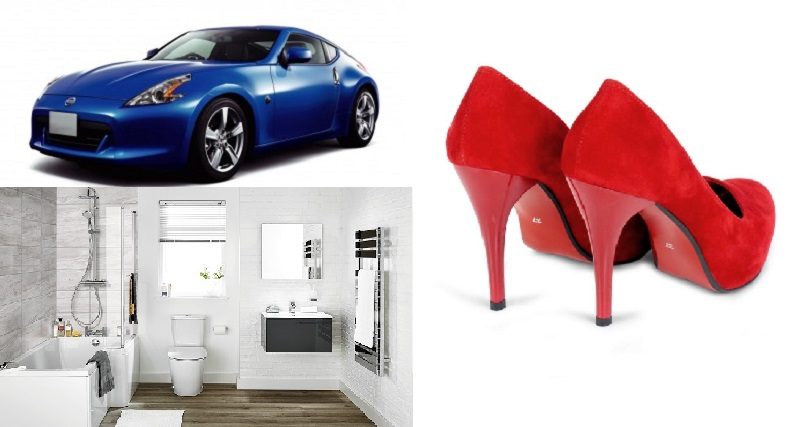 Now what about these…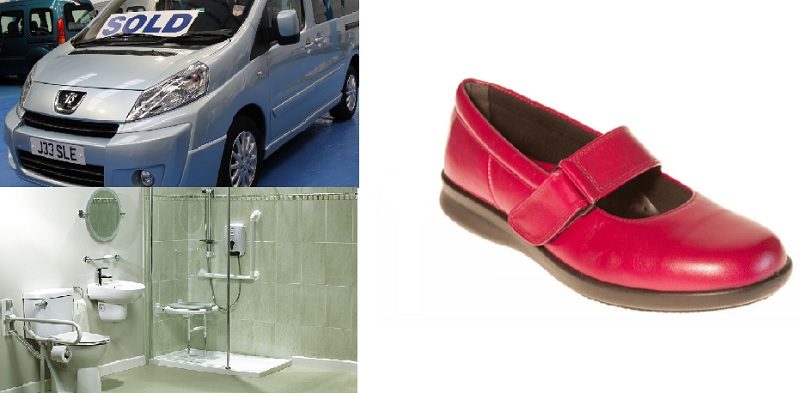 The second three pictures are the reality of living with a disability. How does it make you feel when your car is a bulky and lacklustre, your shoes are made of cheap plastic and velcro and your home becomes a 70s hospital? Not good. Your self-image has already taken huge 'hit' from your disability, and now your style is affected too.
Perceptions of disability
There are not just self-esteem issues that come with having a disability, but also the perceptions of those around you. Being disabled does not make you a Paralympian, neither does it mean that you want to use the ugly equipment currently available, or to stay at home hidden away.
When we asked the Blue Badge Style community about these issues, we found that:
Disability equipment is perceived as old-fashioned and not fit for purpose.
Discrepancy in prices means that disability consumers feel ripped off.
Disabled people's cupboards are often full of redundant equipment that doesn't do the job.
Shopping is a military operation and there is no enjoyment or buzz around going out to buy something new.
Our research also found that 75% of people we asked would pay a premium for stylish, well-designed mobility aids and disability equipment.
Designer Robin Lieven said: "Disability equipment looks like it belongs in the Marquis de Sade's basement" and one reader was told by a mobility shop manager that "in my experience people in wheelchairs prefer not to be noticed."
Current equipment is often over specified and there is no consideration of style in the decision process by occupational therapists. Consequently, cool designers can't get their products made as their designs are not recognised as being suitable.
Here are a couple of examples. The Flamingo walking sticks look good and do the job, but are not recognised as suitable.

The same goes for the Chop bench (below). This cool kitchen worktop that holds food securely for unsteady hands, has not been produced for disabled people as it's on the OT-specified list.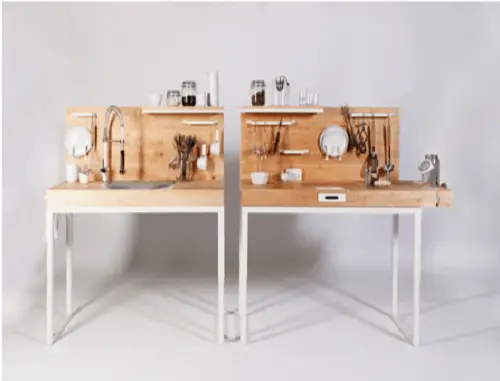 Style, accessibility and the built environment – the economic imperative of inclusion
Style is not just about how you look, but it's also about where you go and what you do. As we all know, access to the built environment still creates problems for people with disabilities. A common misconception is that large businesses and restaurant chains are all accessible – but this is not so. Neither do we all want to go to Mcdonald's for a birthday treat just because it'll have a disabled toilet.
Research by the Business Disability Forum (BDF) and Extra Costs Commission found that 75% of people with a disability (including their friends and families) will not purchase from inaccessible/unwelcoming businesses, instead walking away.
According to 2014 Government figures, the disability sector is worth £249 billion in the UK (DWP 2014). In Europe, the figure is $5 trillion, in the USA it's $2.4 trillion and globally there are 1 billion people with disabilities, with a spending power of $9 trillion (Economist 2012 and Global Economics of Disability 2012). This is a huge market and the economic imperative to attract people with disabilities is self-evident.
Style and accessibility in the built environment start at home, where the physical environment should be aesthetically pleasing as well as useful. After all, most disabled people spend a lot of time there. After many years of grey or white plastic fittings, there are at last some stylish alternatives – check out our article on the modern accessible home.

Furthermore, when people with disabilities have overcome the military planning required to use public transport and venture outside, their destination should be accessible. It shouldn't have embarrassing obstacles, such as an unforeseen step, an absent disabled toilet or one that has no space for a wheelchair!
Problems in the built Environment for people with disabilities
The ignorance of owners/landlords, who either don't have the imagination or the funds to update or install accessible features, such as disabled toilets.
The Equality Act 2010 says people with disabilities should have equal access to goods and services. However, there is a 'reasonable' clause in the EHRC documentation. This refers to the ability to pay for adjustments to buildings and, to a large extent, is flouted or misinterpreted.
An example is a Michelin Starred restaurant that has had planning permission for a disabled toilet for 10 years, but has installed a conservatory instead. It used the 'reasonable' clause and the excuse that it's an old building, to flout the law. These are not 'reasonable'!
Similarly, some owners have used the excuse that it's a listed building to get out of making changes. But Historic England, who awards listings, say that 'heritage' belongs equally to people with disabilities, and so imaginative accessibility solutions should be sought.
Architects, planners, designers and builders all speak different languages, so the best intentions can lead to miscommunication and a beautiful disabled toilet rendered useless when the door width is too narrow.
Here are a couple of examples of how people can get it right, and very wrong!
The disabled toilet at the Mere restaurant in London has stylish matt black and grey decor, but is marvellously accessible.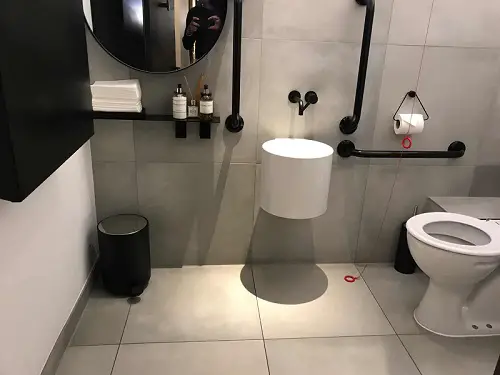 The cafe Murano in Covent Garden is slightly different – it's a good looking disabled loo, but inaccessible as the door is too narrow for a standard wheelchair.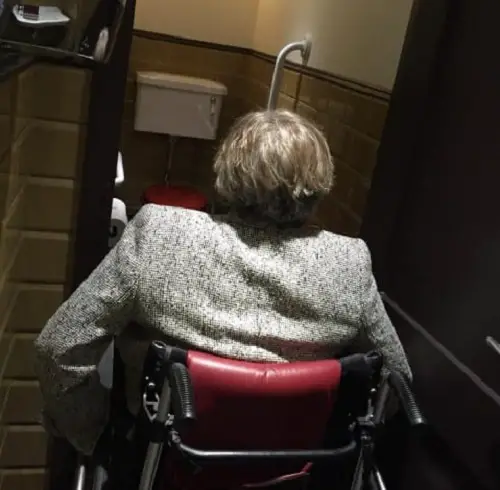 Planners, architects, designers and builders need constant training in the reality, rather than the theory, of good access. They should also always consult with disabled people/organisations. Many of the disabling aspects of our lives are created by lazy, ignorant and ill-thought-through design that are, once imposed, difficult to resolve.
Inclusive design is good business
Businesses should take note that people with disabilities are extremely loyal customers to those buildings and organisations that make them welcome. A report by Neilsen (2016), in the USA, found that people with disabilities "display traits of a loyal customer. Despite lower income, consumers with disabilities spend more per trip and shop more often." A report from Lloyds Banking Group and The ODI (2012) also found that "once disabled people have found a business that suits their needs, they will become loyal customers returning time after time."
Christos Passas design director at Zaha Hadid Architects and judge at the Blue Badge Style Awards said:
Accessibility is an important aspect of the built environment and needs to be integrated fully in the design process, let's embrace it.
In 1949, decades ahead of any disability legislation, distinguished American architect Frank Lloyd Wright, was able to design an accessible home for a disabled WWII veteran (see images below), where "the client's needs are wrapped in beauty." So it's not unreasonable to expect designers and architects in the 21st century to create fully accessible and stylish environments no matter how old the buildings.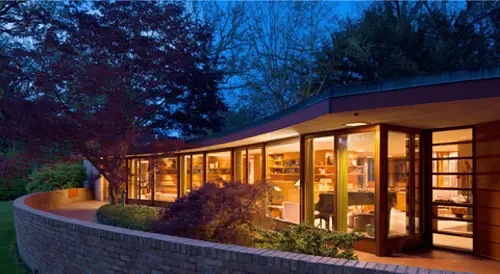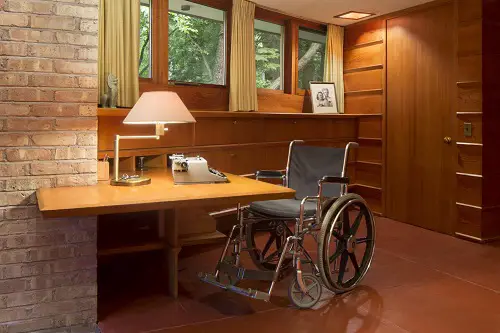 Our supporters Conran and Partners say,
There is no such thing as a good design that doesn't take into account access for all
This is the premise of the Blue Badge Style Awards. Held annually, they reward exceptional venues that have both style and accessibility, as we believe 'carrots' work better than 'sticks'. The most coveted award category is Best Accessible Loo and every organisation wants to know what they must do to win that award. This shows that people want to do the right thing regardless of economic benefit – landlords/owners take note!
Things can only get better for accessibility and design…
Finally, it's not all doom and gloom as disability equipment is improving, and not just by adding bling or vivid colours to old equipment. As designers and the population at large are ageing and living longer, better designs are being developed.
This was highlighted at the recent New Old Exhibition at The Design Centre, where there were folding wheelchair wheels, a robot dog that detected if you were incapacitated and a walker/trolley that was based on a self-propelled scooter, amongst other things.
The shopping experience is also changing where both designed2enable and our own ADDITI+ON SHOP are aiming to create a more enjoyable, inclusive and modern experience, at least when you buy online. We will also be opening a 'pop-up' shop in London soon.
With the growth of interest in Paralympic sports, the development of wheelchairs has improved. This has filtered down to the mainstream, where manufacturers are now realising that there's money in creating equipment with style.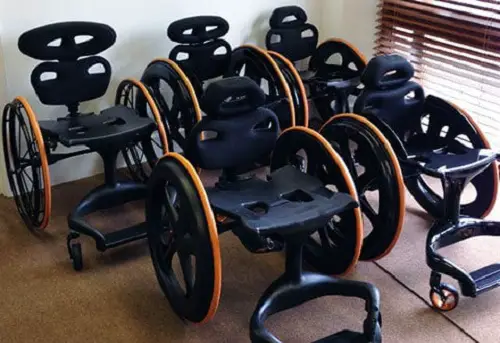 Fashion is, however, lagging behind. Clothing that fits all sizes, shapes and looks good in any position, is difficult to find. So coming full circle with the lack of stylish shoes for swollen or odd-sized feet – we give the last word to Oliver Lam-Watson, video journalist and GB Fencing Adaptive Athlete, and his view on shoes…
By Lucy Geer from Blue Badge Style
More from Disability Horizons…
Get in touch by messaging us on Facebook, tweeting us @DHorizons, emailing us at editor@disabilityhorizons.com or leaving your comments below.