Lifestyle
Disability rights: 10 years of fighting for my basic rights to live
Sadly, throughout the world, many disabled people aren't receiving the level of care that they need and deserve. We've heard about many stories in the UK, but today we hear from Alex Lytwyn, who lives in Canada and has been fighting for more than a decade for his basic level of care.
My name is Alex, I'm 32 years old and use a powerchair, due to cerebral palsy. I live in Winnipegosis, Manitoba, Canada.
I'm on what's called self-managed home care. It means I get 155 hours of help every two weeks. I have to break down my days into hour blocks, which averages out to 10.5 hours a day. The rest of the day, I'm alone.
What I really need is 24hr care – double what I have now.
My requests have been ignored, time and time again. It's left me feeling very lost and embarrassed. So, last year, I went to CBC news. You can watch the report here on the CBC news website.
Afterwards, things got even more confusing and difficult. My MLA (member of legislative assembly, i.e. a representative elected by voters in a constituency, like an MP in the UK) told me to line up another meeting with the home care department head, who I had been co-ordinating with for years. In sending emails to confirm details, I found out that that person had retired. Frustrated does not even begin to explain how I was feeling.
All those years of discussion and supposed understanding with my MLA and home care head had gotten me nowhere. My MLA is well aware of my situation, but there has been a lot of talk for many years now, and absolutely zero change to my dire situation.
Then the government told me to talk to my local health authority. This was ridiculous because my local authority knows that my funding is maxed out with Prairie Mountain Health (PMH, my regional health authority). There has been a lot of talk and promises of meetings with ministers, but that's all – just talk, no action.
I desperately need my hours to increase to 336 bi-weekly. This is an increase of 181 hours to what I'm currently receiving.
During that time, I was also directed to talk to the Government department head to get help. But after I was finally able to get in touch with her, she told me that she only deals with people who have developmental disabilities, which I don't have.
And, in yet another blow to my situation, I've now been told by Prairie Mountain Health that it will no longer communicate with me via email, only by phone or letter. I have a severe speech impairment, so I can't speak clearly and need assistance using my hands, so only talking to its staff via phone calls or letters is not ideal. In my opinion, it is taking away my freedom of speech.
10 years of fighting for my disability rights
I can hardly believe it's been 10 years that I have been fighting. The government has been aware of my situation since the beginning, yet nobody seems to give a damn. During this battle, I have tried to stay strong, but its very difficult to do so.
Laying in bed, my body getting sore and needing to go to the bathroom, grey thoughts tend to enter my mind.  With all my physical and mental strength being put into this fight, some days, I want to give up.
Slowly, my life is being taken away from me. I love to improve myself and give back, but the sad truth is that, due to my lack of care, I've had to quit a lot of the things I have volunteered for. This has included writing books and columns for magazines, sitting on the Winnipegosis hospital board, as well as other boards and committees and organising various local community and charity events, which I have raised more than $30,000 for.
Instead, now all of my energy is focused on staying mentally strong and undoing the life restraints put on me by the government. I feel like I'm being detained in prison, by my own government. Getting 24-hour care would allow me to feel free. Every aspect of my life would be dramatically changed for the better. I could contribute and be part of society again, like any other human being.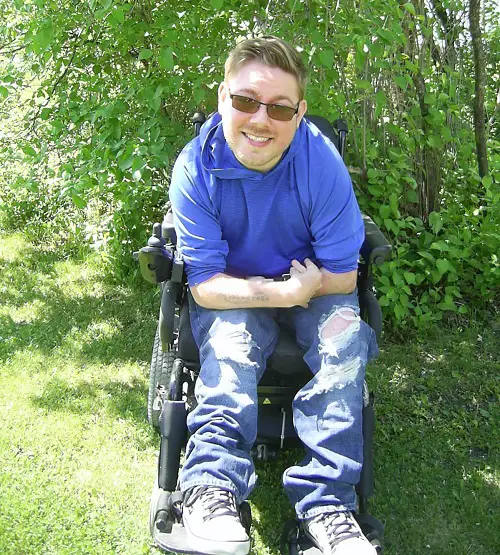 My physical well-being is falling apart too. Every second of my life has to be planned, so it has become so very compacted, focusing on the essentials and putting my physical well-being to the side. I don't even have anybody to turn me during the day or at night in bed.
I am alone so much that I'm scared to live. I don't have enough time to do anything and I cannot defend myself.
One cold winters night it was -40. I heard a noise, so went outside to see what it was. I ended up getting stuck in a snowbank. I was in nothing but a t-shirt. Having no staff to help me, I even feared it was the end. After twelve minutes outside I was able to push my lifeline button and get hold of my mother. She is my saviour, but what about when she is no longer around?
I feel alone, but I am not alone
I saw a story in the news about someone, like me, who has a physical disability. He lives in his own home, as do I, but he receives 24/7  care. Like me, he gets money from his local health authority and he hires his own staff, as do I.  He has no mental disability, just a physical one.
Why is it that his situation is the same as mine, yet he gets 24/7 funding and I do not. It feels like discrimination. When I asked why our two cases are funded differently, I was told that they can not discuss the cases, due to confidentiality.
My situation may be unique in many ways, but I'm fighting for a much bigger audience. Many people have thanked me for all my efforts to keep fighting. It's wonderful to know I have a lot of people's support and understanding.
However, it does sometimes feel like a very lonely battle. It's incredibly hard, but I will never stop. Creating a new path for millions of disabled is a goal I won't give up on.
By Alex Lytwyn
More on Disability Horizons…
Get in touch by messaging us on Facebook, tweeting us @DHorizons, emailing us at editor@disabilityhorizons.com or leaving your comments below.