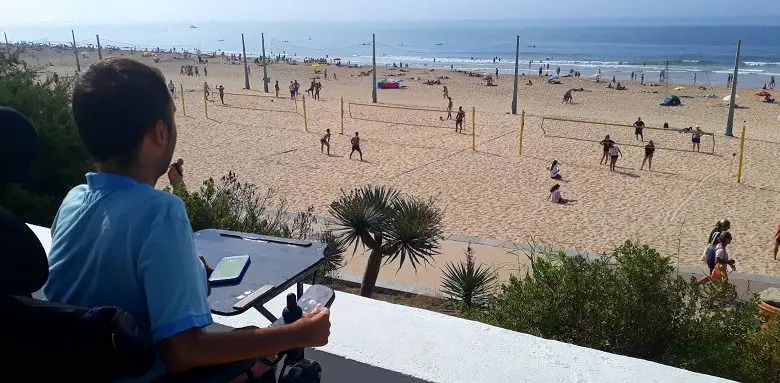 Back in July, we heard from sisters Daniela and Rita, founders of Portugal 4all Senses, as they rounded up the top 10 accessible attractions in Lisbon. Our very own Martyn Sibley recently visited Lisbon with Portugal 4all Senses to experience its accessibility for himself. Here's what he found.
Upon meeting Rita and Daniela in Lisbon, Kasia and I felt like we had known them forever. After the airport welcome, we headed to the wheelchair-accessible taxi, arranged by Rita and Daniela. The driver was really helpful and somehow get us all into the vehicle with our suitcases and my shower chair.
We stayed at the very accessible Pestana CR7 hotel, also organised by Portugal 4all Senses. It's part-owned by Portuguese football player Cristiano Ronaldo, who always wears the number 7 on his shirt – hence CR7 🙂
The room was great and the girls had arranged a mobile hoist for me. They could have also got me a shower chair, but I prefer to use my own. There was plenty of room for all the equipment, plus the shower chair fit over the loo and in the shower. A great start!
Accessibility inside and around the hotel
Knowing that the basic but vital aspects were in hand, it was time for food and exploration. Everywhere in the hotel is accessible. The only thing I needed to do differently was to use a particular entrance as the other one had a step, but that wasn't a problem.
The food in the hotel restaurant was delicious. We particularly enjoyed the breakfast omelettes, and the steak and pasta meals. In the hotel bar, I tried the Portuguese beer, which went down a treat. The big screen showing Ronaldo doing kick ups, alongside live footage of people walking past, was a great addition.
The hotel is really well placed, too. The river Tagus, which flows into the Atlantic sea, is only 5 minutes away. It's really accessible to follow – there are dropped curbs and pavements all the way. Although we'd eaten that night, we spotted lots of cafes, bars and restaurants. They all looked pretty accessible too.
After a bit of warm sun, fresh air, and a wonder, we grabbed some bits from the nearby shop. It was then time to head for some well-deserved sleep!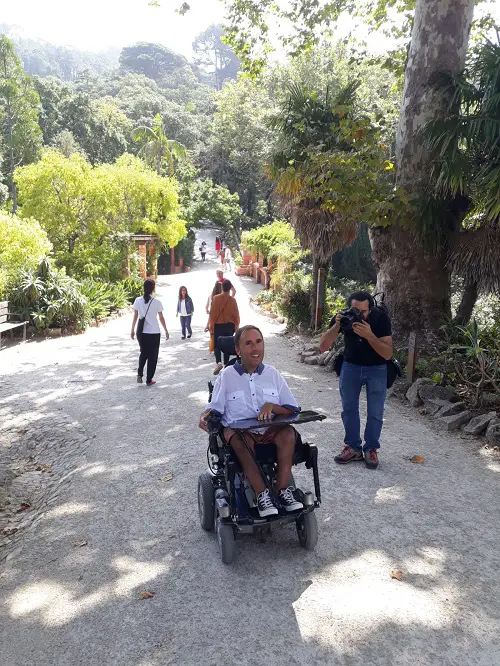 UNESCO World Heritage Site of Sintra
The next morning our driver arrived to take us for a day trip arranged by the sisters. We were off to Sintra, a popular city in Portugal that's well-known for its beautiful scenery and historic castles and palaces. It's somewhere that I hadn't heard of before a year ago when I first met Rita and Daniela, but have been told about multiple times since. I now understand why 🙂
Despite a hold up on the 30-minute journey due to an accident, we arrived excited to explore this magical place. There were lots of narrow lanes and stunning views on the final part of the ride, before we'd even got to the city!
Our specific destination was the Monserrat palace. Built as a summer house for a rich British family, it struck me as the Downton Abbey of Portugal. It's fully accessible on the ground floor as it's flat throughout. Although we didn't get a chance to explore a lot more on the day, it's clear that the palace was only the tip of the iceberg of the city's beauty.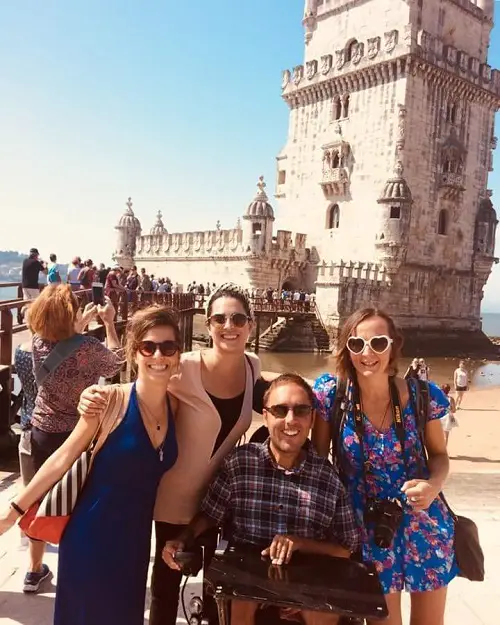 After visiting the palace, we found a guide to talk us through the city and its history. This was one we found on the day, but Portugal 4all Senses can organise guides and tours for you. Our guide, Sara, explained how the climate enables so many different trees and wildlife to grow and thrive there. After a long walk around the gardens and the palace, we grabbed lunch before heading to Cabo da Roca, the Westernmost tip of continental Europe.
We were unlucky with the weather there. It's known for its mist from the sea, which certainly made an appearance when we were there, so the beautiful view was restricted. But it's certainly a good thing to tick off the list of explorations.
Lisbon itself
The next day, and after a heavy night of mojitos and philosophical chats, we explored Lisbon. We started by visiting the Belem tower, learning all about the naval discoveries from Lisbon and famous Portuguese people.
After lunch, we saw the historical monastery of Jeronimos, which has had a ramp made especially for wheelchair users, like me. You can find out more about these two attractions and their accessibility by reading Portugal 4all Sense's article on the top 10 accessible attractions in Lisbon
The official Portugal 4all Senses tour
That evening we were treated to a really special experience. Rita and Daniela now offer their own accessible guided tours as part of their holidays. These are available for those booking directly with Portugal 4all Sense and people using Airbnb.
I'm a real history geek, so I lapped up all the information on Lisbon and Portuguese history. The politics, the wars, the natural disasters, the religion, the architecture, the heroes and the villains. Wow. I was in my element!
We also went up an old lift that took us up to an amazing vantage point over the city. We even got to skip the queues to use it as we were with Portugal 4all Sense. The view of the old town, new town and the river was majestic.
Overall the city was good for accessibility. It had dropped curbs and level access to buildings, all without needing to use public transport. People often talk about Lisbon being hilly, which parts of it are. But where we stayed and ventured to, it was just fine.
We were also taken to a local shop to buy Portuguese food and port. It was an amazing gastronomy experience. In addition, we were taken to the cafe regularly used by one of their famous writers and poets.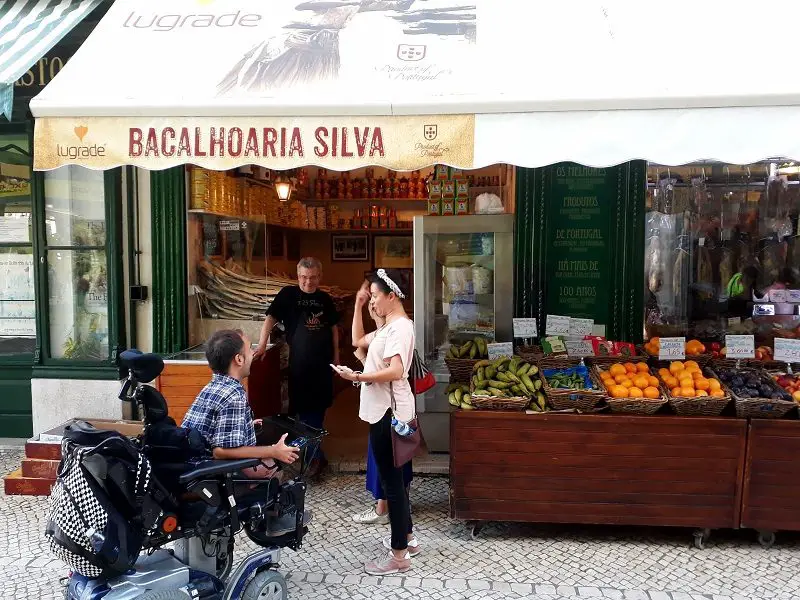 Beach weather in Portugal
The climate in the city was fantastic. I wore shorts and t-shirts every day and evening. In mid-September, it was in the late 20 degrees, with a nice sea breeze.
To really experience the beaches in Portugal, on our last full day, Kasia and I got an accessible taxi to the beach at Cascais. There was a ramp down onto the sand and a mat towards the sea. I spent the day just reclining back in my chair and listening to my music. I loved it.
On our last evening, we recorded an interview with Daniela and Rita about how they came to start Portugal 4all Senses. Take a look below:
Having never been to Lisbon or Portugal before, I'm so pleased I now have. I definitely want to return there again soon. Its climate, terrain, history and food were magnificent. Most importantly, we made new friends too.
Portugal 4all Senses
If you have always wanted to visit Portugal, or really fancy exploring Lisbon, please have a look at the Portugal 4all Senses website. Rita and Daniella can cater to your specific needs, organising everything necessary for your trip. From what I have seen, they really will do all they can to make your stay a great one.
By Martyn Sibley
More on Disability Horizons…
Do you have a great, accessible trip you'd like to tell our community about? Let us know by leaving your comments below, messaging us on Facebook or tweeting us @DHorizons.