Make sure your next holiday is as accessible as it is enjoyable by visiting Naidex 2019 – for FREE. The two-day exhibition will be packed with advice from disability travel experts and accessible holiday companies, as well as life-changing assistance products, all to help make your trip stress-free. 
---
Find out about Naidex 2022, the new focus on lifestyle and our NEW Disability Horizons Martketplace where you'll find innovative and affordable products to take home on the day.
---
If you have a disability, finding the right services and assistance to enable you to get away – whether nationally or internationally – can be complicated. However, knowing what options are available to you for an inclusive holiday can reduce that strain.
With the travel industry waking up to the needs of people with disabilities, the availability of accessible travel is on the rise. By providing a wider range of services, better support when it comes to finding the right accommodation and information on inclusive transport and essential equipment, there is no doubt that everyone can make their next trip unforgettable.
That's why Naidex, Europe's biggest event dedicated to disability, is providing everyone advice to help them find ways around travel obstacles. And the event is completely FREE for all.
Accessible travel advice at Naidex 2019
Visitors to Naidex will be able to meet more than 350 world-class exhibitors face-to-face, many of whom have years of knowledge of the inclusive travel industry and what's available.
One such example is Limitless Travel, specialists in organising accessible holidays for disabled people. It's helped a range of disabled people – from those with mobility difficulties to those who are physically impaired in other ways – to travel to sun-soaked countries, including Italy, Crete and Spain.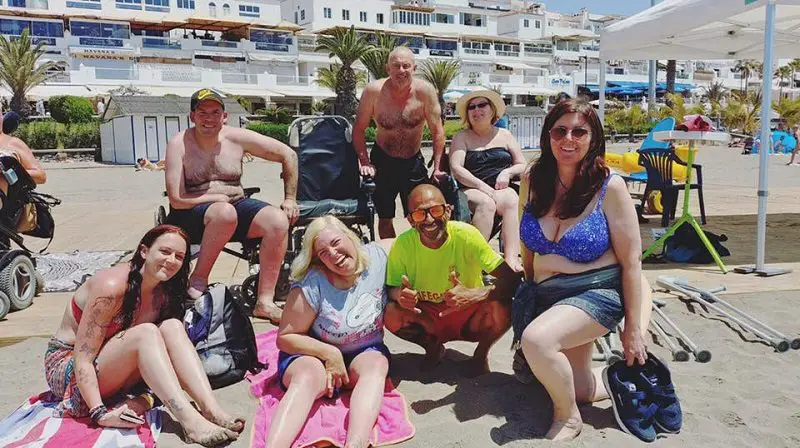 For visitors who are looking for fully-inclusive leisure activities abroad, we've also got it covered. Divecor, for example, will be bringing accessible scuba equipment to Naidex, giving those living with disabilities the chance to experience the aquatic world.
Assistive technology and travelling with a disability
Assistive technology can also play an important role when it comes to choosing the right holiday destination or helping you find your way around places. AccessAble is one of the many exhibitors who makes organising and visiting new locations across the UK easier. Its app holds factual information about the accessibility and inclusiveness of a wide range of locations and things to see and do, from nature reserves to heritage houses.
At Naidex you will also be able to find exhibitors with assistive products, such as BAWA Cane, who will be showcasing its latest cane for people who are visually impaired. Its features include a lightweight sensor cluster to improve obstacle detection to help avoid accidents.
If you're visually impaired, it will empower you to navigate quickly, and to therefore work, socialise, or even go on adventures to enjoy. BAWA Cane can be set with voice navigation, and can be connected to transportation services. It is able to relay emergency alerts to loved ones. So wherever you go for a holiday or an adventure, you will always have great help at hand.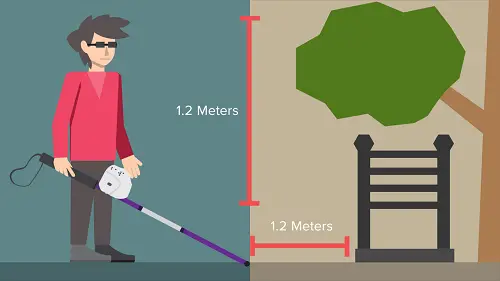 We'll also be hosting a seminar with travel experts Suzanne Edwards and Ed Handscombe from AirBnb. They will lead a seminar discussing how barriers for disabled travellers can be broken down. There talk will take you behind the scenes of some of those changes and will showcase new possibilities for sharing your passion with the world and embracing adventure!
Essential mobility equipment for your holiday
As well as choosing the right location, accommodation and activities, having the right mobility equipment at hand will also help to ensure your holiday is problem-free.
At Naidex, visitors will be able to meet with exhibitors to explore and understand the range of products available to them – from all-terrain wheelchairs to lightweight travel hoists – as well as the benefits. This will help you to discover which products are truly right for your individual needs. Three such companies are AddMovement, TerrainHopper and Mountain Trike Company.
Mountain Trike Company
Mountain Trike Company manufactures and produces all-terrain outdoor wheelchairs, offering independence and freedom to travel off the beaten track. The unique lever-drive system of the Mountain Trike and MT Evo enables you to propel, steer and brake, leaving you with clean dry hands, whatever the weather.
The MT Push – Mountain Trike's attendant, buddy chair – is perfect for families to enjoy the outdoors together. The braking and steering take place using the push handle located behind the rider. All its products have air suspension and hydraulic disc brakes, offering a safe, comfortable ride over any terrain.
TerrainHopper
TerrainHopper produces innovative British mobility scooters and wheelchairs for on/off road use. The state-of-the-art-suspension system helps those with spinal injuries, nerve damage, arthritis, MS and many other conditions, to go off-road without being jarred around.
The independent suspension, along with authentic four-wheel drive capability, enables you to travail difficult terrain with remarkable comfort. All its products have ground clearance of at least 240mm. This makes traversing through deep mud, DRY sand, snow, undergrowth, rocks and loose surfaces easy.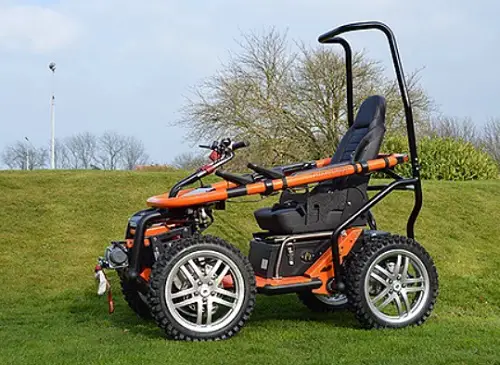 AddMovement
AddMovement's wheelchair the AddSeat is based on the market's best Segway PT Gyro and is famous for its ground-breaking driving control. You can turn around your own axe making it a lot more flexible. With a unique spring-dampening function, the AddSeat has a faster braking distance compared to many other gyro-based wheelchairs.
Also, the seat can be pushed backwards, so the weight distribution of the user's body comes behind the gyro, which also enables faster braking. Manual parking solution with four feet touching the ground is also included for comfort and safety.
Mobility test track
But the best part is that visitors can test the mobility equipment before purchasing on the Mobility Test Track. This means you can ensure your exact specifications are met for whatever environment you'll be exploring will be met, avoiding expensive disappointments!
Naidex 2019
The benefits of being able to enjoy a holiday to the fullest cannot be understated, and being able to find an accessible and inclusive experience should be an easy task. Naidex will provide just that.
You can speak to more than 350 exhibitors, listen to 250 seminars and explore our Fashion Zone and Live Sports arena. It will also give you the chance to mingle with more than 15,000 visitors, enabling you to hear other disabled people's useful travel hacks.
Tickets to Naidex are FREE and readily available now, so register today at naidex.co.uk. You'll also get a chance to meet the Disability Horizons' team!
By Naidex
More on Disability Horizons…