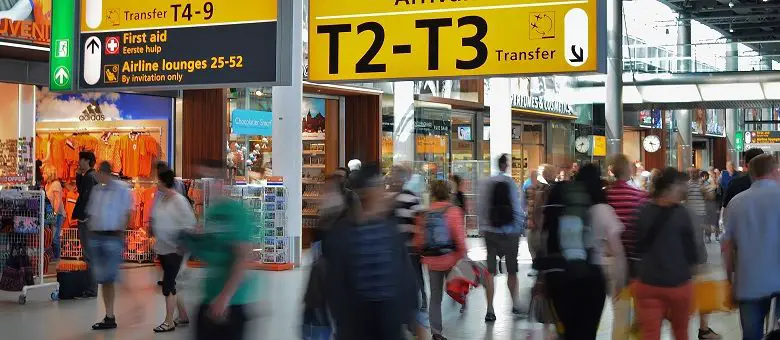 Here at Disability Horizons, we're always keen to share travel stories and tips to ensure you can knock down barriers to travel. That's why we asked blogger Amy Kavanagh to share a post from her blog by Justin Yarbrough on using AIRA Access at the airport, an app to help people with visual impairments navigate through airports.

Dr Amy Kavanagh is a visually impaired activist and campaigner. She is currently a long cane user and tweets @BlondeHistorian about her daily experiences of living in London with low vision. Amy uses her blog, Cane Adventures, to shares her perspective on navigating the world differently.
Justin Yarbrough works as an accessibility specialist for Rio Salado College, an online community college based in Tempe, Arizona. He writes about assistive technology for Cane Adventures. Justin lives in Phoenix, USA, with his wife Jennifer and guide dog, a black lab named PJ. He can be found on Twitter at @FatElvis04.
AIRA Access
If it wasn't readily apparent from my post about my trip to London, I love travelling. What I don't love, though, is dealing with airports, which can be a challenge even when you have perfect vision.
I hate trying to get around airports. I have no useful vision, so it's impossible for me to do so independently. I rely on either family or airport staff to navigate airports. I've had some bad experiences with airport staff, so I try to avoid them if I can.
I generally prefer to fly directly into Houston and get my family to pick me up from there when I come out for a visit. I can get a direct flight there from Phoenix and it's only an hour and a half drive for my family, who can get passes to meet me at the gate.
Flying when visually impaired
Since I work for a college, I got a week and a half off for Christmas. So last year I decided to spend a few days in Texas visiting family.
About a week before my trip, I found out that both airports in Houston offer AIRA for free through their AIRA Access program. AIRA is a service that connects blind and visually impaired people with trained agents who can for help with all sorts of things. It uses either your smartphone camera or smart glasses to provide them with a video of your surroundings while the agent talks to you.
I decided to give the service a try and told my brother I'd use it and meet him at baggage claim. I downloaded the app to my iPhone, created a free account, and configured the app to send me a notification whenever I was somewhere the free service is available.
My experience of using AIRA Access at the Airport
When I landed in Houston and took my phone out of aeroplane mode, I got a notification that the service was available for free where I was, just as I'd expected. After PJ and I walked off the plane, I stopped in the gate area, popped in my AirPods headphones, and fired up the app.
Before I go on, I should note that using my AirPods was a bad idea. I own a set of bone-conduction headphones for the sole purpose of being able to keep my ears open while using technology to get around, but I didn't feel like digging them out of my backpack. Thankfully, AirPods let in enough ambient noise that it wasn't a real issue.
Anyway, I was connected with an AIRA agent roughly 20 seconds after placing the call. Since it was my first time using the service, he asked me a few basic questions, including was I using a white cane or guide dog and whether using a clock face for providing directions would work for me.
We initially had some trouble getting out of the seating area at the gate I arrived at, which was crowded with people waiting to board a flight back to Phoenix. Once we cleared that area, the agent asked me to stop and pan the camera around, so he could orient himself. He then told me which way to walk and we started on our way.
He continued to ask me, two or three times, to stop and pan around so he could see some of the airport signage and read it. He guided me out of security, to the elevators and then to baggage claim. My brother was waiting for me at the elevator, so I thanked the agent and ended the call there.
My thoughts on using AIRA
All in all, I have to say that I found the experience quite enjoyable. The agent I spoke with was very friendly and helpful. It was also nice to not have to wait at the gate for a member of airport staff to guide me to baggage claim. I would use the service again when I'm in an airport, or any other place that offers it for free through the AIRA Access program.
AIRA currently offers a subscription service, which allows you to use it anywhere, in the US, Canada, Australia, and New Zealand. Its free program, AIRA Access, is available at select locations in the UK and Ireland, but its subscription service is not yet available. I wouldn't have even written about the app for this blog if not for the launch of service at London Heathrow in December.
I'm personally still on the fence as to whether its paid service would be worth it for me. In my current situation, I don't think I'd use it enough to justify the price tag. But I suppose I'd probably do more where I could use it if I had it available. I know plenty of folks out there who swear by the service, though.
If you're interested and living in the U.S, why not try a 30-minute free trial of the premium AIRA service?
You can learn more about AIRA the app and the people who use it by watching this video.
By Justin Yarbrough and taken from Amy Kavanagh's blog, Cane Adventures
Share your travel experiences with our community by leaving your comments below, messaging us on Facebook or tweeting us @DHorizons.
More on Disability Horizons…