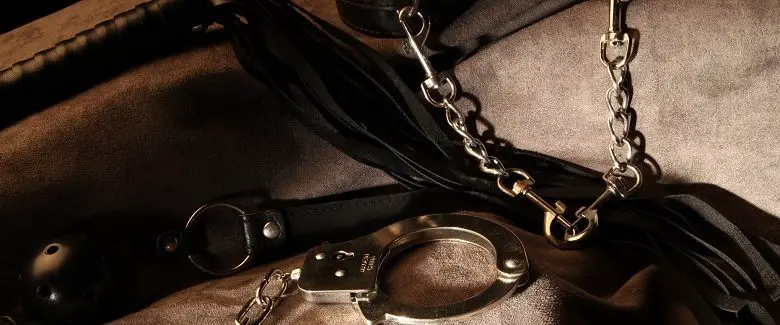 Have you ever considered BDSM – bondage, discipline, sadism and masochism? For some people, it's not something they want to even entertain the idea of. But, practices inspired by it could help to liberate anyone disabled and unable to enjoy sex in a conventional way. Francesca from inclusive sex aid website, The Pleasure Garden, explains all.
Sticks and stones may break my bones… but whips and chains excite me! For some people, the idea of BDSM and kinky sex play is completely taboo. It might be hard to see the appeal of being tied up, spanked or punished.
For many other people, however, BDSM and kink offer a means to explore their sexuality in new ways. It moves beyond the heteronormative and sometimes inaccessible idea that typical penis in vagina (PIV) sex is always the goal and anything else is just foreplay.
It's simply not true. Intimacy and pleasure can be achieved by exploring new sensations and using creativity and imagination. This is extremely freeing for anyone with a disability unable to enjoy sex that way.
This article explores disabled peoples' experiences of kink and why it appeals to them. It might even inspire you to have a go yourself! 
What are bondage and BDSM?
BDSM, which stands for bondage, discipline, sadism and masochism, covers a huge range of erotic practices alongside other forms of kink, such as fetishes or fantasy play. Whether you enjoy being told what to do or taking charge, what underpins a lot of forms of BDSM is the exchange of power.
Choosing to give up or take control with a trusted partner is in itself exciting and arousing. Kirsten, who runs chronicsex.org explains:
"As someone who has multiple chronic illnesses, I always have to be in control of my life. From appointments and medications to avoiding things that set off my MCAS and educating people about accessibility, it's really a lot. I really enjoy the power dynamics and letting go of control."
For some people, it is physical sensations that appeal, such as being spanked or restrained. Although care should be taken, experiencing pain in a controlled way can lead to an endorphin rush, blurring the line between pain and pleasure.
Kaja, who has rheumatoid arthritis and fibromyalgia said:
"Impact play – activities with implements – such as floggers, paddles, and straps – seem as though they would do a lot of damage to someone who is physically more vulnerable or frequently in pain. But I find that it actually relieves tension and helps work out knots that form in my back and legs. Being able to focus on the pain of a spank or slap makes me feel more in control of my pain because I'm choosing it."
Kinky play also enables people to explore sexuality and intimacy in ways beyond PIV sex. 'A', who is a wheelchair user with muscular dystrophy, said:
"My experiences of kink have enabled me to embrace my body and my sexuality in ways I felt unable to before. It means I can appreciate and enjoy my body for what it is rather than being self-conscious that it differs from the norm."
Are bondage and BDSM accessible?
Although each individual and their desires and limitations are unique, there's no reason why you can't have kinky disabled sex. With creativity, most things can be adapted, and there is an increasing number of accessible sex toys that can help make your fantasies happen.
Rebecca recommends; "using several of the leather strap based forms of bondage as this actually eases the pressure on my joints in a bunch of sexual positions. It also allows for longer, more enjoyable play."
A few examples of accessible products include:
Easy to open

bondage cuffs

;
At The Pleasure Garden, we are also able to provide personalised product recommendations if you are not sure what would work for you. 
Many of the people I have spoken to for this article said that they have found the kink community to have a pretty inclusive attitude. However, some aspects of the kink scene, such as events and parties, can be less accessible and might not meet your needs.
But there are some out there and it is always worth asking. If you are interested in attending events, the best place to start might be a Munch. These are non-sexual meetups (often in a public venue, such as a pub) where like-minded kinky people get to know each other. It can be a great way to make connections and find out what events are accessible in your local area.  
Interested in giving bondage and BDSM a try?
1. Think about what you want and find your limits
Spend some time thinking about what aspects of BDSM you would like to explore and what you want to get out of it. New sensations, freedom from responsibility, a sense of control or a fantasy brought to life?
Just as important is thinking about what you don't want. What are your physical and emotional limits? There may be things that you would love to do but that are outside of what your body is capable of.
Be reassured that this is true of everyone, not just those with disabilities. Do not be ashamed of your limits and be very wary of anyone who ignores or pushes your boundaries.
2. Communicate constantly
Before you get anywhere near the bedroom, discuss your desires and limits with your partner. Disabled people have to spend their lives communicating with others about their bodies and their limitations.
Use this awesome ability to your advantage and be specific about how you would like things to go. Choice and mutually agreed consent is critical to any form of kinky play.
Many people chose safe words. These can guide what is happening and help avoid a body part you don't want to be touched. They can also alert your partner is you want to stop or take a  break.
'P' and 'K', who are both disabled, have a sub/dom relationship, suggest:
'It's extremely common for one or both of us to use a body-related safe word. 'Neck', 'knees', 'back', 'hip' and 'arg, leg cramp' are all safe words in our world!'.
Make sure you take in to account any communication difficulties you and your partner might have. Where verbal communication is limited or impossible you can agree on alternative safety signs, such as tapping out.
3. Get online
If there is a type of kinky play that has got you excited, spend some time doing a bit of research online. With any kind of BDSM play it is important to learn how to do it safely. Take the time to get educated (as well as inspired).
There is also a thriving online community of disabled kinksters out there (members of which have contributed to this article). Twitter is a great place to connect and ask questions, as well as more specialist social networks, such as Fetlife.
Chronic Sex is a fantastic resource with information about all sex and chronic illnesses and disabilities. If you are looking for sex toys and BDSM gear, come and visit us at The Pleasure Garden – the UK's inclusive sex shop. We will happily make answer any questions and make personalised recommendations for products that will work for you.
By The Pleasure Garden
More on Disability Horizons…