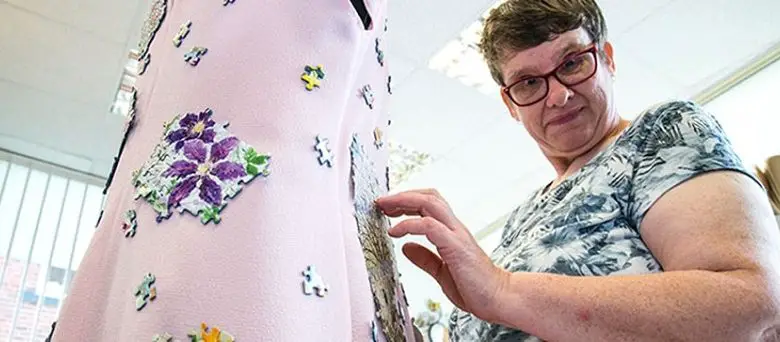 News
Disability charity celebrates the art and creativity of disabled people
A Beatles inspired jigsaw dress, fiery dragon, metal work sculpture and bumble bee mosaic – all got royal attention this week, at an event celebrating the art and creativity of disabled people.
Disability charity Livability ran 'Meet the Makers' in the presence of Livability's Patron, Her Royal Highness Princess Anne, to showcase art, crafts, metal works, textiles and painting from disabled people across the Livability community.
The aim of the event was to highlight the importance of art and creativity in the wellbeing and health outcomes of disabled people. The charity also launched its Brightening Lives appeal to raise awareness and funds for creative activities at their services.
Walking through the gallery, Her Royal Highness (HRH) viewed art that had been contributed by disabled people from a range of Livability's services across the UK. She also met personally with a number of the artists, to find out more about what inspired their work and creative projects.
Some of the metal works on display in the gallery had been made by repurposing horseshoes, which obviously piqued the princess's equestrian interests. She quipped: "Now we all know what to do with old horseshoes – you'll be inundated with them!"
HRH made reference to The Arts Council and its recognition of 'the power of art to unlock people's abilities and interests'. She also encouraged everyone in the room to think about embracing the role of art in their own lives saying; "It's never too late."
She concluded by saying: "Thank you for setting the best possible example for how to support individuals to be individuals and respond to their own creativity."
Meet the Makers
Art profiled at Meet the Makers event and Livability's online gallery has been shared by disabled people at Livability services across the UK. It included:
Jigsaw inspired dress designs from Pat and a local dress shop. Pat lives at Livability York House – a care home in Wakefield.

Metalworks and sculpting from Mikey – who takes part in Livability Maesbury Metals, Shrewsbury.

Art and ceramics from people at Livability Holton Lee – a wellbeing discovery centre in Poole, Dorset.

Painting from Art By The Sea – a community art group that meets at the care home, Livability Ashley Place, in Bognor Regis.

Crafts and needlework from The Corner Patch – a shop and day service in Oswestry, Shrewsbury.

Art and creativity from children and students at Livability's Victoria Education Centre in Poole, Dorset.
By Livability
To find out more about Livability and how you can get involved or benefit from its services, visit the Livability website.
More on Disability Horizons…