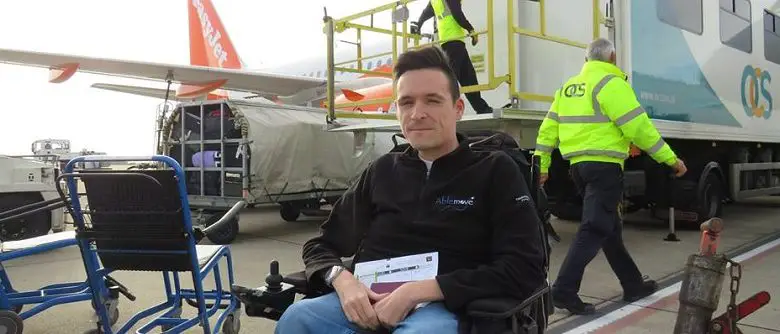 25-year-old Josh is a disabled entrepreneur from Bristol. While working as a cybersecurity manager he decided to spread his wings and follow in his grandfather's footsteps by starting his own business.
Since launching his EasyTravelseat, it has benefited many wheelchair users who find it difficult to transfer to an aircraft seat. Our writer Zubee caught up with him to find out more about his journey to success and his advice for those who are considering starting their own business.
---
You can buy the EasyTravelseat on the Disability Horizons Shop now.
---
Please tell Disability Horizons readers about yourself.
I'm Josh Wintersgill and I have Spinal Muscular Atrophy. I graduated from the University West of England in 2015 after studying IT management and business. After university, I worked as a cybersecurity manager for three years. But I didn't feel fulfilled.
My grandad used to run his own business and, although he passed away when I was 18 months old, as I grew up I became more and more inspired as I learned about him and his venture. It made me think: "Why can't I run my own business one day and be like my grandad?" So, I decided to venture into the entrepreneurial world.
I also knew that having my own business would allow me to be more flexible, which makes managing my disability a lot easier. I now understand why, in certain aspects, people with disabilities choose to run their own business.
When I am not working, I am an avid air rifle shooter and have recently been asked to join the Great Britain Development and Talent Shooting Squad.
What was it like growing up with a disability?
In many ways, the same as any other child. My parents shouted at me if I didn't do as I was told. I had to earn my pocket money so that I could get a 50p bag of sweets at the weekend. Standard stuff. Okay, there were some limitations. But when you're a child you don't really know any different. Your instinct is to adjust to overcome the limitations.
If I was struggling to do something, my nan always used to say to me: "Put can't in your pocket and pull out try." Every time I struggle with something now I find myself reciting it. It's about trying and never saying you can't do something – you can, you just need to find a way.
What prompted you to invent the easyTravelseat and how can it help disabled people?
Wheelchair users who travel by air will know all too well the difficulties associated with getting from their wheelchair to the aircraft seat.
The process of having special assistance staff put often uncomfortable transferring equipment under you is horrible. There's then the daunting and unpleasant experience of being lifted to an aisle chair and again from it to get to your aircraft seat.
That's without counting the frustration if an airport your flying from or to does not have any transferring equipment. Plus, what do you do in an emergency? How will you be lifted quickly – and safely – off the aircraft?
So, as a way to help passengers, like me, make flying that little bit easier, I designed the easyTravelseat.
I am very lucky to have friends and family working with me on the seat and company. We've created the first in-situ transfer seat in the global market, specifically designed to aid with the transferring on and off an aircraft. It is also compatible with a hoist, so can be used in other situations.
We've designed it to blend in elegantly with a wheelchair so that it doesn't stand out and look unsightly as conventional slings would do.
Its compartments for additional cushioning, allowing you to tailor it to your needs, make it unique too. Plus, the inserts on the side panels are located to allow for wheelchair and aircraft seat belts to pass through.
What are the benefits of the easyTravelseat?
You own the device. That means you no longer have to rely on the airport or airline to provide transferring equipment.
You remain within the easyTravelseat from the beginning of your journey to the end, ensuring you're comfortable and can be helped if there is an emergency.
It allows you to arrive at the airport ready for all transfers on and off the aircraft without the need for special assistance having to lift your arms or legs.
Our cushion base allows for foam, gel or air inserts to provide comfort when sitting on the aisle chair or aircraft seat.

It's designed with discreet pockets to hide all straps and handles

, u

nlike your conventional sling.

You have your own detachable travel pouch for your phone, passport and travel documents so that they're all within easy reach.
Head to the Disability Horizons Shop now to buy the EasyTravelseat.
Since launching the easyTravelseat, what reactions have you had from people who have used it?  
We've been thrilled by how many people have taken an interest in it and found it really useful. This is what Claire Taggart, a GB Paralympic Boccia squad player, had to say about it:
"easyTravelseat is incredible. I've just flown to compete in a competition in Croatia and I can honestly say I've never been comfier on a flight. I would usually get lower back pain and increased muscle tone when flying due to the lack of seat support but not with easyTravelseat. I felt comfortable through all transfers. If you are indecisive about whether to invest in one, I can highly recommend it."
What do you think airlines should do to help disabled passengers travel by aircraft more easily?
The pinnacle would be to allow passengers to travel in their wheelchair onboard the aircraft. However, despite constant campaigning, this ideal scenario looks a long way off.
Until then, there is no reason why there cannot be an international standardised process in place. As a minimum, all airlines and airports should have some form of appropriate transferring equipment that can be used for all lifting of passengers. This would ensure better protection for both the passenger and special assistance.
What challenges did you face when starting your business and how did you overcome them?
When I started my business I was still working full-time as a cyber security manager. It was hard maintaining focus on keeping the day job going and starting the business.
I knew that as things progressed in my career and with the business, I would need to do more work. I had to consider my ability to continue doing my job, manage my care and health, as well as remain sociable and see my family and friends. Eventually, I had to take the plunge and leave my paid job so that I could turn all of my attention to easyTravelseat.
How did you hear about the Stelios Award for Disabled Entrepreneurs?
When I was developing the easyTravelseat (originally called Able Move), my team and I managed to get the opportunity to show the seat to the special assistance team at Heathrow airport.
On the day, I was told about the disability charity, Leonard Cheshire, who has been running the award with The Stelios Philanthropic Foundation for 12 years. So, that evening, I followed the organisation on Twitter.
A week later when scrolling through Twitter I saw an advert that said: "Stelios UK Disabled Entrepreneurs Award – Apply now." I clicked the link, realised I met the criteria, completed the application and the rest is history.
How did you feel when you found that you had won this award and a £30,000 cash prize? 
Now in its 13th year, the Stelios Award has had some incredible winners, including Mobiloo, Mental Snapp, Wetwheels, and Evenbreak. The award is extremely prestigious in the disabled entrepreneurial world.
When Sir Stelios announced that my business was the overall winner in 2018, I had a huge sense of achievement and was thrilled to be recognised for what my team and I have done so far. It was surreal, especially to be working with my family and friends, who were sharing the moment with me.
How do you build up the confidence to start a business and is confidence something you've struggled with or had to work on? 
A significant amount of my confidence has come from going to university, doing a placement year and working as a graduate. It really teaches you to come of out your shell in a safe environment. Building up confidence doesn't just happen overnight, it's something you have to work on through experiences over time.
What advice would you give other disabled people thinking of starting their own business, but who don't know where to start?
I used a scheme called Business West, which provides professional, free support too small to medium enterprises that need help in getting their company off the ground. You can also get advice and support from The Princes Trust.
I'd advise people to look in their local area for business grants, funding and support. Plus, get in touch with local growth hubs and find entrepreneur events, such as the Stelios awards and the F-Factor.
If you're going to get support from Access to Work, I would encourage you to plan way in advance. It has been a challenging and slow process for me.
What are your top five tips to being a successful entrepreneur?
Have a vision.

Have perseverance.

Be confident in yourself.

Network as much as possible.

Don't worry about making mistakes.
What are your future plans for your business?
To provide more useful information around seating solutions when flying and broaden our product portfolio. I'd also like to expand further afield internationally so that everyone who needs an easyTravelseat can have access to one.
Head to the Disability Horizons Shop now to buy the EasyTravelseat. You can also find out the latest about the EasyTravelseat on Facebook and Twitter using @easytravelseat.
By Zubee
More on Disability Horizons…