Fenetic Wellbeing sells a range of mobility aids and disability equipment online to support disabled and elderly people live independently. Here, it shares a guide to making the most of your recliner chair.
Recliner chairs aim to provide body support whilst seated for those affected by back and spinal pains. They are there to help you as the user. If maintained and looked after properly, you can get years of enjoyment and relief from them. So, the question is what is a recliner chair?
A recliner chair essentially reclines back when you are seated. They often also have a footrest that elevates at the same time as the back of the chair reclines.
There are two types of recliner chairs – electric and manual. Both types are slightly different in the way they function.
Electric: Electric recliner chairs are controlled by buttons. As you press the button, the chair will recline back and the footrest will elevate.
The buttons on single-motored electric recliners will operate both the headrest and backrest simultaneously. Dual-motored model on the other hand feature additional buttons that operate the back and footrest individually.
Manual: Manual recliner chairs require you to do a bit of the work yourself. They are operated with levers that respond to your movement. As you move back, the backrest will start to recline and the footrest will elevate.
Some of the newer and more modern versions of recliner chairs come with extra features that provide you with further comfort and support. This includes adjustable headrest and footstools with heat control and massage functionality.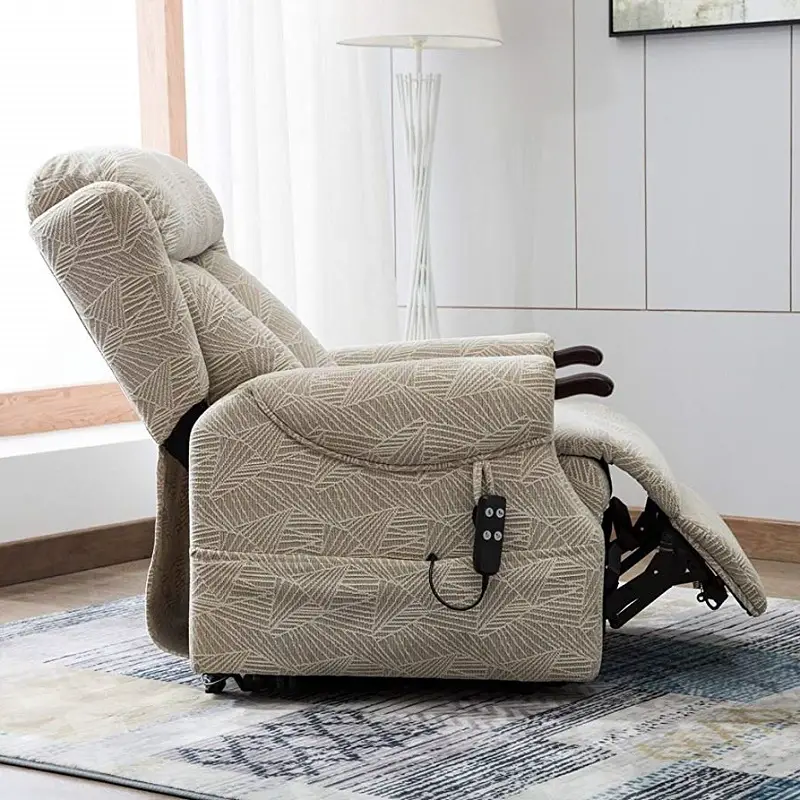 How a recliner chair can benefit you
Recliner chairs are generally created for the elderly and those with general mobility issues or pain. They are designed to provide you with maximum support when you're in the chair, as well as when getting in and out of it.
They are both practical and also comfortable whilst you're seated and provide you with peace of mind when getting out of the chair.
When the seat is reclined, they give your neck and back full support. This helps to offer relief from any niggling aches and pains you suffer from. When risen, they can also offer respite from any pain in your hips and joints.
How to get the most out of your recliner chair
It's incredibly important that you take care of your recliner chair. With the proper care, it will ensure it stays as comfy as possible and also won't need replacing. If cared for properly they can easily last for up to 10 years.
It's important to try and be careful when taking your seat.  If you sit down too hard this could potentially damage the chair and break the recliner function.
Selecting a high-quality recliner chair is also a great way of ensuring it last for a long time. Low-quality recliners, although cheaper, will need replacing far earlier.
The material the chair is made of can also make a big difference. More durable materials are far more likely to stand the test of time. Selecting a material that's easy to clean will also make your life easier.
It's important to remember that every person is different, so find one that works for you. There's such a wide selection available, it's almost impossible to not find one that suits your needs.
Whether it's the massaging feature or having electronic control, it's important that you there's something that will suit you.
By Fenetic Wellbeing
More on Disability Horizons…