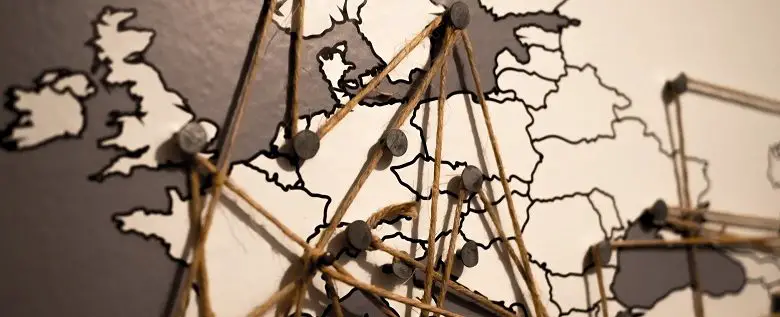 Wolf, who lives in New Zeland, is an avid traveller. He's visited the USA, Germany and Spain in the last couple of years, all as a wheelchair user since his stroke in 1990. Here, he shares his tips and tricks on travelling with a disability from his years of experience.
A smart guy once said: "Before you start packing your suitcase, lay all the clothes you want to take on your bed and all the money you want to take next to it. Then pack half the clothes, and take twice the money."
Although this is a joke, there is some truth in it. A lot of people notoriously over-pack and all too often we run out of money.
A holiday should be relaxing for the body and the mind. So, the last thing you want to do is constantly worry about money. If you do not have enough money to enjoy a break, just don't go. Save up for another year to make sure your vacation is not spoiled by permanently performing budget acrobatics in your mind.
Overpacking, on the other hand, is a necessity for many disabled people. It is one of the first things you should think carefully about when planning a trip…
1. Pack methodically and smartly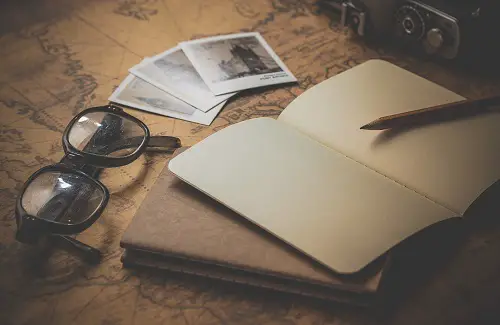 There are, of course, the usual things anyone needs to think about packing for a holiday – suncream, the right clothes for the climate, shoes for different occasions… the list goes on.
That's the easy part. If you're disabled, there is a whole host of essentials to add on top of this. So, making lists and thinking carefully about what you really need to take is vital.
There are a couple of examples here on how you can create a packing list:
Obviously, you will need to pack differently depending on whether you're going on a short or long holiday.
How many clothes will you need? Three seems to be the magic number for me – one to wear, one in the wash, and one spare.
But, despite planning, I often find I end up buying a t-shirt or some other garment once on holiday. There are bound to be things available where you go, so don't stress too much.
In warmer countries, I tend to take more clothes that are made of thin materials as they dry quicker, so I can rotate them. It's also a good idea to take a warm jumper for cooler nights.
Once you have decided on your clothes, I recommend rolling them! It might be surprising, but your clothes actually get fewer wrinkles if you roll them.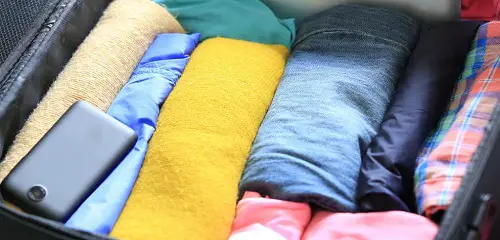 Just make sure you push the wrinkles out to the side and don't roll them in. They won't be totally wrinkle free, but the creases will be less persistent. You might even get away with a few days of not ironing.
No matter how well you pack, to avoid a mess, I always put everything in different sized packing cubes and pouches. Here are some examples, but there are many on the market:
Packing pouches and cubes
Put your toilet bag in your carry-on luggage. After a long flight, you might want to brush your teeth and freshen up. You'll feel better about yourself and your body will thank you for it.
Pack a reusable shopping bag, too. Many countries around the world are becoming more and more environmentally conscious. This means that retailers are increasingly getting rid of plastic bags.
Back home, I don't unpack everything. Instead, I leave travel items in the suitcase so that they're ready for me next time.
I also have the luxury of a spare room, which means I put the empty suitcase in there months before my trip and throw things in whenever they come to mind. I still, of course, write a packing list.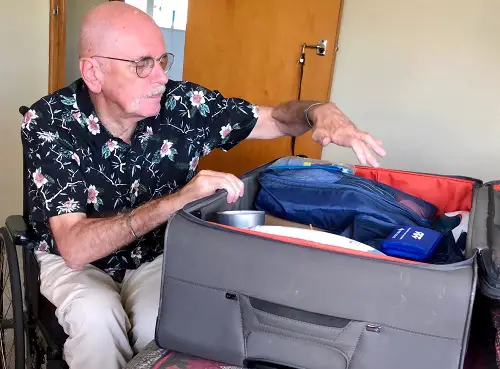 2. Keep your equipment safe
A basic toolset for your wheelchair or other equipment you need is a must. While you can find help just about anywhere, they might not have the proper tools required.
Also, make sure the baggage handlers know your equipment is valuable. I use white, sticky tape that says 'FRAGILE' in capital red letters on it. It's not guaranteed that they'll be careful, but it should help.
To avoid parts getting damaged or going missing when I board a plane, I also stick the tape all over my wheelchair, particularly on any removable parts. Again, there is no guarantee, but I have found it helps.
You might also consider doing the same thing to your check-in luggage for easy identification, and added safety.
While talking about tape – don't forget to take duct tape. Honestly, it's your best friend. You'll be surprised how many things you can fix. Even if it's only temporarily, it might just help you get out of a tight spot if something breaks.
3. Check important medication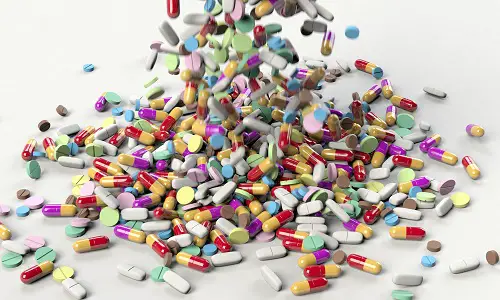 Above all – think about your medication. What do you need and do you have enough for the length of your holiday? Check with your doctor and ask them to prescribe a bigger amount if needed.
Here in New Zealand, you can only get prescriptions for three months. Last year I was away for four. Even though the doctor wrote me a prescription for six months, the pharmacy did not fulfil it.
I had to go back to the doctor, he had to write a separate prescription and I had to go to another pharmacy to get the medication I needed. It was a long process, so think about this early on.
Also, check whether your drugs are legal in the countries you visit – you don't want a nasty surprise. Make sure you also take a photocopy of the prescription for your drugs.
If applicable, I'd recommend taking photocopies of any important letters from doctors about your condition. They will help to explain your needs should you have to see a doctor or be asked about your meds or equipment while there.
Having had two deep vein thrombosis and two pulmonary embolisms (essentially blood clots), I always take compression socks to wear on the flight. There are many different ones on the market.
I'd also suggest taking an extra pair of glasses or contact lenses. If you rely on them to see well, you don't want to be without a back-up if you lose them on holiday.
Lastly, consider taking grab bars. Not all hotels have them where you want them, or not at all, so they can be very useful. The first vacuum grab bar I bought was rather big at 42cm.
After discovering, on one occasion, that I couldn't use it because it was too big, I bought a smaller grab bar measuring 30cm/12inches.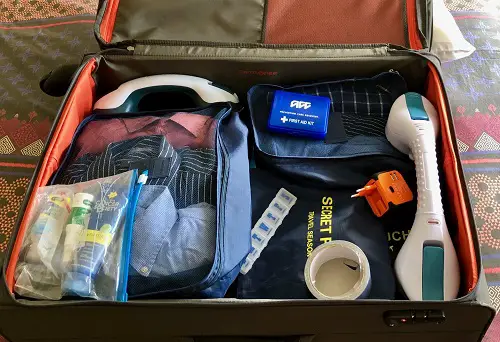 Not quite medical, but I take a Euroschlüssel key whenever I travel anywhere in Europe. It essentially lets you into lots of disabled toilets across Europe. You should definitely get one, just in case.
There are also apps available to show locations where you can use it. Visit the Euroschlüssel key website (which is in German, but you can translate it using Google translate) or order one by emailing bestellung@cbf-darmstadt.de.
4. Don't forget important documents
Make sure your passport is valid for at least another six months from the time you travel. Otherwise, you might not be allowed to board the plane.
Carry a hard copy (you can do this by photocopying it or scanning it onto your computer and printing it out) and one on your phone – just in case.
I also always print details of hotels I am staying at or attractions I am going to as well. That way I have the details to hand and proof of purchase.
For cash, I like to take one of those pre-loaded credit cards. You can load it with different currencies and use it at ATMs worldwide to get cash in the local currency.
If you're going to be driving anywhere, check whether you will need an International Driver License, particularly if you rent a car. 
If you are going anywhere in Europe, I'd recommend first looking at this page for information on disabled parking regulations in Europe. It'll mean you're prepared. And don't forget your Blue Badge, which is recognised across Europe.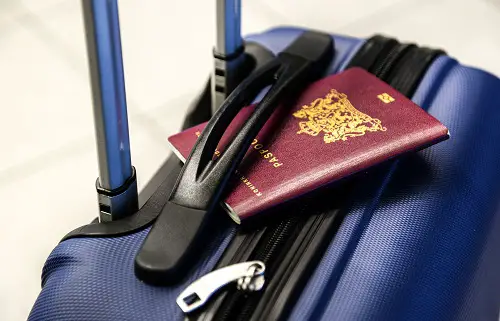 5. Make the most of your tech
For a long time, I had one adapter plug, and that was enough. But, nowadays, you need to charge your laptop, phone, tablet, music player, electric shaver, hairdryer… the list goes on.
That's not even counting the equipment you might need to repower. So, as the tech built up, I got sick of changing using one adapter. So, I bought a world travel adapter with dual USB ports.
To avoid misunderstandings through language barriers, I downloaded Google Translate on my iPhone. You can also get it for Android phones too through Google Play. And don't forget to try it out. It might help you learn some basic language you need before you go.
Lastly, depending on where you go, you might want to talk to your mobile phone company about using your mobile abroad, especially if you want to use the internet.
By Wolfgang
Do you have any valuable travel tips as a disabled traveller? Help other Disability Horizons readers travel stress-free by leaving your comments below, tweeting us @DHorizons on Twitter or posting on Facebook. 
More on Disability Horizons…