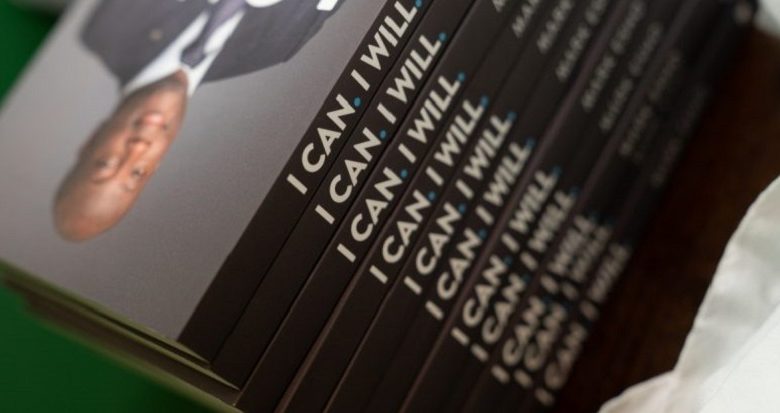 Work & Education
Determination to succeed in the face of disability and racial discrimination
At the age of five, Mark Esho became paralysed. With a new disability and facing discrimination because of his race, his childhood was tough. But that didn't stop him from achieving more in business than he could have ever imagined. Read on to find out more about Mark's journey, his businesses, and his new venture, the accessibility review app Access Rating.
Please tell Disability Horizons readers about yourself and your background.
I was born in Leicester and grew up in a small village called Newbold Verdon on the outskirts. At the age of five, I had a very violent fit, caused by a severe dose of polio.
Having woken up in the middle of the night to go to the toilet, never could I have imagined that this would be the last time I would walk unaided. Polio strikes without warning It is sudden and brutal.
The next day after the fit I woke up in the hospital completely paralysed from the neck down. I was there for more than two years.
The first six months I was in isolation because polio is like coronavirus – highly contagious and potentially lethal. I remember having lots of painful lumbar puncture injections and physiotherapy.
By the time I was 8 years old I was able to walk with two callipers and crutches. By the age of 10, I managed to walk with one calliper and crutches. I used a wheelchair for distances.
Today, my left leg is still completely paralysed, while my right leg has 10% of the strength it should. My left arm has 50% strength and my right arm is fine. I'm a walking miracle.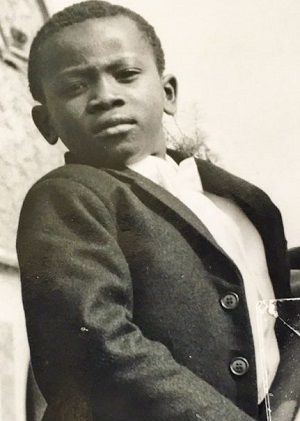 What was it like growing up with your disability?
Having any sort of disability can be difficult. But what made my situation worse was the fact that my parents moved back to Nigeria just before I became ill and left me in England to recover.
I was then sent to a special needs school where a high proportion of the children had learning difficulties, so my education was fairly limited.
Eventually, my parents took me out of that school and moved me into a mainstream school in Nigeria. But my father could not accept my disability. As a result, I was subjected to horrific abuse growing up, both mental and physical.
On top of that, I had to deal with bullies and face the pressures double discrimination brings because of my race. Being different makes you an easy target.
Most of the bullying was verbal. They would laugh at the way I walked and mimic it. I remember someone once saying, "I would kill myself if I looked like you." This was mainly in Nigeria, where disability is rarely seen and instead hidden away.
While in the UK I went to a special education school, so the torments were mostly racial. The 'N word' was used a lot, and I was often called a monkey.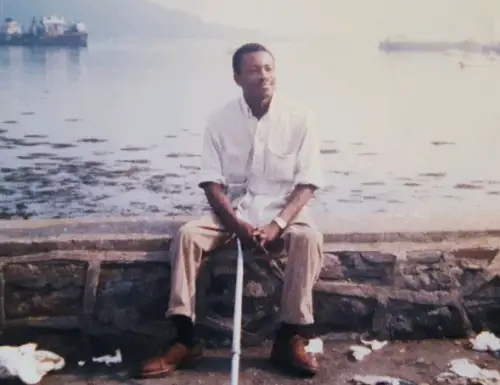 You're a self-made entrepreneur with multiple technology businesses. What prompted you to start these companies?
An unfortunate set of events actually lead me to set up my first company. I was working as a finance manager, where I had been for seven years. But I suddenly started to become quite ill, suffering from muscle aches and chronic fatigue pretty much all of the time.
Initially, doctors didn't know what was wrong with me. But after a few months, it transpired that I had post-polio syndrome.
I discovered that 70% of polio sufferers experience other symptoms – including muscle weakness, difficulty with concentrating and joint pain – around 30 to 40 years after the initial onset of polio.
I could no longer work full-time and my energy levels were erratic, so I had to leave my job. In one fell swoop, I became unemployed and unemployable.
I decided that creating my own company was the best option for me. As the internet had always been a hobby of mine, I decided to set up a Rightmove-style website called Houses-online.com. Despite not having an IT background, I taught myself basic web design and put all the money I had into it.
However, despite teaching myself search engine optimisation (SEO) and getting the website to the top of Google, the venture failed. So, not only was I unemployable, I was broke as well!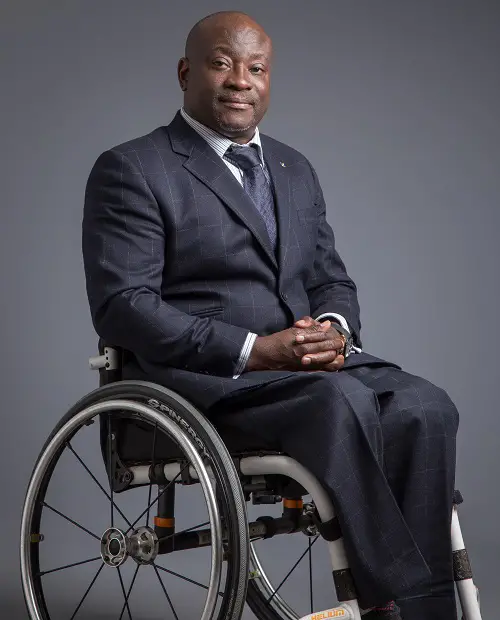 I needed a new plan, so I decided to set up a web design agency, called Easy Internet Services, to help other companies rank higher in search engines. This wasn't easy to get off the ground either – at the time people didn't really know what SEO was.
Also, because I was housebound, I couldn't go out to pitch for work. So I offered four companies my services for free, as long as they gave me a testimonial. Within three months, I got the results I needed.
With the testimonials backing me up, I was able to get more companies on board, initially saying I only needed paying if I got results. At the time, I was living off my credit card.
Thankfully, within a year I was earning more than in my previous jobs, and by the second year, I was starting to employ people.
Looking back, I hit on a very lucrative idea – my company was one of the first digital marketing agencies in the UK.
Following on from that success, in 2004 I saw a gap in the market for free web hosting. So I set up the UK's first free web hosting provider, called FreeVirtualServers.com, under the company name Easy Internet Solutions.
Both companies are now still doing well with a customer base of tens of thousands.
You recently created a new company, called Access Rating, which allows disabled people to rate the accessibility of the places they visit. Please tell us more about the idea and how it will help disabled people.
Access Rating is a social enterprise. A friend of mine, Richard Copson, came to me with an idea of having a hygiene-type rating system for disabled accessibility of venues.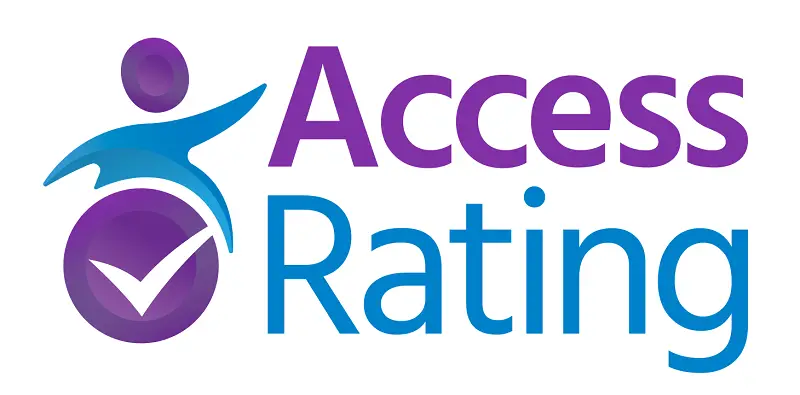 After a long conversation over a few beers, we decided to create an app that would allow users to review the accessibility of any bar, hotel or restaurants within the UK. We wanted people to be able to do this simply and easily within 30 seconds.
In February 2020, after four months of development, we launched the Access Rating app with a database of more than 200,000 venues.
It uses geolocation, which means you can see venues that are close to you. So, as well as submitting reviews, you can search for accessible places to visit near you. The Access Rating app is available on Google Play and the App Store.
Our aim is to collect more than 100,000 reviews by 2021. We will then use this data to update the app so that it can feature the 'top 10 bars hotels and restaurants' by city or town.
We also offer disabled access audits to venues who want to do better with their accessibility. One of our directors, Jinesh Vaidya, who is heading up this part of the venture, has more than 10 years of experience as an access auditor.
Lastly, we offer work placements to young disabled students, to help disabled people get to experience in the workplace. We are currently partnered with Ashfield School in Leicester but are looking to expand this to other SEN schools.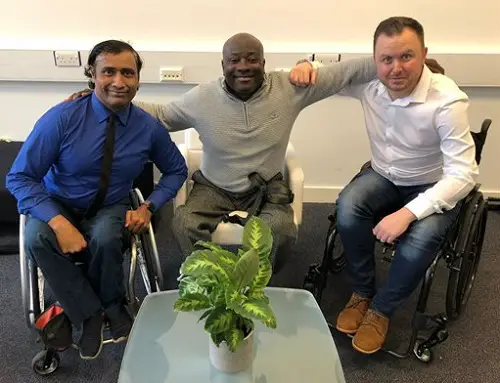 How have you found being a disabled entrepreneur? What have been your highlights and lowlights?
Being a disabled entrepreneur can be difficult, mostly because people constantly undermine or underestimate you. They often think that because you're disabled your business is disabled. They cannot see past physical appearance/wheelchair.
I have lost customers after they realised I was disabled.
But there are also a lot of highs, most notably the business awards I have won. Last year I won the Director of the Year IoD Award and Leadership Award for Diversity and Inclusion (East Midlands).
I was also thrilled to be invited to meet David Cameron at the launch of the Disability Confident campaign. The campaign focuses on businesses who employ and retain disabled people and those with health conditions, as I do through all of my companies. I was one of three disabled entrepreneurs invited to the event.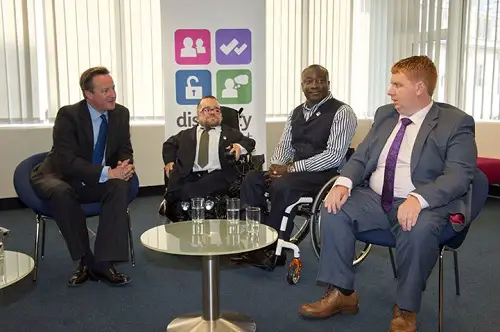 Since then I have given talks and even spoken at the Houses of Parliament about the work of a Disability Confident employer. I also work with the Department of Work and Pensions and am involved in a national campaign, due to be released shortly, to help disabled people get into employment.
You've talked about the challenges of being a black disabled man. Can you tell us more about that and what your experiences? 
The problem with being a black disabled man is that you often face double prejudice.
Some people discriminate against you because of your disability, and some people discriminate because of your race. This puts you at a double disadvantage.
A good example of this is networking events. At them, I can be treated as a leper, unless people know me.
I have found that some white people have an unconscious bias to anyone black and will most likely ignore them. In the BAME community (black, Asian and minority ethnic), people will look down on you because of your disability.
Why did you start playing wheelchair sports and what have been your experiences with it?
Wheelchair sports get you fit and enable you to meet other disabled people, share experiences and form friendships.
I played wheelchair basketball for the Leicester Cobras for many years and then went to sponsor the team. I'm still a keen basketball fan, although I don't play it anymore.
One of my companies has also been sponsoring the Leicester Riders, the BBL champions, for more than four years.
I do still play wheelchair tennis twice a week at my local gym.
You've written a book, 'I Can, I Will'. What is the book about and what was it like writing it?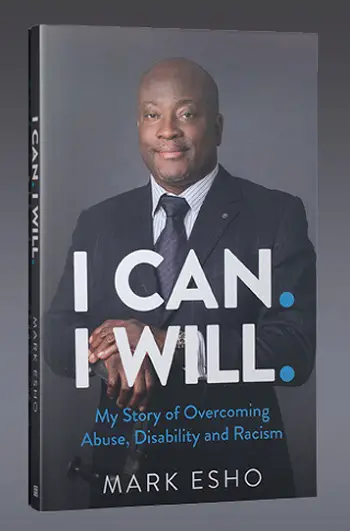 The book is my life story, detailing how I overcame my physical disability, discrimination and abuse. It proves that anything is possible and gives people hope.
Writing it was a very traumatic experience because I had buried most of the things that had happened to me. I remember how difficult it was to read the first draft. It took me days to feel okay again.
You can buy Mark's book I Can, I Will on Amazon and find out more about Access Rating on the dedicated website. You can also download the app on Google Play and the App Store.
By Liz Ransome-Croker