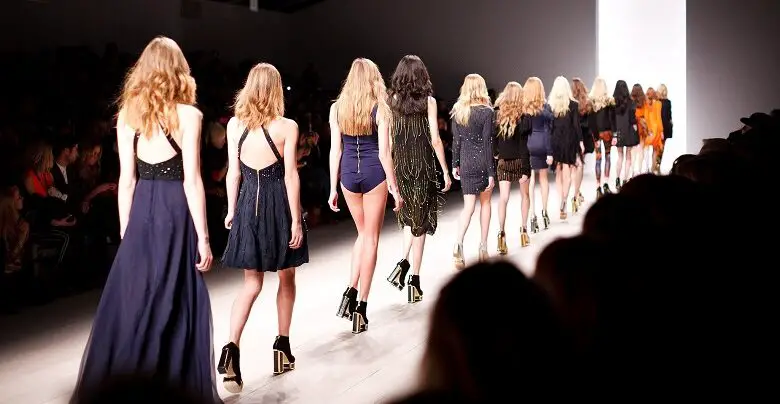 Lifestyle
Being blind doesn't mean you can't be fashionable
Claire Beetham has been blind since the age of four, but it has never impacted her desire to be fashionable. In fact, it's encouraged her to take charge of her body image, celebrate who she is and dispel misconceptions around being visually impaired and stylish. 
As a blind girl, I hear countless myths floating around about my disability. But the one I hear most, and the one that baffles me, is this assumption that blind people cannot be stylish, sexy or beautiful.
People think that when you lose your sight, appearance and image fade away, as though they don't belong to you anymore. Unsurprisingly, I find this idea laughable.
Whether you can or can't see, it makes no difference to your dress sense or superficiality. I pride myself on how I look, just like anyone else – I'm totally normal.
Amongst other things, I adore fashion, make-up and getting glammed up to go out in London, (a pastime that I have missed greatly during this pandemic). For some reason though, my love of style comes as a revelation to people, even now.
They look me up and down, spying my confident smile, Topshop ensemble and white cane – and their shock is unmistakable. Either they stay silently staring, or they blurt out comments like, "You don't look blind" and 'You're well-dressed for a blind person."
Blind and fashionable
I lost my sight 14 years ago and I am now aged 18. But I wouldn't change that for the world. To me, my disability is irrelevant. It doesn't define or limit me from doing anything I want to do, whether that be in life or in my career.
Nonetheless, something that has been a struggle is learning to love my looks when I have no clue what I look like, a conundrum that led me to develop body dysmorphia (BDD) from a teenager.
Fashion has played an integral role in helping me to overcome my BDD. Although I cannot see my reflection, keeping up with the latest trends and experimenting with style has given me more autonomy over my image.
"As a blind person, I appreciate fashion and beauty in a different way to sighted people," Elin Williams, founder of the blog My Blurred World, explains. "It stretches far beyond the visual side of things and I love that concept."
How a garment feels to the touch is paramount when shopping for outfits; it's about the different textures, the fabrics, the embellishments and silhouettes. On a deeper level, it's also about the emotions clothes evoke.
Holly Tuke, blogger at Life of a Blind Girl, says: "Wearing my favourite clothes just makes me feel good about myself and more confident, especially if I'm in an unfamiliar situation."
Meanwhile, for Nicole Hind, Australia's first blind designer, fashion has proven to be a powerful tool in re-discovering her identity post sight loss.
"When meeting people, my style is a major part of my social communication – how I am perceived by others and how I feel I can affect how those perceive me.
Clothes empower me to express and direct people's attention to aspects of my personality. Above all through tough times and trauma, my love of fashion has been a true comfort and emotional support."
Being a blind fashion designer
15 years ago, when Nicole went into labour with her first child, she had no idea that her life would be tipped upside-down. During the birth, she suffered a stroke that left her legally blind and with post-traumatic stress disorder (PTSD).
Having previously worked in PR, this event led Nicole to leave her job and focus on raising her new baby. Accepting her sight loss whilst navigating the highs and lows of motherhood, was just the beginning.
In the decade that followed, she experienced numerous traumatic events, the first being the breakdown of her marriage, shortly after having her second child.
Suddenly, a single parent with no income, Nicole found herself on the breadline. She started applying for any job she could find, but due to her disability, most employers were reluctant to give her a chance.
After relentless setbacks, financial struggle and PTSD, she realised that it was time to take back control of her life, her children's future and her career. This epiphany spurred her on to achieve her childhood dream of becoming a fashion designer. And so Blind Grit, a luxury athleisure label, was born.
Blind Grit – fashion for everyone
As well as the remarkable woman behind it, what sets Blind Grit apart is the brand philosophy, which combines Nicole's passions for both high fashion and equality.
"All the glam, fun and creative position that sit behind our fashion label are done by those who live with a disability," she explains.
"That includes the photography, modelling, hair and make-up artistry, graphic design, social media, PR and styling. Everything except the manufacturing."
Five years later, the brand has grown from strength to strength and remains among the few designer fashion labels, built entirely of and around those with disability.
Succeeding her debut collection in 2015, Nicole began looking into her market placement and who the other visually impaired designers were. There were none in Australia, where she live, so she decided to search further afield.
To Nicole's shock, she came across just four other visually impaired designers in the US, UK. France and Ukraine, bringing the world total to just five including herself.
"This prompted me to look more deeply at disability in the fashion industry at all levels," Nicole says. "It was essentially absent except for the occasional showcasing of models with visible disabilities, which can risk appearing tokenistic."
Using fashion to change perceptions
Growing up, I poured over fashion magazines and blogs as though they were some sacred texts. I worshipped style icons, such as the Hadids and Jenners, wishing that one day, I could look like them.
But behind the haute couture, the red soles and glamorous parties, I started to see a less glittering side to the industry.
As explained by Nicole, fashion is a powerful platform. It communicates social values, particularly around what is considered valuable and desirable by society.
Contrary to the changing seasons and trends, the industry's mindset has stayed pigheadedly stringent in its beauty template. Since social media, these pressures placed on women have grown yet more ubiquitous.
Whilst obsessing over my weight and my teenage skin, such insecurities that were no doubt fed by the likes of the flawless Victoria Secret Angels, something else caught my attention.
There were next to no covergirls like me, who happened to be blind, or have any disability for that matter. This hard-hitting truth had a huge impact on my body image. I remember, as a 14-year-old girl, lying awake and worrying that nobody would ever perceive me as desirable.
Over the years, there has been a handful of designers casting visually-impaired models. Arguably the sole, most prominent among these covergirls, would be Amanda Swafford, a season three contestant on America's Next Top Model.
After making the final, Amanda went on to model for several major brands, including Levi's for its 2005 ad campaign alongside other blind models.
More recently in 2016, French designer and activist Myriam Chalek decided to challenge disability stereotypes at Paris fashion week, following the success of her previous International Dwarfism show.
This time, all the models in the show had visual impairments and strutted their stuff on the catwalk, using strung-out fishing line to guide them.
Despite these highly encouraging, yet sparse, examples, it's not enough for some brands to make incredible strides, while others continue to drag their heels. If the fashion industry is intent upon change, then there has to be a united front.
Disability representation should not be a once-in-a-blue-moon affair for some brands to make a superficial point of being inclusive. In order to promote true inclusion, it's vital that disabled models are provided with the same opportunities, the same exposure and the same platform to progress their careers.
That means when a disabled model does a feature on the runway or in ad campaigns, we need to stop shining a spotlight on the irrelevant detail of their disability and instead focus on their talent and stunning beauty.
Not only that, but we also need designers to included disabled models in mainstream fashion shows, as opposed to just separate shows or smaller scale, charitable events. Mirroring those who walk the catwalk, this equality must be reflected at all levels.
"I feel very strongly that we need to see more people who live with disabilities in decision-making positions within the industry," Nicole says. "I think the way that disability is represented can only ever be tokenistic when there is an almost exclusive power imbalance of those making the decisions being those who are able-bodied."
Fashion becoming more inclusive
From a consumer perspective, the retail experience for disabled people is slowly changing. During the last couple of years alone, we've witnessed a real shift in brands such as Tommy Hilfiger and Nike, designing stylish, adaptive clothing lines for shoppers who have prosthetics or mobility impairments.
Building upon this, there is so much scope and possibilities for brands to increase their accessibility even further and cater to all needs.
For instance, Holly suggests that online fashion retailers could, "Add clear, precise descriptions to each item of clothing on their website, so that blind and visually impaired people can shop online independently".
She adds: "I'd like to see the beauty industry make the packaging of products more accessible, such as using braille or large print, or adding tactile features."
This, in particular, is an area that cosmetic brands are beginning to consider, with Bioderma, Loccatanne and Too Faced being amongst the names who are designing with visual impairment in mind.
As Elin points out, what's absolutely key in all of this is that fashion and beauty brands alike do adequate market research. "I hope that brands start to form conversations with disabled people in order to pinpoint what needs to change," she says. "I'm certain that change can be created, but that initial engagement has to be sparked first and foremost."
We need to have more equal opportunities for all professionals in this industry. We need more empowerment of disabled young people to make them feel confident in their bodies. And finally, we need more commitment from brands to erase the outdated images of disability and in turn, change public perception.
By Claire Beetham
More on Disability Horizons…