Earlier this year, we shared EasyTravelseat's aviation survey looking at disabled people's views on travelling abroad during the Covid-19 pandemic. Now, it has resurveyed disabled travellers to find out whether their thoughts have changed in this ever-evolving situation.
Six months on from our initial survey back in May, the global landscape has changed dramatically. So we wanted to understand whether people's perceptions of flying during this outbreak have changed.
Respondents answered the same questions as they did in the previous survey to ensure a comparison was possible. Additional questions looked at whether the disabled community want to engage with the aviation industry in advisory groups and consultations.
We also wanted to capture the views of those who have travelled with a disability during Covid-19.
Confidence in flying with a disability during the Covid-19 pandemic
It is clear that since May, people have become less confident about flying until there is a vaccine – 40% said they wouldn't while only 30% said this back in May.
But a significant portion of disabled people – 26% compared to 32% in May – are still considering it before we find a vaccine.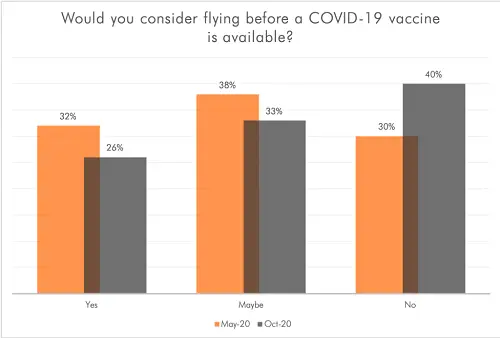 Respondents also identified when they envisage being able to fly again. The highest proportion (32%) said they hope they'll be able to do so in six months or so, while a quarter said between six to 12 months. 23% were unsure.
The biggest difference between these opinions and our results in May is with those saying they would envisage being able to fly in a month – 20% saw that being possible back then, while now just 9% do.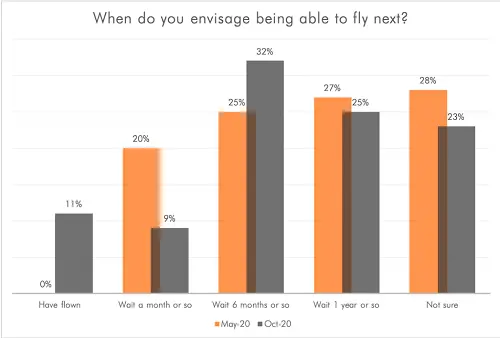 Interestingly, just under half (48%) of respondents are considering both international and domestic travel. This is similar to what we heard in May when 53% said this.
However, when looking at those who chose flying either internationally or at home, the difference between now and May is stark.
In May, 30% of people were considering flying internationally, but now just 17% are. Far more – 29% – would only fly across the UK now compared to 14% in May.
Why disabled people are apprehensive about flying
To provide greater insight into why many disabled passengers are still opting not to fly, we asked what gives them the most cause for concern. In order of most concerning, their reasons were:
Sitting/being in close proximity to others, particularly onboard aircraft
Air conditioning/recycled air inside the cabin
Being assisted by special assistance – particularly for wheelchair users
Wearing face masks for long periods
Catching the virus abroad or quarantined
Not understanding people with face masks on
Change and inclusion within the aviation industry
Given that flights have resumed, it's important that disabled people are considered when making flying safe during the Covid-19 pandemic.
The statistics from our survey suggest that the industry is successfully managing Covid-19 safety and in line with passenger expectations, with 66% feeling that they are meeting requirements or going beyond them.
Back in May, 33% felt the airlines were doing below par, while now it's just 17% feel that. This time we also asked whether airlines were going far above the requirements – 17% said they are.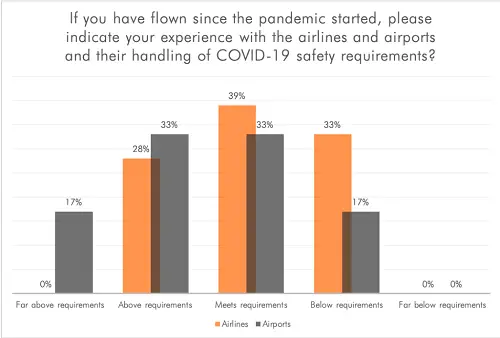 It's clear that although people may feel safe when travelling, due to the nature of Covid-19, people are still uneasy.
Covid-19 has accelerated the industry to advance the implementation of new technology to reduce the number of touchpoint areas and the risk of transmitting infections. However, such technologies could have a significant impact on disabled people and their ability to navigate airports.
In addition, as airlines look for long-term solutions to make their cabins more robust to breakouts of infections, potential redesigns of cabins have significant implications to those with disabilities.
It is critical that in all areas across the aviation industry the views of disabled people and their insights are captured and utilised at different stages of design, developing processes, training and technology implementation. This will ensure disabled people and their journeys are as seamless and independent as possible.
By EasyTravelseat