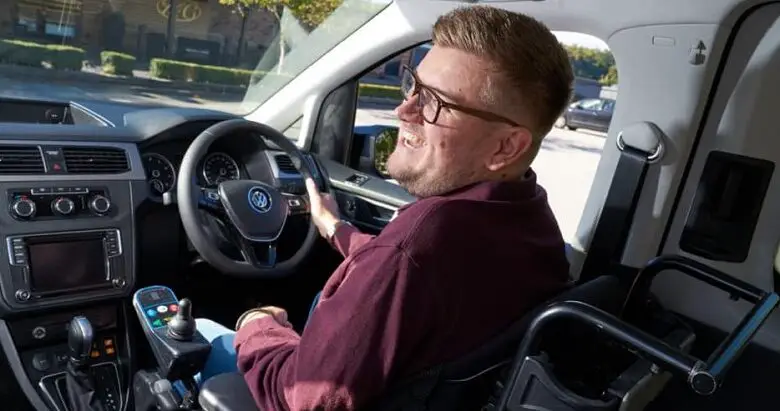 Driving independently from your wheelchair or being able to sit upfront in your chair can have such a positive impact on your health and wellbeing. That's why we've asked Sirus Automotive, who specialises in drive-from wheelchair, internal transfer and wheelchair-passenger upfront solutions, to explain everything you need to know about upfront wheelchair accessible vehicles. 
Upfront wheelchair adapted vehicles – what you need to know
Selecting the right wheelchair accessible vehicle is a big decision. In order to help you choose what type you need, first ask yourself the following questions:
If you use a wheelchair, are you able to transfer into a standard car?
Can you travel without assistance?
Can you, or do you want to drive yourself?
This will help you to decide whether you require an adapted car where you can travel as a passenger, drive from your wheelchair or drive with an internal transfer.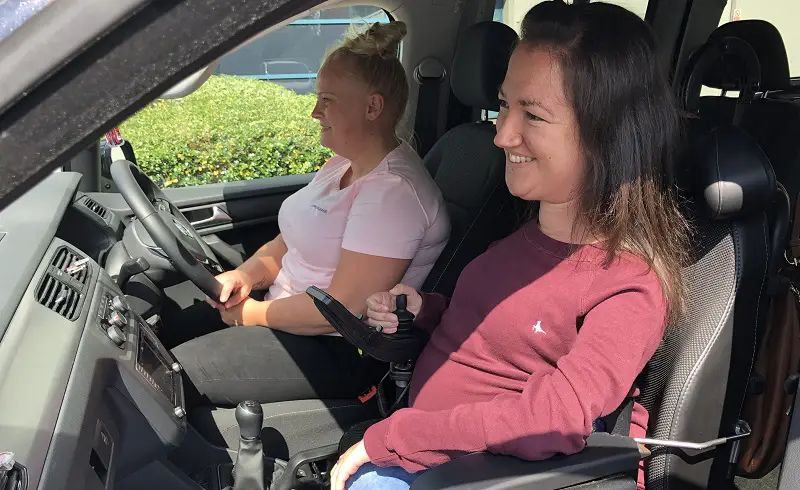 Wheelchair accessible vehicles – features to consider
With a wide range of wheelchair accessible vehicles on the market, there are many different features to consider. Think about what is important to you:
Side or rear entry – where are you likely to park regularly and which option would therefore be more suitable?
Interior space – where will your seated head height and eyeline be?
Seating capacity/layouts – how many other passengers will travel with you?
Storage/boot space – how much equipment do you need to transport?
Wheelchair seating options explained
Drive from wheelchair
These types of cars are designed to enable you to drive whilst remaining in your wheelchair. You enter and exit via a fully-automated ramp, either at the back or through a sliding door at the side, giving you complete independence.
Your wheelchair is locked into position using an automated wheelchair securing system. Bespoke steering and driving adaptations are fitted so you can drive with ease.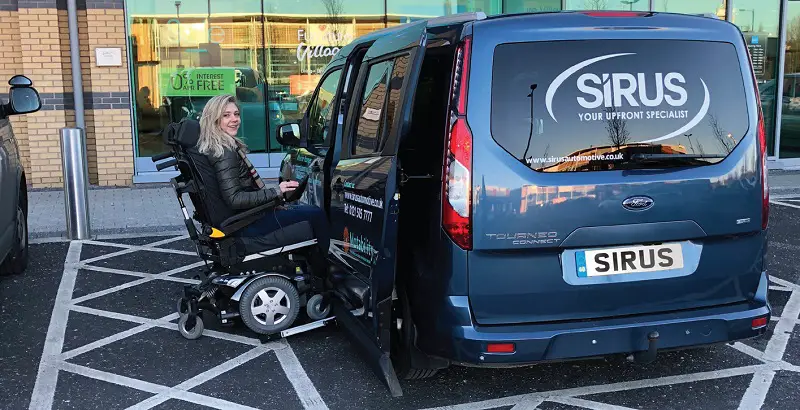 Internal transfer
If you are a wheelchair user with the ability to transfer and prefer the comfort of a standard driver's seat, this is the ideal solution.
Your transfer is assisted by a powered, rotating six-way seat that can be moved by 90 degrees up, down, forwards and backwards, allowing you to find the perfect position.
Starting off by being set back from the front, you'll be able to wheel your chair next to the seat, then easily slide over and move the seat into place – take a look at this video to see it in action.

Your wheelchair will then be safely set in place behind the passenger seat with our securing system, which can be easily operated by you.
Fitted with a fully-automated rear door and ramp, or side sliding door, you can be inside the vehicle and drive away in just a few minutes.
Wheelchair passenger upfront
An increasingly popular choice for passengers, this is the perfect solution to enable you to sit in the front of the adapted car in your wheelchair and enjoy travelling next to your companion.
It also means you can avoid a bumpy ride sitting in the back, which can often be uncomfortable as well as unsociable.
Combined drive from wheelchair and travel upfront
This type of adapted car gives you the option to drive from your wheelchair or switch to upfront wheelchair passenger. The removable front seats simply allow you to swap places with your companion. This option gives you total flexibility and is one of Sirus' most popular designs.
Sirus new products for 2021
Based on the Ford Tourneo Custom, this drive-from wheelchair vehicle offers space for up to six people. The flexible seating options are designed around your lifestyle, and the driver's seated position is ergonomically designed to mirror the position intended by Ford. This is ideal for taller wheelchair users.
Based on the Ford Tourneo Connect, this is the ideal solution if you want to drive from a standard driver's seat. You can transport your wheelchair without having to lift or dismantle it, and travel upfront in your wheelchair when you don't want to drive. It's the same car as in the video above under Internal Transfer.
Also based on the Ford Tourneo Connect, travelling upfront is becoming increasingly popular. This design has space for up to five people (all included as standard) with the benefit of ISOFIX car seat points in the mid-row seat. You can find out more about it in the video below.
Adapted vehicle aftersales service
It is important that you ensure that the manufacturer of the adapted vehicle you choose provides a high level of aftersales service – you want to be assured that you will have someone to call on if anything goes wrong.
Sirus has a dedicated wheelchair adapted vehicle aftersales team, plus you will have access to our customer service team. Our experienced advisors provide advice and support, and will arrange any service an warranty work required, removing the stress of having to organise things.
We also have a team of mobile engineers on the road, so if you have any issues with your vehicle conversion, we can come directly to your home as soon as we can.
With all new Sirus vehicles, we also include an annual service on your conversion. We will visit your home or workplace at the end of the first and second year of ownership.
Minor issues will be carried out there and then by one of our mobile engineers. In the event that there may be something more significant that needs addressing, we will arrange for your vehicle to come back to Sirus for any repairs, and deliver it back to you at a time to suit you.
Funding for your accessible vehicle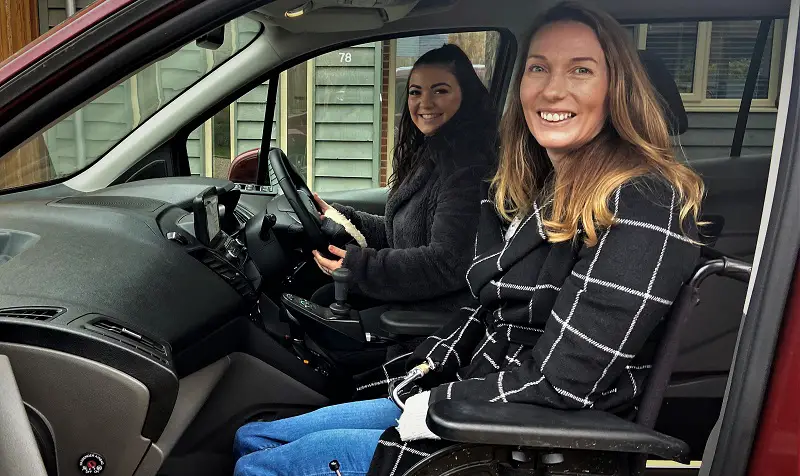 Motability
Sirus is a Motability Preferred Adaptations Supplier and the majority of our new wheelchair accessible vehicles and car adaptations are available on the Motability Scheme.
With a Motability Contract Hire Agreement, your vehicle maintenance, servicing, breakdown cover and insurance are included. Many of our customers also apply for a Motability Charitable Grant towards the cost of the Advance Payment.
Private purchase finance options
If you are looking to purchase a vehicle privately, we work with Evolution WAV Finance to offer finance packages specifically designed for accessible vehicles.
Buying an adapted vehicle during Covid-19
We follow strict Covid-19 procedures for your safety and the safety of our team. If you want to take one of our cars for a test drive, you have to be accompanied by a Mobility Specialist.
This means that you must both wear a face mask and/or shield and gloves whilst in the vehicle. You will need to also have your arms and legs covered. For anyone who is mask exempt, please call us to discuss how we can accommodate your demonstration (0121 505 7777).
Alternatively, we are also offering 1-2-1 virtual demonstrations if you prefer. You can chat live via a video call with one of our Mobility Specialists, who will answer all of the questions you may have.
We will then demonstrate the vehicle to you, showing you all of the conversion benefits, manufacturer features and options.
If you would like to arrange a suitable time, please email sales@sirusautomotive.co.uk or call us on 0121 505 7777. We will send you a link to your email, which will connect you to our team.
If you would like to know more or speak to one of our experienced Mobility Specialists at Sirus for a chat, visit www.sirusautomotive.co.uk for more information.
You can also follow us on Facebook, Instagram and Twitter, and watch all our adapted cars in action and hear customer's experiences on YouTube.
By Sirus Automotive
More on Disability Horizons…