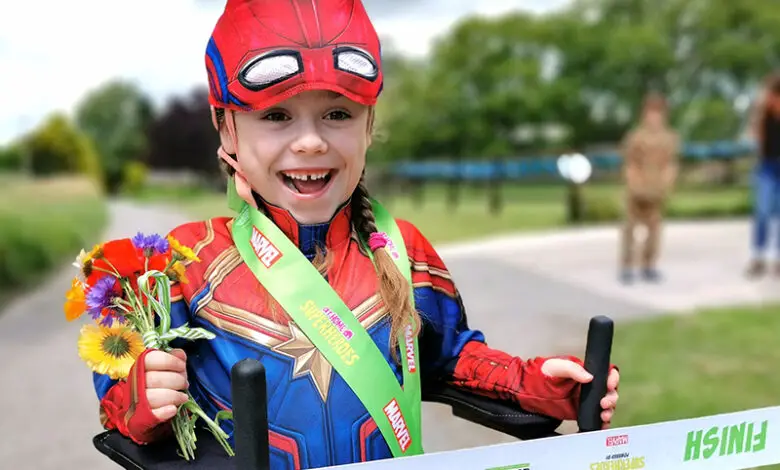 Charity Leonard Cheshire is encouraging people with disabilities to take part in a superhero-inspired event, full of sports-based activities as well as sensory. This is a fully inclusive event and people with a range of disabilities can take part.
All you need to think about is which superhero you are going to be! To get involved and to sign up, visit the At Home Superheroes page. There are also some super prizes to be won!
At Home Superheroes consists of a month-long challenge where people with disabilities dress as their favourite superhero and take part in lots of fun, sporting events. It is being held between 17th July and 14th August 2021.
Signing up to Leonard Cheshire's superhero challenge
There will be an opportunity for our supporters and community at Leonard Cheshire to sign up for At Home Superheroes from 3rd May, with the deadline to participate in the event on 7th June.
'At Home' missions can be solo or with friends and are open to anyone who considers themselves to have a disability. They can be completed at home, in the park, street, or in your local green space.
We encourage Superheroes to unite with their fellow 'sidekick' family members, friends and supporters. Your challenge can last an hour, a day or the whole month.
As well as athletic ambitions, At Home Superheroes also encourages participants to test their senses for their particular challenge.
Leonard Cheshire's sensory superhero challenges
Our superhero event is not just about clocking up miles; every superhero has amazing senses and we want to see how you use yours. Sensory challenges include:
Popping bubbles – blow and pop as many bubbles as you can. Every bubble popped is one kilometre completed for your challenge.
The sniff/taste test – see if you can identify five or more tastes and smells around your home. Each one correctly identified is another kilometre in the bag!
Super sounds – use your superhero senses to identify familiar sounds from around your house. From a kettle boiling to a microwave beeping, every noise identified is another kilometre added to your total.
The magic touch – see how many objects you can identify by using your super touch. Every object identified is another kilometre completed.
Spot the singer – have you got an ear for music and identifying who is singing? Recognise the correct artist singing on your radio or favourite playlist and you have completed another kilometre.
For more information about using your super senses to take part, visit the Super Sensory Superheros page.
Our CEO Ruth Owen commented: "It's going to be a super summer of sport and At Home Superheroes is perfectly placed to get disabled people involved.
We share a similar ethos and are thrilled to be associated with an event that encourages pan-disability participation in such an innovative way.
I hope our community can create their own missions and get involved in this fantastic event."
Get your masks at the ready and practice your superhero moves and senses. Your mission awaits, so sign up on the 3rd of May!
By Leonard Cheshire – follow the Charity on Twitter @LeonardCheshire
More on Disability Horizons…