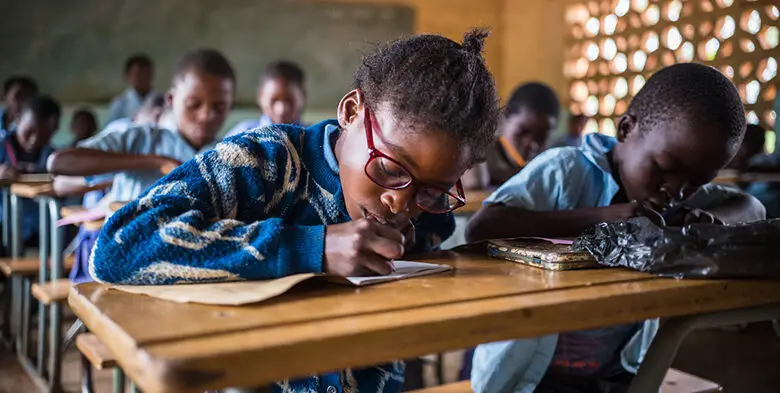 Work & Education
The importance of advocating for girls with disabilities to have an inclusive education
When the Government announced budget allocations for Official Development Assistance (ODA) spending last month, it was disappointing that there wasn't much clarity on how people with disabilities would be prioritised in the wake of the cuts.
While girls' education still remains a priority area for the Government, the significant reduction in budget calls into question what this could mean for inclusive education efforts. Elaine Green, Head of Influencing, Campaigns and Public Affairs at Leonard Cheshire, explains why it's essential that the Government sets out clear targets on equality and disability. 
The UK has a very important summer ahead with the G7 Summit and Global Education Summit. As a nation, we've upheld a strong reputation when it comes to disability inclusion, so it's vital that the Government uses these moments as an opportunity to demonstrate its commitments to gender-responsive and inclusive education systems.
It was certainly encouraging to see girls' education as a priority in a declaration from G7 Foreign and Development Ministers. There is a commitment to have 2026:
40 million more girls in school by 2026 in low and lower-middle-income countries
20 million more girls reading by age 10 or the end of primary school in low and lower-middle-income countries by 2026.
These are ambitious and commendable targets. But while girls with disabilities were acknowledged as a priority area, with a brand new Girls' Education Action Plan just released, we still need to go further than that.
We need clear and time-sensitive sub-targets around disability to ensure that these goals truly are goals for every girl.
Every child has a right to an education. Yet not every child gets that opportunity, and children with disabilities are sadly often the ones who are left out. In fact, nine in 10 children with disabilities in developing countries are excluded from formal education, and the majority of them are girls.
Without proper support in place, many girls with disabilities who are enrolled in education often have lower attendance rates or drop out early. This not only impacts their opportunities to learn but also impacts their future prospects too.
So that's why it's absolutely essential that education policies build inclusive education into their budgets and targets. This has never been more important as we begin to build back from Covid-19. The pandemic will have no doubt widened these education gaps and it's critical that we act now to ensure that the future of millions of girls with disabilities is not compromised as a result.
Advocating for girls with disabilities
If we are going to achieve the 2030 Sustainable Development Goals, it's vital that organisations work together to amplify their voices and advocate for the rights of people with disabilities.
That's why we teamed up with the United Nations Girls' Education Initiative (UNGEI) to create a bespoke advocacy brief, Leave No Girl with Disabilities Behind.
The brief sets out the current landscape when it comes to inequalities in education, highlighting the key barriers that we need to overcome to ensure every child can access an education.
But for this to happen, there needs to be recognition of the intersectionality between gender and disability.
This is too often missed when it comes to education policy, funding and programming. Also, insufficient and inadequate data collection can hinder this process. Countries still need to do more to track both gaps and progress and ensure that girls with disabilities are visible in these efforts.
But perhaps the most powerful data is hearing stories and experiences first-hand from girls who have experienced inequalities but also benefitted from inclusive education.
So that's why we worked with UNGEI to produce an important video to go alongside our advocacy brief. The video represents a global call to action to ensure no girl with disabilities is left behind in sustainable development, especially after the pandemic.

Maria Njeri is one of our disability youth advocates from Kenya and highlights just one of the many benefits of inclusive education:
"An important factor in ensuring that no girl is left behind in education is in recognising we are safer in school and in controlled learning environments."
Featuring girls and young women with disabilities and inclusion advocates from around the world, the video outlines some key actions world leaders can take to create tangible change in 2021 and beyond.
Leonard Cheshire's inclusive education programmes
Investment in inclusive education programmes is absolutely key in building a fairer and more resilient world. We work with partners in Africa and Asia on a number of inclusive education and livelihoods programmes to support people with disabilities across 15 countries.
Our work in education has highlighted some key interventions that can be used to improve access, participation and learning achievements for girls with disabilities.
A holistic approach is really important in helping ensure every girl can access education. So in the lead up to G7, we have released a brand new report, called Every Girl's Right, outlining our Inclusive Education Mode,l which has been successfully developed and applied by our programme teams across Africa.
Highlighting the six key components of the model, the report also provides real-life examples of the model in action and demonstrates its impact on an individual level. Like eight-year-old Anne, who directly benefitted from the impact of inclusive education teacher training at her school.
With her teacher being able to offer her tailored support to suit her needs, Anne was able to grow in independence, learn new skills and play with other children – something her family never thought possible before due to myths and misconceptions around disability and education.
In fact, overcoming stigma and stereotypes around disability is one of the most essential elements in removing discrimination in education systems and society. Effective inclusive education programmes that prioritise awareness-raising, training and education among communities and educators are central to this.
The new report not only provides concrete evidence on the benefits of elements like child-to-child activities, community awareness training and tailored individual support, but it also sets out recommendations that agencies, communities and governments can take forward to help improve opportunities for girls with disabilities.
The UK Government has been a big advocate for girls' education, making commitments to help over a million of the world's poorest girls improve their lives through education.
It would be a real shame if recent budget slashes came at the expense of valuable programmes that are working so hard to tackle barriers created by the intersection of gender, disability and poverty.
We hope that our leaders will continue to use the opportunities presented this year to reaffirm their commitments and set out clear actions as to exactly how girls with disabilities will be included.
That way, we can uphold our reputation as a world leader in disability inclusion as we head towards the next Global Disability Summit in 2022.
By Leonard Cheshire
More on Disability Horizons…