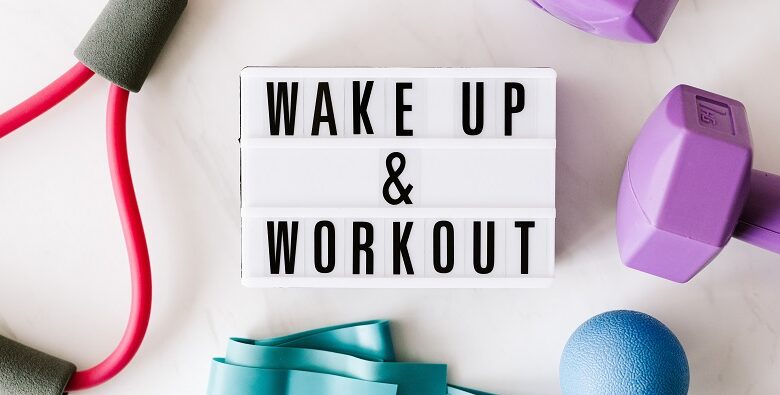 Getting into exercise as a disabled person can seem like an additional challenge. Not only do we have to find time to fit it in amongst our busy schedules and working life, but not all equipment, leisure facilities or sports are accessible.
Here at Disability Horizons, we want to help you find easy ways to access and enjoy fitness and exercise, whether at home or in a gym, so we have rounded up 7 useful fitness aids available on the Disability Horizons Shop.
Fusion Wheel – all-in-one portable wheelchair gym – £114.00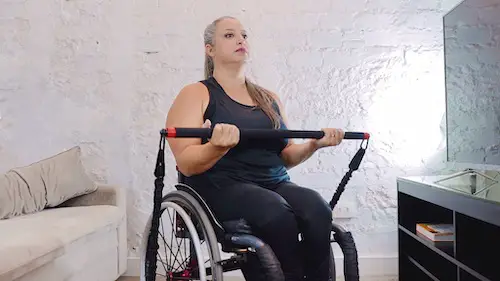 The Fusion Wheel is an all-in-one portable gym designed by wheelchair users, for wheelchair users.
The Fusion Wheel attaches quickly and easily to a wheelchair using the supplied 'Fusion T' fittings and loops, allowing you to set up the equipment without the need for assistance.
Affordable, portable and compact, the Fusion Wheel all-in-one wheelchair gym removes the need for large expensive pieces of fitness equipment cluttering up your home.
The Fusion Wheel comes with all this in the box:
2 Regular Tension Power Bands
2 Heavy Tension Power Bands
2 Pulleys
1 Bar
2 Dynamic Handles
1 Door Anchor
4 Nylon Loops
1 Stick Guide
1 Manual/Training Guide
1 Carry Bag
Included with the Fusion Wheel is a comprehensive training and setup guide with easy and clear-to-read instructions and exercises for beginner, intermediate and advanced users. The guide includes over 100 individual exercises covering all muscle groups in the upper body and each exercise details which muscle groups are being used and which accessories are needed per exercise.
Buy the Fusion Wheel for £114 (inc VAT) or £95 (ex VAT) for customers with qualifying conditions.
Pedal exerciser – £25.95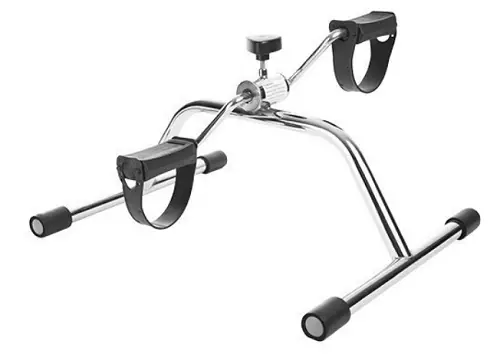 This simple and effective exerciser is perfect if you have mobility issues and want to maintain your fitness from the comfort of your own home.
It allows you to exercise your legs, arms or shoulders to build strength, flexibility or dexterity, as well as improve circulation.
It features an adjustable resistance knob to allow you to start easy, and gradually work your way up.
The sturdy yet compact design means the pedal exerciser can also be placed on tables or work surfaces for easy access when working on your arms and upper body.
It is made from high-quality, durable materials, including chrome-plated stainless steel with non-slip rubber feet for extra stability.
Go to the Disability Horizons Shop to purchase the pedal exerciser for less than £30.
Deluxe hand exerciser – £5.50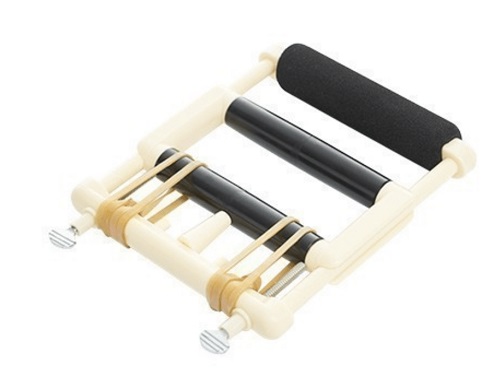 The deluxe hand exerciser is the perfect tool if you have hand dexterity and strength issues, helping you to exercise your hands.
Simply attach rubber bands (it comes with five) to the different levels to pick the desired resistance and start your exercises.
You can use it at home while working or watching TV, or, because it is small and lightweight, you can take it out with you to fit in some exercises whilst travelling.
Buy the deluxe hand exerciser now for just 5.50 on the Disability Horizons Shop.
Greeper sports shoelaces – £5.95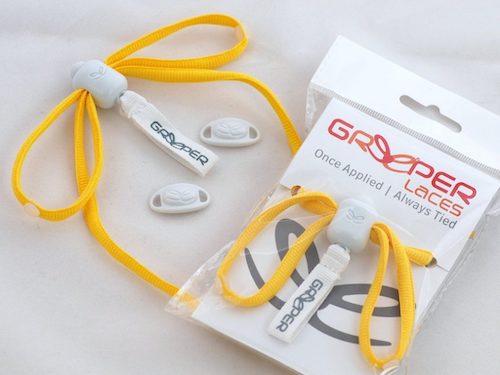 Worrying about tying your shoes laces shouldn't be a consideration when you've got your new favourite sport or activity to practice. With these Greeper sports shoelaces, you no longer have to.
Greepers are award-winning patented shoelaces that simply do not come undone yet can be loosened and tightened with ease.
These adapted sports laces are ideal if you have limited dexterity or motor skills, offering a simple and easy-to-use solution to traditional shoelaces.
They are highly inclusive and have been heralded as a best buy product by Triathlon magazine.
They also have the backing of occupational therapists and physiotherapists, and are used by well-known athletes, such as Chrissie Wellington MBE, Rachel Joyce and Tom Lowe, as an alternative to elastic alternatives.
They also provide better support than Velcro or elastic laces as they utilise traditional nylon laces and support the feet properly.
What's more, they come in a range of fantastic colours and styles, from classic, professional black, grey or white to more bold colours, such as red, royal blue, sky blue, purple or neon pink.
Check out the Greeper sports shoelaces on the Disability Horizons Shop.
Active Hands – from £39.95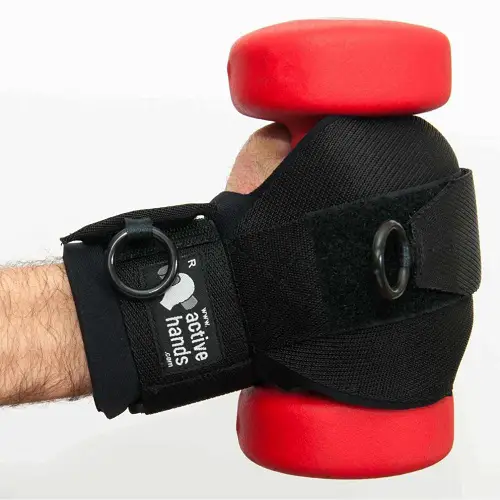 Active Hands is a range of exercise gripping aids that are designed to enable people with limited hand function to exercise efficiently and use gym equipment independently.
If you have had a stroke, suffered a spinal injury or developed a condition that affects your hand function, the Active Hands exercise aids will enable you to take part in fitness activities.
There are three Active Hands products that are specifically designed for different types of exercises:
D-ring exercise aid – perfect for using shoulder strengthening equipment, cable pulley machines and cable crossover machines
looped exercise aid – perfect for using pulldown machines, rowing machines and hand bikes
hook exercise aid – perfect for doing chin-ups and keeping a steady grip on rowing machines and pulldown machines
The Active Hands products were created by disabled sportsman Rob Smith after he sustained a spinal cord injury and was in need of a disability aid to help him access exercise equipment.
The Active Hands exercise aids have also benefited many Paralympic athletes, including wheelchair racer Michelle Stilwell, wheelchair rugby player Mandip Sehmi and swimmer Liz Johnson. They're also a favourite of TV personality Alex Brooker.
Check out our range of Active Hands on the Disability Horizons Shop.
Ramble Tag Guidance Aid – £27.60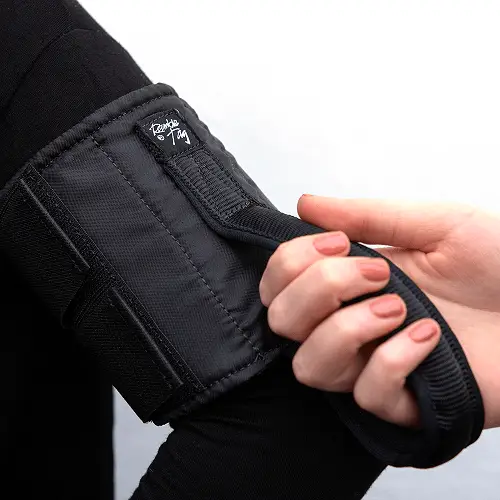 The Ramble Tag guidance aid is a unique guiding tool for people who are blind or visually impaired. Created by Tom Forsyth, a blind pensioner, and his neighbour Laura, it allows people with sight loss to be guided by a sighted person without direct physical contact with the guide's arm or hand.
The Ramble Tag is extremely useful when it comes to sports and exercise. It can be used when going out on outdoor walks, hiking, running and many other sports.
Kelly Barton, a blind marathon runner from Southport, spoke about the benefits of using the Ramble Tag as a blind athlete on Dodge Radio.
When she first started running, she wasn't confident using the tether that most blind athletes use with a guide, so instead held the guide's arm instead. However, this regularly caused pain and discomfort for both Kelly and her guide.
Now with the Ramble Tag, Kelly says there is no discomfort at all. In addition, because there isn't any length to it, she gets a lot more feedback from her guide runner.
It has made a tremendous difference to Kelly's running and she even completed the virtual London Marathon in 2020 with it.
 Buy the Ramble Tag Guidance Aid on the Disability Horizons Shop.
Cat Tongue Grip Tape – from £19.95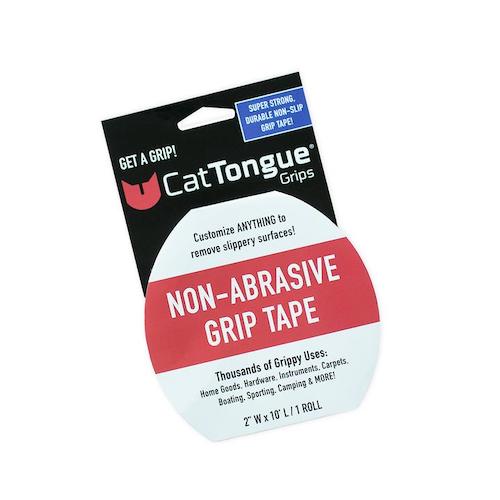 The self-adhesive and non-abrasive Cat Tounge grip tape can be attached to almost any surface or item, providing endless uses for making items easier to hold and less likely to slip from your hand whilst in use.
It is is ideal if you have limited, weak or poor grip due to arthritis, joint pain, spasms or the effects of a stroke.
It can also be attached to almost any sports equipment, including tennis rackets, golf clubs, bike handles and weights, and gym equipment, such as treadmills, rowing machines and pedal exercisers.
This non-abrasive grip tape is made of a latex-free recyclable material, can be washed easily, is two inches wide and comes in a 10-foot roll.
Purchase the Cat Tongue Grip Tape exclusively on the Disability Horizons Shop.
Don't forget to keep hydrated while you exercise – try the Hydrant sports water bottle to help you drink independently while keeping active.
By Disability Horizons 
More on Disability Horizons…