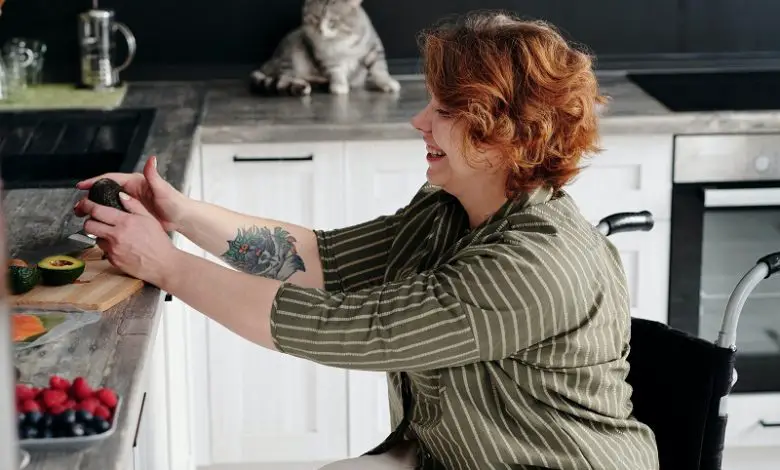 Being able to cook a meal, serve snacks and beverages or eat and drink independently can have its challenges when you have a disability. However, with the right kitchen aids for disabled people, you can easily host your own dinner party, whip up a meal for the family or simply find the independence to feed yourself. 
Here at Disability Horizons, we round up eight kitchen aids for disabled people, which includes easy-to-use cutlery sets, one-handed trays, a hot plate carrier and a multi-purpose opener, all of which can be purchased on the Disability Horizons Shop.
Knork cutlery sets – from £2.50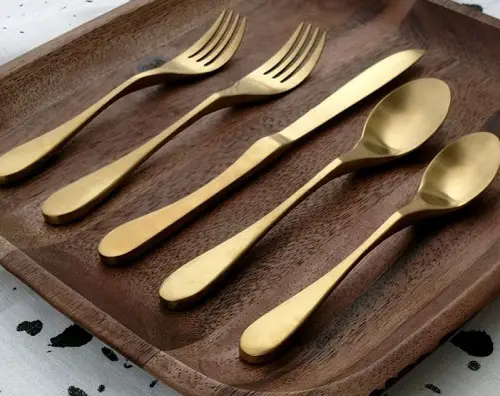 The Knork is a unique and innovative eating utensil ideal for a multitude of dining experiences. It is basically a fork and knife in one.
The Knork features a bevelled edge along one side, which allows you to use it as a knife. By applying a rocking motion and pressure to the side of the Knork, you can cut through all different types of food with ease without having to use a "sawing" motion.
The Knork cutlery sets are ideal kitchen aids for disabled people who only have one hand available for eating, and totally removes the need for two pieces of cutlery when dining. Plus, because the bevelled edge is not sharp, it safe to use by anyone with limited dexterity and children.
There are several different Knork cutlery sets available to buy including our most popular Knork knife and fork in one – 3 finishes, the Knork steak knives and the Knork knife and fork in one – 5-piece cutlery set.
Head to the Disability Horizons Shop to browse the full collection of Knork cutlery sets. 
Tipsi Tray one-handed no spill tray – from £33.95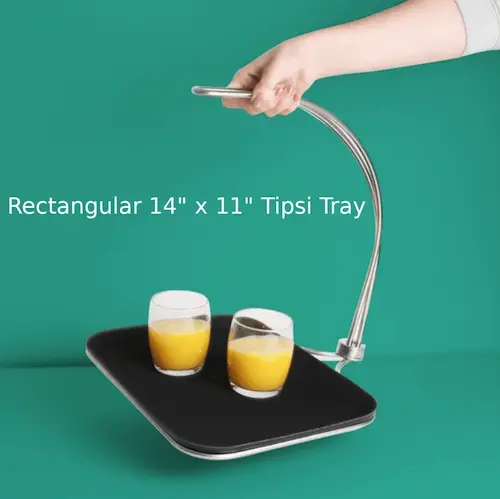 As seen on Dragon's Den, this ingenious no spill tray is unlike anything you've ever seen before – a unique design to help you carry with one hand, no matter how shaky your hands are or how difficult you usually find it to carry items safely on a traditional tray.
The Tipsi Tray uses centripetal force to ensure cups, glasses and crockery remain steady whilst on the move being carried in your hand. It has a large, curved handle with a rubberised coating for excellent grip.
It is designed so that it can be carried one handed and by your side rather than in front of you – means you can always see your feet whilst walking.
The Tipsi Tray can benefit those with a limb difference, who may have one arm affected by stroke, or anyone who needs to use a walking stick or handrail to steady themselves with one hand whilst carrying a tray with the other.
This is ideal if you're simply carrying a beverage from the kitchen to the lounge or bedroom or serving drinks at a social gathering, party or even at cafes, pubs and restaurants.
You can purchase the Tipsi Tray either in 11" or 14" or the Rectangular 14" x 11" version on the Disability Horizons Shop. 
You can also check out our great alternatives from Griffin and Sinclair: The Swinging Tea Tray – One Handed no spill bespoke tea tray and the Freehand One Handed Tray – Includes non slip mat and foldaway handle.
Coolhand hot plate holder – £5.95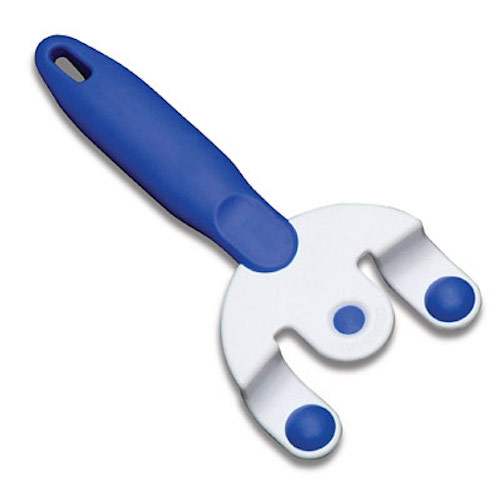 This Coolhand hot plate holder allows you to carry, transport and place-down hot plates from the microwave or warmed from the oven, just as easily as using your own hands.
The Coolhand eliminates the risk of burned fingers when handling hot crockery and is ideal for transferring plates directly from a microwave to kitchen counter tops.
Using the power of leverage, the Coolhand allows the whole hand to take the weight of the plate without causing strain or stress on joints – making it an ideal one-handed kitchen aid for those with limited dexterity, arthritis or those who need to steady themselves whilst walking.
Check out a review of this product down below from our amazing in-house reviewer Zec!
Buy the Coolhand hot plate holder on the Disability Horizons Shop.
Peta Easi-Grip self-opening kitchen scissors – £7.50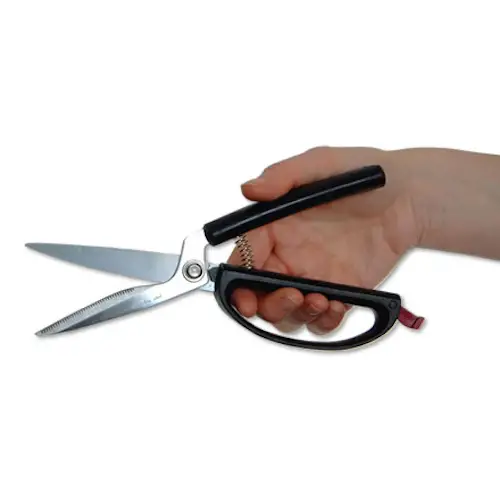 The Peta self-opening kitchen scissors are an essential utensil for every kitchen drawer – the serrated scissor blade grabs the item being cut to provide extra stability and is crafted from durable stainless steel that can reliably cut through paper, cardboard and packaging.
The large, ergonomic Easi-Grip handle provides extra comfort when in use, and the sprung scissor mechanism means they automatically reopen after each cut, to avoid straining weak hands.
To use these scissors, you simply unlock the red safety catch and apply gentle pressure to cut through a whole multitude of items, from food packaging to pizza! When finished, the scissors can be re-locked for safe storage by simply squeezing the handles together.
Visit the Disability Horizons Shop to purchase the Peta Easi-Grip self-opening kitchen scissors. Plus, check out the other range of Peta Easi-Grip products including knife kitchen aids, nail clipper sets and gardening tools.
HandSteady drinks cup – £14.95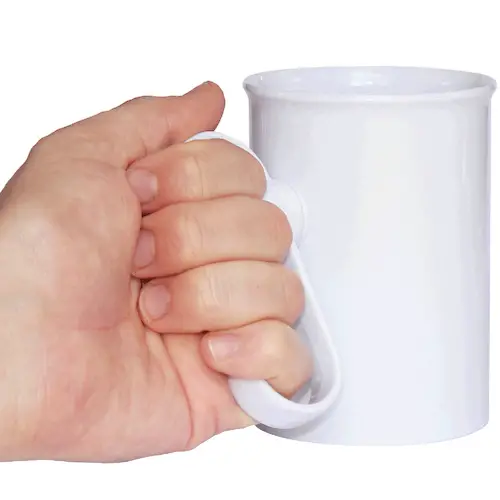 HandSteady is the multi-award-winning drinking aid cup designed to provide a dignified and comfortable drinking experience for those with limited dexterity and tremors.
It features a unique, rotating handle that keeps the cup steady and level at any angle, helping to provide a comfortable and dignified drinking experience.
The cup design removes the need to twist delicate wrist muscles to take a drink or having to have to tilt your head backwards. It can be manoeuvred and tilted for drinking by using your other hand, your thumb or simply by using your lips.
The large, easy-grip handle can also be held in the 'power grip' using four fingers and also ensures hands are guarded from hot drinks to prevent burnt hands.
The curved rim design ensures a comfortable drinking experience with no drips as the shape directs liquid directly to the centre of your mouth.
Find out more about the HandSteady drinks cup by going to the Disability Horizons Shop. Also, if you'd prefer a more hands-free drinking experience, why not try the Hydrant water bottle.
Standard multi opener – opens cans, tins, bottles, lids – £4.95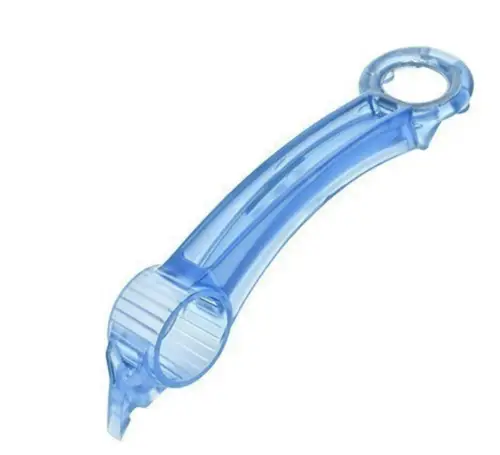 This standard multi opener can be used to open pressure sealed caps, resealable twist-off bottle caps, ring pull cans and jar lids.
The wrench-style plastic opener fits securely around tops to either twist or lever-off. The ergonomic handle provides extra grip and leverage for those with limited grip, dexterity and fine motor skill issues.
Go to the Disability Horizons Shop to see the dimensions and purchase the Standard multi opener. There is also available the Progressive 6 – in – 1 Multi Opener – Ultimate kitchen opening aid.
Scoop plate and bowl – £7.50 each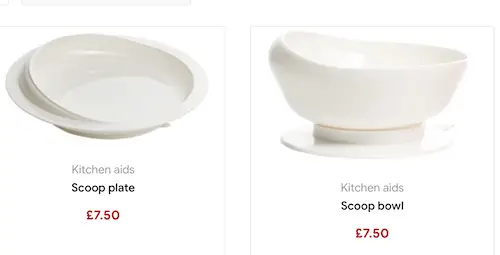 This moulded scoop plate and bowl are ideal kitchen aids for disabled people as they  can assist those who have difficulty scooping food on to cutlery.
The unique rim design provides a perfectly shaped surface for helping those with limited dexterity and fine motor skills to push food on to cutlery and utensils. The non-slip, suction base is particularly useful for those with use of only one hand.
The plate and bowl are both microwave and dishwasher safe (suction base must be removed before microwave/dishwashing).
The Scoop plate and Scoop bowl are sold separately at £7.50 and can be bought at the Disability Horizons Shop.
One-way drinking straws – pack of 2 – £3.50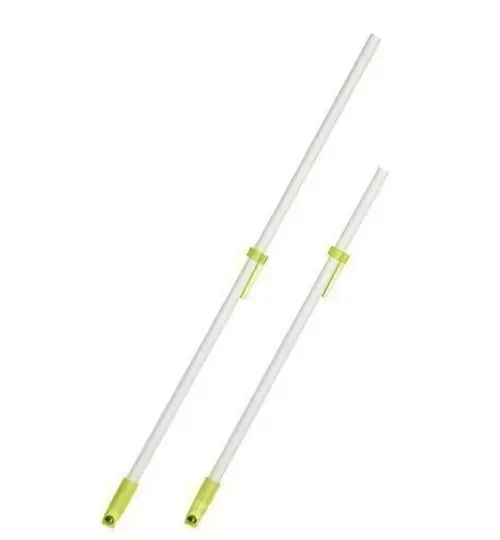 The one-way drinking straw is perfect for those with low oral muscle tone or dysphagia, who struggle to suck-in and swallow when drinking through a straw.
The one-way valve keeps fluid in the straw when you are not sucking in, meaning less effort is needed when drinking.
The adjustable clip allows you to easily attach the straw to the side of cups or glasses to keep it steady and in place whilst in use.
The One-way drinking straws come in a pack of 2 – one at 7" and one at 10" -and can be purchased at the Disability Horizons Shop.
These are just some of the kitchen aids for disabled people available, but you can view our full range of 29 items on the Disability Horizons Shop.
By Disability Horizons 
More on Disability Horizons…