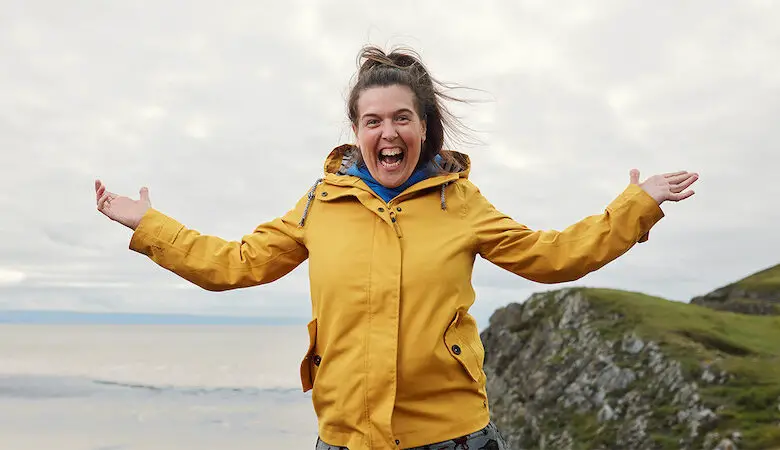 Comedian Rosie Jones has filmed a second series of short-form travelogues Mission: Accessible, which explores accessible activities for disabled holidaymakers.
Three new 15-minute episodes have been produced in English cities, following a four-part first series published between October and December 2020 on Channel 4's YouTube channel and All4.
Series one saw her visit Brighton, Wales, Fife and the West Country, with guests including James Acaster and Harriet Kemsley, and was produced in association with the three nations' respective tourism boards. It focused on Rosie and her guest exploring activities suitable and accessible for visitors with disabilities.
Mission Accessible: Series two
The new episodes see Rosie exploring London with Big Zuu; Cambridge with Ashley Storrie; and Manchester with Mike Wozniak, and are produced in association with Visit England.
London
In episode one, Rosie and Big Zuu explore London and find a multi-sensory, posh getaway for Ryan, who became blind following a car accident.
The pair visited Kensington Palace Gardens, the London Science Museum, enjoyed a meal and tour ride on a bus, drank champaign while in a speed boat across the River Thames and Rosie had a relaxing time in the AIRE Ancient Baths.
Speaking about her trip in London, Rosie said:
"We tried to unpack London and really seek out the finer sides of the city. I've lived in London for ten years and I've realised that, when you live somewhere, you never really see it as a tourist.
The things we did were amazing. We went to the Science Museum, Kensington Palace Gardens and went on a gastro bus tour where we ate so much good food whilst touring around the city.
We also went down the Thames on a speedboat! We really saw London as a tourist – it was incredible."
Rosie also admitted how her and Big Zuu got up to some mischief too:
"My favourite thing was, at the Science Museum, myself and Big Zuu found a slide. I hand on heart think that at any age, if you see a slide, you'll want to go down it.
The producers were trying to carry on with filming the rest of the day, but we were wanting to have another go on the slide because it is so much fun!"
Cambridge
Episode two saw Rosie and Ashley Storrie visit Cambridge to find a quiet and secluded type of trip for autistic fashion model and student Dextra.
On their trip, they visited the Ascension Parish Burial Ground where some of the greatest minds are laid to rest including Frances Cornford, granddaughter of Charles Darwin, and philosopher Wittgenstein.
Rosie and Ashley also visited the Botanic Gardens, went punting along the river and went out stargazing at the Cambridge Institute of Astronomy.
Rosie shared more details about her time in Cambridge:
"Here I went with Ashley Storrie. She has autism. She was the perfect partner for me because we were organising a holiday for a person with autism.
Going to Cambridge was incredible. I've never been there before, and it was so rich and full of brilliant people. We learnt about Alan Turing, who was probably one of the greatest Britons ever to live. We had such fun punting on the river, going to the Botanic Gardens and really enjoying the quiet and all the open space.
A lot of people with autism don't like enclosed spaces or noisy areas, so in Cambridge we really sought out the space and the quiet and it was such a perfect time to enjoy the beauty of it all.
One of my favourite parts was myself and Ashley being presented with a tandem bike. I looked at the tandem and thought 'there is absolutely no way I can do that'…and I did it! It felt like a real achievement!"
Manchester
In the third and final episode, Rosie was joined by comedian Mike Wozmiak to visit the city of Manchester to find some adventurous, cultural and unexpected activities for aspiring Paralympian Freya, who has muscular dystrophy.
Rosie tried accessible skiing, had a tour of Manchester learning some of it's women culture and with Mike, smashed away in a rage room.
Rosie explained how much fun she had with Mike in Manchester:
"He was amazing and he's one of my favourite comedians. I loved it there so much because my mum and dad are from Manchester. Although I was born in Yorkshire, I've always had an affinity with Manchester.
We are organising a holiday for a prospective Paralympian, so we really wanted to do something sporty and exhilarating.
We went to an indoor ski centre, which was so great. It messed with my brain as we were filming on one of the hottest days of the year, but two minutes later we were inside in huge coats, freezing ourselves.
I have never been skiing before because I just didn't think that would be an option for me. But what I did is I went on a sit ski. It was an amazing way of adapting the sport to make it accessible."
Rosie Jones on Trip Hazard and The Last Leg of Tokyo
Rosie's full-length Channel 4 travelogue, Trip Hazard: My Great British Adventure, aired its first series in April 2021. Four half-hour programmes featured guests including Jamali Maddix and Scarlett Moffatt.
Rosie Jones also appeared on The Last Leg as the programme's Tokyo-based correspondent for the Paralympic Games. Over 12 days, she got to be an exclusive spectator, watching a range of sports including athletics, archery, boccia, wheelchair fencing, wheelchair tennis and powerlifting.
You can watch Rosie Jones in both series of Mission Accessible on YouTube and All4 – where you can also catch up on Trip hazard and The Last Leg.
By Emma Purcell 
More on Disability Horizons…