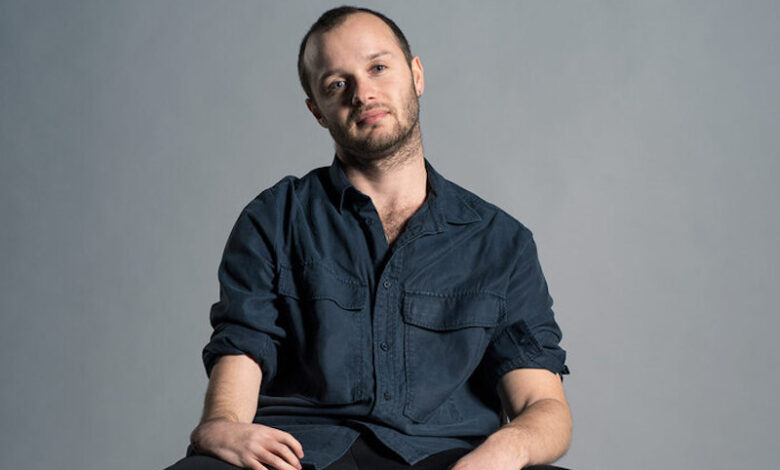 Arthur Hughes is a British actor best known for his roles in Netflix's The Innocents and Channel 4's Help. He has also recently starred as Alan Holdsworth in the disability rights drama Then Barbara Met Alan and is set to star as Richard III at the Royal Shakespeare Theatre this summer.
Our writer, Emma Purcell, got the opportunity to interview Arthur Hughes about living with an upper-limb difference, working as a disabled actor on stage and screen and his thoughts on disability representation.
Arthur Hughes is a 30-year-old actor from Aylesbury, Buckinghamshire. He was born with radial dysplasia, a rare condition in arms that affects one in 30,000 people. For Arthur, he has a disfigured right arm and he identifies as "limb different".
Arthur studied acting at the Royal Welsh College of Music and Drama. He landed his first major acting role in the 2018 Netflix series, The Innocents. It is a supernatural series that follows two teenagers – Harry and June – who run away together before June starts to display supernatural powers. Arthur plays June's older brother Ryan McDaniel in the show.
Arthur is also known for playing Ruairi Donovan in BBC Radio 4's The Archers.
In 2021, Arthur played care worker Tim in the award-winning Channel 4 film drama Help, which tells a fictitious yet harrowing story of how the coronavirus pandemic impacted care homes in the UK during the first lockdown.  
In March 2022, Arthur starred alongside fellow disabled actor Ruth Madeley in the BBC drama, Then Barbara Met Alan, which tells the true story of how two disabled activists – Barbara Lisicki and Alan Holdsworth – became the trailblazers for disability rights in Britain and help make the Government create the Disability Discrimination Act (DDA).
Arthur has also made appearances on stage including in the plays La Cage aux Folles and The Solid Life of Sugar Water.
He is now set to become Royal Shakespeare Company's (RSC) first disabled actor to play Richard III, from June 2022, at the Royal Shakespeare Theatre. Back in the 15th century, Richard III was said to have scoliosis – a curve of the spine.
Read on to find out more about Arthur Hughes in his own words.
Arthur Hughes on living with an upper-limb difference
Can you tell us what radial dysplasia is and how it affects you on a daily basis?
Radial dysplasia is a condition in the arm, where the radius bone is missing. It affects my right arm, in which I'm missing my thumb, radius bone and a few other small bits and pieces.
Day-to-day it doesn't affect me 99% of the time. I favour my left arm more but am always finding new ways to make my right arm work for me too.
What barriers do you face living with an upper-limb difference?
The barriers I face aren't always very visible ones and not usually to do with access as such. In the profession I'm in, you can be judged very quickly at a first glance, which may rule you out for certain jobs and castings because you have one arm a different size and shape to the other.
Not often but sometimes I'll have people stare or comment in public, which isn't pleasant but thankfully quite rare. Another issue is often being underestimated in what my limitations are based on how I look.
Arthur Hughes on being an actor
What inspired you to become an actor and go on to study acting at the Royal Welsh College of Music and Drama?
I've wanted to be an actor since I was very small. I think I had a loud voice and an appetite for attention. Probably from age six, I had been involved with school plays and drama groups and that just naturally stayed with me until I was ready to leave school.
I applied to many places, but Royal Welsh College was where the chips fell, and I loved it there.
What was it like securing your first major role as Ryan McDaniel in the Netflix series The Innocents?
The Innocents was a life-changing role for me. Before then my experience was mostly theatre and it was going okay – mostly in supporting roles – but at decent theatres.
The Innocents was on a much larger scale and a medium I had less knowledge of. It was a great time and I learnt a lot, as well as making some great friends.
When I first got the script my character Ryan was in a wheelchair. I felt hugely uncomfortable with playing a part an actor who is a wheelchair user could and should be doing.
The production team listened to me and invited me to speak with the writers. Together we discussed the character in line with who I was and modified Ryan. That was a very positive experience of being involved at a creative stage in shaping my character with my disability.
How did it feel to play a care worker in the Channel 4 drama Help?
Help was a fantastic project to be involved in and is an astounding film. To be making one of the first major Covid films whilst the pandemic was in some of its most intense surges was surreal, but I felt incredibly proud to be a part of telling it.
This was my second time working with the unstoppable Jack Thorne, who was the right person to tell this story. Filming in a drafty disused care home just outside Liverpool for a month was eerie, socially distanced and strange to be telling a story we were still living through.
But it was a lovely cast and crew, with two amazing lead performances from Stephen Graham and Jodie Comer, It felt like a job I can be very proud of.
You've also had stage roles in the play La Cage aux Folles and The Solid Life of Sugar Water. Did you enjoy performing those roles?
I absolutely love performing on stage and I always will. La Cage and Sugar Water are two very different shows. As always the wonderful thing about making a play is the rehearsal and the process. Collaborating, sharing, laughing and creating are fundamentals of this job and a rehearsal room is where it all happens.
La Cage was a cast of 12, with lots of gags and farcical elements, which needed a fun-loving strong team of actors. Sugar Water was an intense two-hander dealing with sex and stillbirths.
Both are vastly different shows, but what I remember most fondly are the wonderful people I worked with. It's the same with every job.
Arthur Hughes on starring in the factual drama Then Barbara Met Alan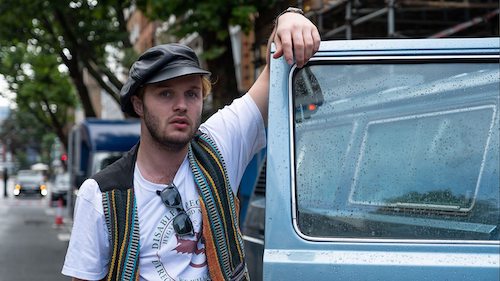 How did you get the role of Alan Holdsworth in Then Barbara Met Alan and what was it like to film alongside co-star Ruth Madeley and writers Jack Thorne and Genevieve Barr?
I first heard about Then Barbara Met Alan when rehearsing for Help in Liverpool with Jack Thorne.
He mentioned he was writing with Genevieve (whom I performed with in Jack's play The Solid Life of Sugar Water). This was what first piqued my interest and it was now on my radar – a disability-led cast, playing civil disobedience activists? Sounds class
A few months later the casting was out and I wanted to be in front of the queue. Lead part Alan – it had to be mine. Sometimes you just have to tell yourself that this one is yours and no two ways about it.
Having worked with Jack, Genevive and Amit (director), it was like a bit of a family reunion. Along with Bruce (director) and the wonderful Ruth, the family has grown a little larger. We had a lot of fun filming, not without its challenges, but I made some amazing friends and I think the film is unlike anything I've ever seen.
Did you get to meet Alan Holdsworth to prepare and research the role?
Yes – I met the real Alan a few times on Zoom, as he lives in the US. It was great to meet him, if not a little scary! He's not a scary guy, but to meet someone you're going to portray in a film is a surreal experience. You hope they don't think you're not up to it!
But we got on really well, and he shared some wonderful insights into what it was like leading and organising a civil rights movement, whilst balancing a family and domestic life alongside.
Have you learnt more about the history of the disability rights movement while playing this role?
I learnt a lot about the history of disability rights playing Alan. To my shame, I didn't understand the scale of the movement until fully immersing myself in it – the number of people involved, the injustice that was pushed on so many, the size of the task that the "DANNERs" (members of the DAN – Disabled Peoples Direct Action Network) had to face, and what disabled people still have to face.
I hope that this film can re-energise the spirit of the early 90s and alert people to the struggle for true equal rights for disabled people that has yet to be fully achieved.
Arthur Hughes on being cast as Richard III
How does it feel to be the first disabled actor to be cast as Richard III?
It feels amazing and unreal to be the first Richard III cast at the Royal Shakespeare Company (RSC). However, I am certainly not the first disabled Richard.
In 2017, the awesome Mat Fraser, one of my heroes, was the first disabled actor to play Richard on a major stage in his turn at Hull Truck for Northern Broadsides. I remember seeing the news of his casting and feeling it was just a little more possible for me to one day play him too – and here we are.
I'm currently in rehearsal for Wars of The Roses, also at the RSC where Richard appears as a character in his younger days. To play him in both plays back to back is a dream come true.
What are you looking forward to most in this production of Richard III and when and where can people see you perform?
I'm most excited to present a Richard on a major stage that is living in a disabled body. No humps or bumps or limps. Just me. To have a disabled actor playing a lead part on any stage is rare, it's right to have one of the most famous disabled parts be channelled through a disabled actor.
Richard is such a magnificently devious, cunning and alluring person in the play.
I've had a taste of him already in Wars of the Roses, I can't wait to fully be immersed into his delightful treacherous ways.
The show will run at the Royal Shakespeare Theatre in Stratford-upon-Avon from 23 June to 8 October 2022.
Richard III trailer with Arthur Hughes
Arthur Hughes' thoughts on disability representation
Do you think disability representation has got better over the years or do you think more should be done?
I think disability representation has come a long way, but it's still not complete and has much further to go. There are waves of progress, often followed by waves of regression.
Meaningful change is supported or ruined by the power of the government, which Barbara and Alan understood and why they fought and pressured so hard to make change.
Whilst people are still denied entry to buildings, discriminated against in the workplace or just in public, there is still worked to be done.
What advice would you give to other aspiring disabled actors?
To other aspiring disabled actors I would say be an actor because of your disability, not in spite of it.
For many years I felt I was working as an actor and I was so lucky because I didn't 'fit the mould' of what the industry wanted. Perhaps that's partially true, but loving myself and my disability and working gives me the direction and power to forge a new industry.
If we all do that, I think there will be a big bright new generation of disabled talent gracing our stages and screens.
You can find out more about Arthur Hughes by following him on Twitter.
Interview by Emma Purcell 
Transition into Voice Acting
Arthur's venture into voice acting has seen him lending his voice to the character of Ruairi Donovan in the well-loved BBC Radio 4's series The Archers.
Breaking New Ground with Shardlake
Embarking on a new journey, Arthur stars in the Disney+ series Shardlake, unraveling mysteries in 16th-century England alongside Sean Bean. Cast as the earnest lawyer Matthew Shardlake, Arthur navigates through plots and scheming, providing a stark contrast as one of the few honest men in a tumultuous period. This role sees him working under Thomas Cromwell, portrayed by Sean Bean, during the dissolution of the monasteries, investigating a commissioner's death in the remote town of Scarnsea. His portrayal once again brings a unique dimension to a character, demonstrating the versatile acting prowess Arthur possesses.

More on Disability Horizons…