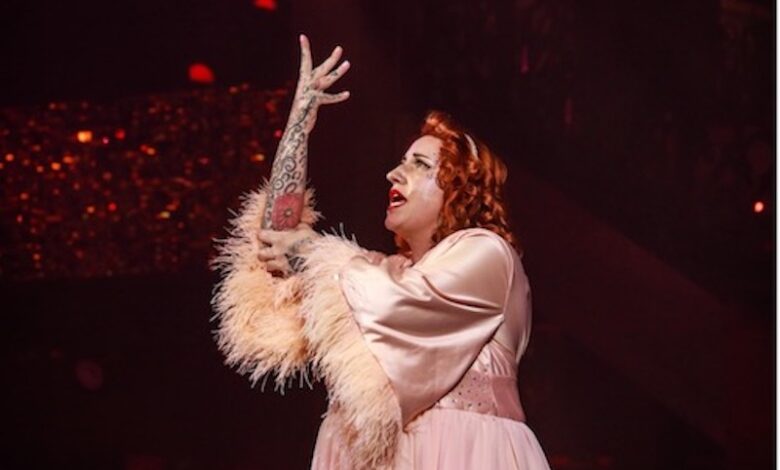 Having a disability doesn't stop you from achieving anything and no matter your impairment. You can adapt your skills and embrace your difference any way you want. One woman, Anna Smith Higgs, has proven this. Following a major stroke that left her physically disabled, she has now gone on to be a successful burlesque dancer.
In this article, Anna shares how she became a burlesque performer and later secured a regular spot on the West End cabaret circuit.    
My name is Anna Smith Higgs, I am disabled and a burlesque performer – most people do not say those words in the same sentence.
I suffered a major stroke aged 24, on Christmas Day 2004, a month after giving birth to my son. I spent the next six months in hospital, learning to walk again and function with only the left side of my body working.
The stroke left me with a paralysed right arm, a huge limp and partial sight in both eyes. I also had to have a toe removed as well because of the stroke.
Not only did I need to learn how to do everything with my left hand (I was right-handed), I needed to learn how to be a mum again. I totally lost myself and struggled just to get through the day. My mum is my full-time carer.
Being introduced to burlesque dancing
View this post on Instagram
It was many years later, that I discovered burlesque. I was looking for different things to try, things that you would not expect a disabled person to do. I had tried to play the ukulele,  but only having one working hand, it didn't really work.
Traditionally, burlesque is a type of variety show that is both provocative and comedic. It features a female chorus, solo dances, and bawdy, slapstick skits and songs. And yes, it may feature striptease acts, but not necessarily.
The class that I had found was advertised on Facebook and was described as "anyone can do it, no matter what shape or size you are". After discussing it with my family, whom all said that I wouldn't be able to do it, I decided to go along and give it a try anyway.
I found the class so hard. I couldn't do my stockings up myself and the other girls had to do them up for me. I couldn't do half of the moves they were all doing and it was really frustrating… but I LOVED it.
I knew the course wasn't for me anymore so I sought out one-to-one tuition with professional burlesque performers who had amazing careers all over the world.
This was a lot easier for me, as the sessions were spent focusing on what I could do rather than what I couldn't do.
My style of burlesque dancing with a disability
I went on to create an amazing idea for an act, where I illustrate my disability through burlesque dance and show everyone what it is like to live my life. I have a projector that displays images of my life behind me.
My style of dancing is completely different to able-bodied dancers. I can not get down on the floor as quickly as them. I do get on the floor but I don't feel that it is as graceful as most others would do it.
The dance is a lot slower and I put emphasis on my weaker limbs. It's very raw and comes from the heart.
I am helped on and off the stage and for those five minutes of my act, I can truly be me. I show you what it is like to live my life.
I focus on my bad hand, just moving my fingers slightly. I scream, cry, pull my hair out of frustration, and everyone thinks that it's all part of the act. They don't realise that every time I perform it, I am giving myself to them, I am letting them into my world.
With tuition, it started to come to life. I had performed it at my charity event Chari-Tease, which I do once a year, for the Harlow stroke support rehab group. The reaction I get is a standing ovation and lots of very emotional people.
I went on to perform in Oslo,  the Hippodrome in London and the Hebden Bridge Burlesque Festival.
My mum comes with me to every show, to help me get ready and to get me to the stage, I couldn't do this without her help.
View this post on Instagram
Burlesque dancing in the West End
One day I decided to send a video of myself dancing to Proud Embankment, a venue in the West End, London – what's the worst that could happen?
Amazingly, I had a reply in five minutes from Alex (the owner) saying, "when can you start?". Things like this don't happen to people like me.
Before my first performance, I went to watch the show, in which actors and presenters Denise Van Outen and Julian Clary were hosting and Duncan James (formerly from the boyband Blue) was in it that night – I was in total shock.
Comedian Bill Bailey also hosted the show. Unfortunately, I didn't get to meet him but others said he was really lovely.
I also had to arrange a new costume. My current costume was ok for the shows that I've done before but this was in a different league. I needed a professional costume and I needed it in a month.
My costume had to be made so that I could remove it easily. My costume maker was recommended to me by a friend and she fully understood what I required.
My gown does up with velcro and my bra comes undone with a clip rather than the normal hook.
My first performance at Proud Embankment
My first night was a bit of a blur, to be honest. Julian was hosting and I had just watched a girl doing an act by hanging from her hair, a fire-eating performer, a mime act and acrobatics.
What on earth would this crowd of 450 people think of me? I was scared, very very scared.
But I did it, I had just performed to the biggest crowd in my entire life and they loved it. During the act, I could not hear a pin drop, not one sound, but at the end, they were all on their feet and clapping. I couldn't believe it.
How burlesque dancing has impacted my life
View this post on Instagram
Doing burlesque dancing helps me so much with my mental health, as I can get all of my feelings out in the five minutes that I am on stage. People think that it's all part of the act.
I also made an appearance on the Channel 4 show Steph's Packed Lunch, which was another fantastic experience.
I have performed at Proud Embankment every week since July 2021, and I am booked up for as long as I want to stay. I am there every Friday night, so please do come and see me flying the flag for every single disabled person out there.
I would love to host a workshop on confidence and burlesque for disabled people in the future. I am looking into this now – watch this space.
Watch me in action performing burlesque dancing in my video a stroke survivor's tale on YouTube.  
By Anna Smith Higgs
You can find out more about Anna by visiting her blog Just Another Stroke and following her on Facebook, Twitter and Instagram.
Pictures by Bret D Cove
More on Disability Horizons…