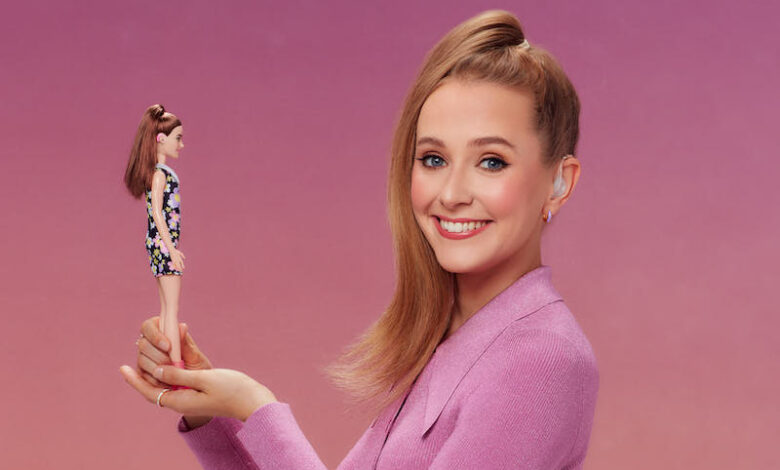 A Barbie doll with a behind-the-ear hearing aid is part of a new range of diverse and inclusive dolls unveiled by Mattel. To mark this, Strictly star and Eastenders actress Rose Ayling-Ellis took part in a beautiful new campaign, 'Rose, Barbie & Friends', teaming up with a stunning cast of diverse talent to pose in front of the cameras with dolls that reflect and celebrate their differences.
The new range of dolls also includes a Ken doll with vitiligo (a long-term condition where pale white patches develop on the skin), a new Fashionista doll with a prosthetic leg and a Barbie doll in a wheelchair.
Rose Ayling-Ellis – who has brought deaf inclusion to the forefront of the national conversation this year – appeared in stunning images alongside teenage model Jamie, a 17-year-old student with vitiligo, Renee, a model and paraplegic wheelchair user, and Faisha, a yoga teacher and model with a below-the-knee prosthetic limb, posing with the new inclusive Barbie dolls.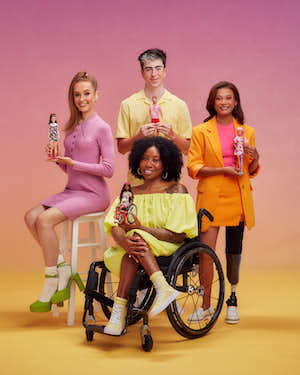 This is part of the Barbie brand celebrating a broader view of beauty, enabling kids to play with more dolls that reflect themselves and the diverse world around them.
Rose Ayling-Ellis said: "It's so important for children to be able to see themselves represented in the toys they play with. When I was little, I would draw hearing aids onto my Barbie dolls to make them look like me, so I am thrilled that Mattel is releasing more dolls that encourage kids to celebrate and embrace their differences!"
Rose Ayling-Eliss' advocacy for the deaf community
Rose Ayling-Ellis is a deaf actress originally from Kent. Born to hearing parents, Rose learnt British Sign language (BSL) as a young child after her mother was motivated to improve their ability to communicate with each other and to immerse Rose in the deaf community.
Since then, the deaf community and BSL have been integral to Rose and her identity. Rose joined the cast of EastEnders in 2020 and was the first deaf character to use BSL on the soap. Rose has firmly positioned herself as a much-loved figure on British television screens.
In 2021, Rose was propelled to the attention of the nation and wider industry as the first deaf contestant to appear on BBC's Strictly Come Dancing, Rose went on to win the competition, lifting the glitterball at the end of the series.
As well as acting, Rose's passions lie in sharing deaf culture and advocating for the deaf community, evidenced by her involvement in campaigning for the BSL Bill to be passed by Government.
Earlier this year Rose became the first celebrity to use British Sign Language to read a CBeebies bedtime story and later this month Rose will deliver the Alternative MacTaggart lecture at Edinburgh Television Festival where she will discuss her experiences as a deaf actress and life in the TV industry.
How Mattel created the new inclusive Barbie dolls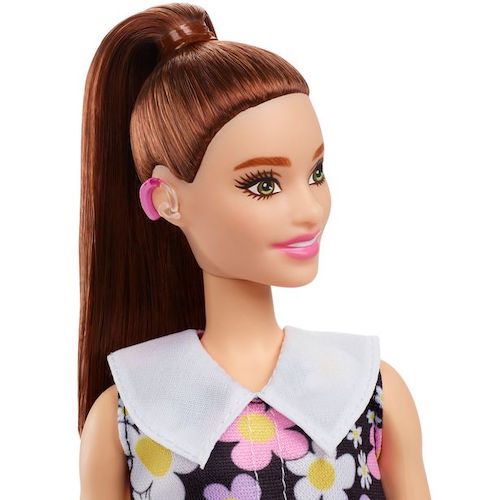 Mattel consulted with experts in its field on the new dolls to accurately portray the hearing aids in the Fashionistas line. Leading educational audiologist and hard-of-hearing advocate Dr Jen Richardson said:
"I'm honoured to have worked with Mattel to create an accurate reflection of a doll with behind-the-ear hearing aids. As an educational audiologist with over 18 years of experience working in hard-of-hearing advocacy, it's inspiring those who experience hard of hearing reflected in a doll. I'm beyond thrilled for my young patients to see and play with a doll who looks like them."
The Barbie Fashionistas line is where the Barbie brand delivers the most diversity and inclusion, and since its inception, 175+ looks have been introduced, offering children a variety of skin tones, eye colours, hair colours and textures, body types, disabilities, and fashions to choose from. The Barbie brand continues to inspire kids to tell more stories and find a doll that speaks to and represents them.
Lisa McKnight, Executive Vice President and Global Head of Barbie and Dolls, Mattel, Inc. said "The Barbie brand wholeheartedly believes in the power of representation and we are committed to continuing to introduce dolls featuring a range of skin tones, body types and disabilities to reflect the diversity kids see in the world around them.
It's important for kids to see themselves reflected in product and to encourage play with dolls that don't resemble them to help them understand and celebrate the importance of inclusion."
The 2022 Barbie Fashionistas line is available in the UK from retailers nationwide.
What do you think of the new diverse and inclusive range of Barbie dolls? Share your thoughts in the comments box or on Facebook and Twitter @Dhorizons.
By Emma Purcell 
More on Disability Horizons…