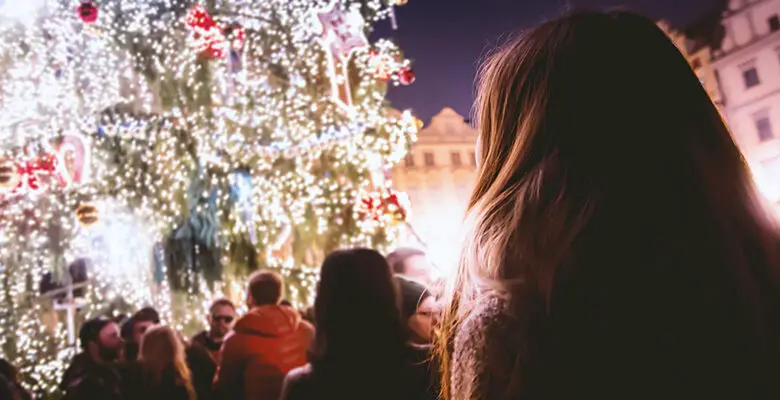 It's the most wonderful time of the year and the season to visit Santa in his grotto, explore the wizarding world at Christmas, browse the festive markets, stroll in a winter wonderland and enjoy some panto, music, magic and literature.
Our writer, Emma Purcell, shares 8 accessible festive events, in-person and virtual, that you and your family are sure to love and enjoy this Christmas. 
1. LaplandUK
Have a magical and spectacular day out with your family at LaplandUK, situated at Whitmoor Forest in Ascot. 
Here you can explore the history behind Father Christmas, have your children help the elves make toys in the workshop, assist Mrs Claus in the kitchen decorating festive treats, wonder the Elven Village and Enchanted Forest and even meet Santa Claus in his grotto.
The Lapland day trip lasts approximately 3.5 hours. The first 90 minutes are scripted, interactive sessions in the Enchanted Forest, Toy Factory and Mother Christmas Kitchen. Thereafter follows 90 minutes in the Elven Village before your personalised audience with Father Christmas.
Find out more about the magical festive world of LaplandUK and book tickets on its website. 
Accessibility at LaplandUK
LaplandUK wishes to be fully inclusive and makes every effort to ensure that its event is as accessible to as many guests as possible. The facilities include:
Wheelchair access is available throughout most of LaplandUK but some areas are said to be muddy, soft and steep.
The Sunflower Lanyard scheme is recognised by staff to support visitors with hidden disabilities
Sensory boxes for blind and visually impaired guests to understand the environments of the Enchanted Forest and when meeting Father Christmas
Get a PA ticket at a 50% discount – accepts the Access Card
You can get more details on the LaplandUK 2022 Accessibility Guide.
2. Harry Potter Studio Tour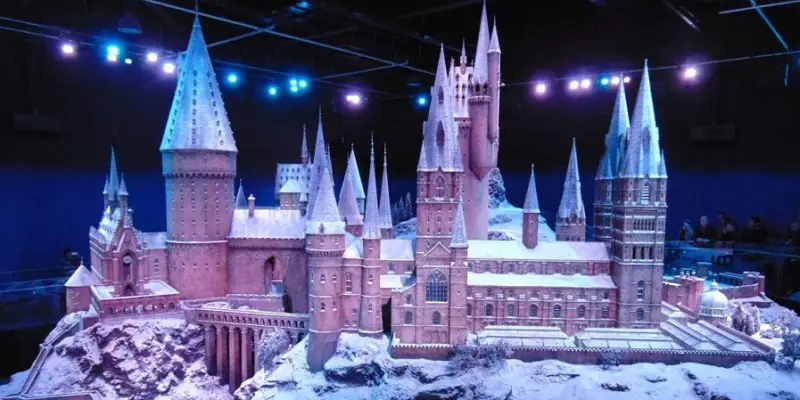 If you're a Harry Potter fan, then there is no better and more enchanted place to be than the Harry Potter Studio Tour at Warner Bros. Studios, London, whatever the time of year. But its magic is amplified at Christmas.
In the Great Hall, there are numerous tall Christmas trees and Christmas puddings on the long tables.
On the large model of the Hogwarts castle, snow can be seen all over the school grounds, which brings a wintry, festive feel to the scenery.
Also, if you go outside, you'll find a device that creates a snow shower, which means you can get covered in snow.
These Christmas-themed elements are in addition to all the other incredible sets, props and creatures of the wizarding world including the Hogwarts Express, Whomping Willow, Forbbiden Forest, Diagon Ally, Buckbeack the Hippogriff, Aragog the giant spider and much more.
Book your tickets to Hogwarts this Christmas at the Warner Bros Studio website (subject to availability).
Accessibility at the Harry Potter Studio Tour
There is wheelchair access throughout the tour but certain sets and activities are not wheelchair-friendly, such as the inside of the Hogwarts Express train, the Knight Bus and riding a broomstick on a green screen.
There is disabled parking on-site, standard accessible toilets throughout and a Changing Places toilet near the lobby, which can be accessed using a RADAR key.
Assistance dogs can enter the studio tour and there are audio guides and hearing loops for visitors with sight and hearing impairments. 
Subtitles are not present on media throughout the attraction. However, the studio tour staff can provide a portable iPad, which contains a subtitled version of the cinema film for those who are hard of hearing.
The studio tour also has a sensory room for people with autism and other sensory impairments and it recognises the Hidden Disability Lanyard Scheme.
Guests with a disability are entitled to a free PA ticket but you will need to show proof of eligibility when collecting your tickets at the box office. 
Check out a full accessibility guide on the Harry Potter Studio Tour website.
Also, have a read of Emma's Harry Potter Studio Tour accessibility review.
3. Edinburgh Christmas market
Christmas markets are a particularly perfect activity this time of year and, although the noise and hustle and bustle won't suit everyone, there are many markets with great accessibility, including disabled toilets, access ramps and parking.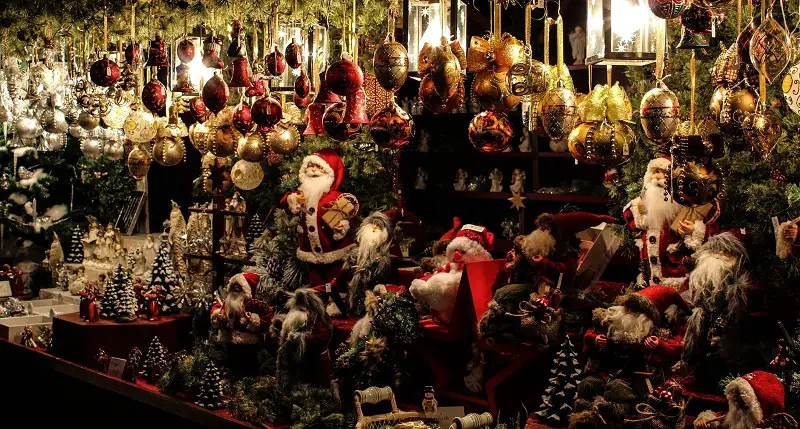 Edinburgh Christmas market is one of the most popular in the country. There is a lot to see and do at the market and around the rest of the city.
You can visit more than 70 stalls, which are mostly made up of German-inspired goods such as booze and meat but there are also some veggie and vegan options and craft stalls where you can buy gifts for your friends and loved ones.
You can also see a stunning light show at Edinburgh Castle. Not only is the castle illuminated with bright beams of coloured light, but animations of crowns, kings, swords and icons are cast across the face of the castle.
Accessibility at Edinburgh Christmas Market
Wheelchair users will be pleased to learn that much of the market is accessible – East Princes Street Gardens is fully accessible from both Princes Street and Waverley Bridge, although that area can be very busy at peak times and difficult for a wheelchair to navigate. 
There is an accessible toilet at the Mound precinct – if you ask a member of Edinburgh's Christmas staff for the key they can help you. 
There is pay and display parking for East Princes Street Gardens available on Frederick Street, Hanover Street, and Waterloo Place. This is free for Blue Badge holders with no time limit.
Other Christmas Markets across the UK
There are many more Christmas markets across the UK, which also cater for disabled guests. These are just some of the recommended ones:
Go to the website of the Christmas market you wish to visit to view its accessibility pages, FAQs and/or contact the event organisers to get full access details of the market.
4. Winter Wonderland attractions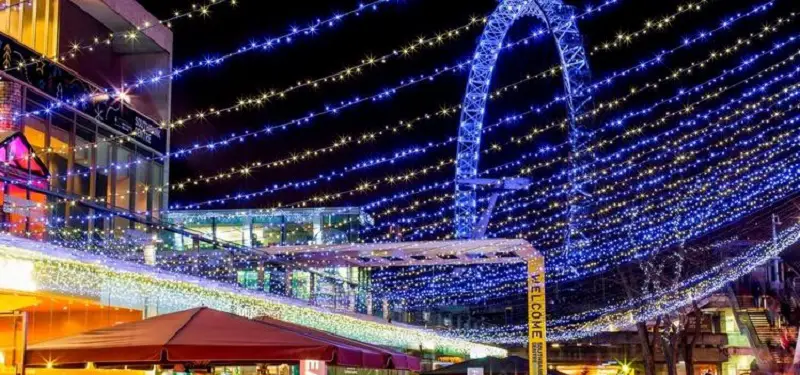 There are many magical winter wonderland attractions across the UK and are the ultimate destination to enjoy all things Christmas-themed this December.
You can indulge in warm and delicious food and drink, admire the Christmas lights and decorations, be entertained by festive tunes, comedy and circus performances and have fun gliding, spinning and speeding on the ice rink.
These are just a few of the winter wonderland attractions taking place around the country:
Accessibility at Winter Wonderland attractions
Almost all winter wonderland attractions are accessible to guests with disabilities. There is step-free access throughout, accessible toilets and disabled parking. 
Attractions that require tickets will provide a complimentary ticket for a PA/carer to assist you on your visit. 
The ice rinks are also wheelchair-friendly and some venues offer wheelchair sessions, visually impaired sessions and autism sessions.
Go to the website of the Winter Wonderland attraction you wish to visit to view its accessibility pages, FAQs and/or contact the event organisers to get full access details of the attraction. 
5. Christmas pantomimes
Heading to a theatre with the family to see a pantomime is a Christmas tradition for many people. These festive shows are filled with humour, enjoyment, music, stunning sceneries and dazzling costumes, performed by star-studded casts. 
What's more, it can be enjoyed by anyone of any age or ability. Many pantos provide accessible shows with captions, BSL interpreters, audio description and relaxed performances.
Here are just a few pantos taking place across the UK:
Cinderella – Bristol Hippodrome
This production of Cinderella has an all-star cast, headlined by Strictly's Craig Revel Horwood as the Wicked Stepmother!
See the classic story of Cinderella come to life on stage with plenty of comedy, audience participation, wild costumes and more!
Dates: 4 December 2022 – 31 December 2022
Get tickets now at atgtickets.com.
Accessible performances of Cinderella
Captioned: 07/12/2022 7pm
BSL: 29/12/2022 7pm
Audio Described: 29/12/2022 7pm
Relaxed: 16/12/2022 2pm
For full accessibility information, check out the Bristol Hippodrome Access Guide on AccessAble.
The Pantomime Adventures of Peter Pan – Manchester Opera House 
Manchester's own Jason Manford headlines this amazing production of Peter Pan, developed by the world's biggest pantomime producer, Crossroads Pantomimes.
The show promises plenty of audience participation, dazzling special effects, rib-tickling comedy and much more!
Dates: 10 December 2022 – 31 December 2022
Get your tickets now at manchesterthreatres.com.
Accessible performances of Peter Pan
Captioned: N/A
BSL: 14/12/2022 7pm
Audio Described: 15/12/2022 7pm
Relaxed: 15/12/2022 1pm
View further accessibility information at the Manchester Opera House.
Snow White and the Seven Dwarfs at Theatre Royal, Nottingham
Visit Nottingham this Christmas and enjoy the Theatre Royal production of Snow White and the Seven Dwarfs.
Featuring comedy great, Joe Pasquale, as well as Steps and West End icon Faye Tozer, you'll be hard-pressed to find a better way to end your year in the home of Robin Hood.
Dates: 3 December 2022 – 8 January 2022
Get your tickets today from trch.co.uk.
Accessible performances of Snow White and the Seven Dwarfs
Captioned: 07/01/2022 2:30pm
BSL: 15/12/2022 1:30pm, 18/12/2022 1:30pm and 06/01/2023 7:15pm
Audio Described: 17/12/2022 2:30pm and 08/01/2023 1:30pm
Relaxed: 04/01/2023 2:30pm
To get assistants and attend any of the accessible performances at the Theatre Royal, you'll need to sign up to the Access Requirement Register. 
There are many other pantomimes taking place in theatres up and down the country. If you'd like more ideas, check out the 10 best UK Christmas Pantomimes 2022.
6. Sing For M.E. At Christmas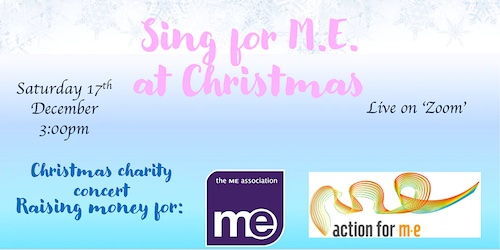 It's coming up to that time of year so, if you want to relax while getting ready for the big holiday break, Becca Hardcastle will be bringing you a concert of Christmas music on Saturday, 17th December.
And you can watch it live on Zoom in the comfort of your own home at 3pm or see the recording later if that's more convenient. 
The event will benefit two inspirational UK charities – the ME Association and Action for ME.
Becca, who is 21 and lives with ME/CFS, promises a "really lovely" concert filled with fun and Christmas spirit. She will be joined in the singing and instrumental numbers by friends and family, with some secular music included as well.
Tickets can be bought now at EventBrite.
Accessibility at the Sing For M.E. At Christmas virtual event
This event will be performed on Zoom and will also be recorded so for people who may be unable to watch it live due to illness or other commitments and have purchased a ticket, will be sent an unlisted YouTube link to access it.
If you require any additional support in accessing this event, you can contact Becca via email at singformecharityevent@gmail.com or on Instagram @bexs_life__.
7. Virtual Magic Experience
Be amazed and stunned by incredible tricks from the comfort of your own home with a virtual magic show. At talenfam.com, you can choose from a variety of Professional Magicians dedicated in Virtual Experiences. The magic show is live and interactive, meaning you can participate from anywhere in the world.
For the participation, you will receive a Zoom link, which you can then share with your participants.
This is a fun, festive activity for families and at virtual Christmas parties. There are three booking types to choose from:
Private magic show – for celebrations and surprises (15 years old +)

 

Magic for kids and families – kids' parties and surprises (6 to 14-year-olds)
Corporate magic show – team building, networking, office Christmas parties
Have a magical Christmas with your friends, family or colleagues by booking a Virtual Magic Experience.
Accessibility at the Virtual Magic Experience
This is an accessible activity as you can enjoy the event from home, have no need to travel or require care assistants and you could even enjoy it in your PJs. This is ideal if you're bedbound, housebound or just prefer staying indoors during the winter months.
There are no clear accessibility features such as subtitles, sign language or audio description. If you require adaptations or additional support, it is suggested you mention this to your magician when booking. 
8. Magical Candlelit Christmas Concert online
The Magical Candlelit Christmas Concert is an online event filled with carols, music and readings. It is hosted by the organisation Kids for Kids, which provides long-term help for children struggling to live in the rural villages of Darfur, Sudan. 
It is a star-studded evening with the charity's wonderful Patrons, Joanna Lumley OBE, Miriam Margolyes OBE, Timothy West CBE and The Lord Cope of Berkeley PC.
Also, Valerie Singleton OBE and Karen Jankel, daughter of Paddington Bear's creator, Michael Bond, will be joining the festivities. Karen will be reading from a favourite Paddington Bear Christmas story.
There will also be performances from Thames Fanfare Brass and singing from the Queen's Gate School Choirs and Natalie Rushdie, with harp music by Lesley Magee.
It is sure to be a spectacular and entertaining night for the whole family.
The Magical Candlelit Christmas Concert will take place on Thursday 15th December 2022 from 6:30pm to 9:30pm. You can purchase a ticket to this concert on EventBrite.
Accessibility at the Magical Candlelit Christmas Concert
Like the Virtual Magic Experience, this event will be online, meaning you can enjoy the songs, music, poems and stories from the comfort of your own home.
This too has no clear accessibility features such as subtitles, sign language or audio description. If you require adaptations or additional support, it is suggested you contact the event organiser at contact@kidsforkids.org.uk.
What other accessible festive events are you looking forward to this Christmas? Let us know in the comments box or on Facebook and Twitter @Dhorizons.
By Emma Purcell 
More on Disability Horizons…