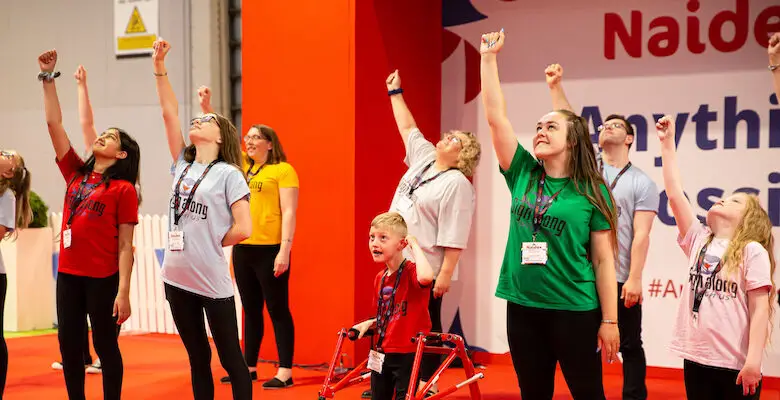 Lifestyle
Get creative and active with inclusive dance, music, cooking and sports at Naidex 2023
When Naidex returns on the 22nd and 23rd March at the NEC Birmingham this year, it will bring much-enjoyed accessible activities at the Village Green including the adaptive climbing wall. Inclusive dance and music sessions, accessible cooking demonstrations and adaptive sports tasters.
The Village Green is returning for its second year. It is like a mini fete or festival. Think bunting, tasty snacks and a lot of merriment. It will have a whole host of activities and performances that you can get involved in or simply watch.
Adaptive climbing wall
The adaptive climbing wall is run by the amazing teams at Outdoor Education Company and Anyone Can.
At Naidex, the team will first have a chat with you and make a quick assessment of your needs and abilities so they can figure out the best way for you to scale the wall.
This could be anything from a traditional harness with additional roped support, to their 'para harness' suitable for wheelchair users. If you want to get to the top, they can probably get you there! 
They are flexible in the way they can set up it's climbing wall and can run a combination of different systems that can allow able-bodied and disabled users to climb side-by-side.
The team includes instructors, several of whom are past or present GB para-climbers who bring their unique experiences of disability to assist others and provide guidance on how to get further involved in the sport. 
The adaptive climbing wall is free to try, so make sure to register your free ticket to Naidex to enjoy it!
Inclusive dance sessions and performances
Join in a fun inclusive dance session led by wheelchair dance teacher Kate Stanforth. This will finish with a hybrid performance by Kate Stanforth Academy of Dance. (Please note – you need to be 14+ and sign an insurance form before you participate.)
Dance has been a passion of Kate's since she was a child but had to give up her pre-professional dance training when she suddenly became ill.
At 14, Kate became a wheelchair user after being diagnosed with Ehlers-Danlos Syndromes (EDS) – a group of rare inherited conditions that affect connective tissue – plus a range of other health conditions.
However, her passion for dance has continued and her goal is to improve accessibility for disabled people, particularly in the dance industry. She now teaches from her wheelchair and specialises in inclusive dance classes.
Join the Inclusive Dance and Performance with Kate Stanforth Academy of Dance event from 2:45pm to 3:30pm on the 22nd March.
Early on in the day from 12pm, you can watch a live performance and dance workshop with Born to Perform, an inclusive performing arts school, which received the iconic Golden Buzzer from David Walliams on Britain's Got Talent in 2022.
Inspiring magical music
The Music Man Project is an international music education service for children and adults with learning disabilities, providing accessible music tuition leading to inspirational performances. 
Run by volunteers, the charity gives grants for accessible arts education, promotes equal access to performance, carries out research and raises awareness of the achievements of disadvantaged people in the arts.
The Music Man Project was founded by Churchill Fellow, David Stanley BEM, to meet a growing demand from parents for regular and accessible musical opportunities for their children. 
The project nurtures innate musicality, delivering education, enjoyment and performances through the teaching of original music at special schools, colleges, care homes, weekly music schools and daily adult classes in the community. 
It offers the same opportunities enjoyed by aspiring mainstream musicians by providing the best tuition, instruments, musical repertoire and performance platforms available.
The Music Man Project operates across the UK and has reached South Africa, India, Nepal, the Philippines and America. 
It supports schools, the Salvation Army, local Mencap societies, Music Education Hubs and individuals in fulfilment of its objective to establish a Music Man Project in every county in England, in every country in the UK and on every continent in the world.
You can watch members of The Music Man Project perform live at Naidex on the 23rd March from 1:15pm to 2pm.
Accessible, flexible and fun cooking
Ian Taverner, Mr Cookfulness, is back bringing us accessible, flexible and fun cooking for everyone! 
Ian is a chronic illness survivor and cooking has become his absolute go-to therapy. It wasn't always this way.
In fact, the kitchen tried everything it possibly could to stop him, it's dangerous, there are sharp things, heavy things, hot things, you need to be in positions that aren't easy or sometimes even possible.
But, he has found ways to get around, over, straight through these barriers and his mission now is to help you find them too and get the incredible, super inspiring and ultra positivity that cooking and creating can bring!
Ian designs and runs bespoke cooking and creative therapy workshops, programmes and shows, working with many major hospitals, charities and organisations all to help as many people as possible who find it hard in the kitchen, to turn that pain and anxiety into happiness and joy!
In his two sessions at Naidex, he'll be making savoury and sweet platters, filled with delicious flavours, textures and a few surprises, all delivered in his unique style.
This is great for entertaining or just a great night in. Come along for some cooking fun and a taste sensation.
You can meet Mr Coolfullness at his Dips, Crumbles & Crumbs event on the 22nd March from 1:20pm to 2:05pm and on the 23rd March from 12pm to 12:45pm.
Try out accessible football and wheelchair basketball
If you're an athletic sporty person, why not have a go at an accessible football taster session with special guests from Arsenal Football Club and The Albion Foundation?
Wheelchair users can have a taster of powered wheelchair football and people with cerebral palsy and other similar neurological conditions can try out CP football.
People who are deaf or hard of hearing can have a go too but there are other football opportunities for them within deaf football.
Unfortunately, there aren't football taster sessions for blind and visually impaired people but they can signpost you to the Blind Football Sessions at The Albion Foundation.
You can also try out a wheelchair basketball taster session with Make A Change.
These sports tasters are open to any age, gender or ability. But we won't be able to transfer anyone out of their chairs into the playing chairs. That would be down to the individual or their parent/carer.
If you can't access the tasters at the show, we can take details and set up a taster session at the team's own sports hall.
The football taster session will take place on the 23rd March from 11am to 11:45am and the basketball taster session will happen on the 23rd March from 11:30am to 3:15pm.
You can also check out the full agenda of guest speakers and performers and the full list of Naidex 2023 Exhibitors.
Also, be sure to visit the Disability Horizons Marketplace, where you can browse and purchases affordable and accessible products. Join us at stand B34, and find accessible brands including Active Hands, Buckingham Healthcare, FreshWipes and the Helping Hand Company.
DON'T MISS Naidex 2023 on 22nd and 23rd March at the NEC, Birmingham. Tickets are FREE – so what are you waiting for?
By Disability Horizons and Naidex
More on Disability Horizons…