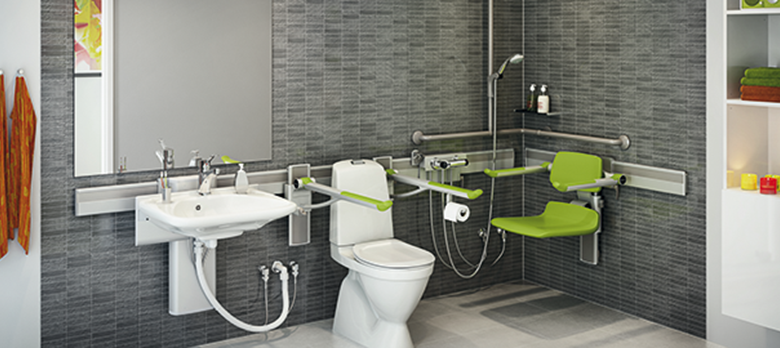 Lifestyle
Disability and independence: creating an accessible bathroom
Frances Leckie, editor of Independent Living, looks at developments in bathroom and toilet technology that enable you to make your bathroom fully accessible and give you independence.
#DHgurus
You probably won't be too surprised to learn that bathrooms are the most common type of home adaptation. It may be the smallest room, but it can certainly provide some of the biggest obstacles to independence and dignity. It is a safe bet that if you have problems with mobility, dexterity or flexibility that make daily living tasks a challenge, then a standard British bathroom is also going to cause problems.
Fortunately, accessibility and style are easily available, thanks to the fashion for wetrooms. This has made level access and wheelchair-friendly showers a feature of every bathroom showroom on the high street. But that isn't the whole story – there are many other products to consider in the quest for a perfectly customised bathroom.
Stylish grab rail supports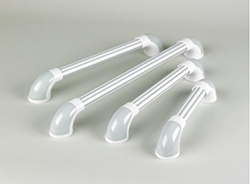 If you are able to walk but need some support to move around safely, the range of grab rails to choose from has increased. No longer is it a case of "you can have any colour you like, as long as it's white," to paraphrase Henry Ford. The choice now includes powder coating in bright primary shades to polished steel or chrome, elegantly matt anodised aluminium, or plastic rails that are warm to the touch.
These GripSure rails from Manage at Home (see image) have an elliptical shape and smart grey ribbing, which makes them easy to hold and less slippery when wet. Shapes have evolved too, with wavy rails giving a designer look to a functional product.
For the ultimate in flexible support, Pressalit Care constructs its bathrooms on the basis of horizontal and vertical tracks, allowing the elements to be moved around and adjusted in height, as required. So if your needs change, your bathroom can change with you.
Elegant and practical washbasins
There are some attractive options in accessible washbasins, notably, the Matrix range from Pressalit Care, the newest of which is the Curve. This basin has a sleek design incorporating softly-shaped, wide, sloping side edges so that you can lean in and rest your elbows comfortably for stability and support.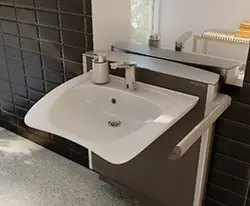 The curved front edge means both standing and seated users can be close enough to the basin to operate the tap, while the shallow bowl provides ample room underneath for wheelchair users. Raised edges along the back and sides of the basin prevent water from spilling onto the floor, making it wet and slippery. There is also a full-size corner basin with integrated grip handles to help move from sitting to standing.
If you need height adjustment in a washbasin – perhaps to accommodate standing and seated users – then both Astor Bannerman and Pressalit Care have good-looking solutions. You can go for manual or powered height adjustment; the former more cost-effective, the latter easier to manage and probably more convenient if the height needs to be altered frequently.
Needless to say, there are beautiful taps to go with the basins, with various controls according to need: easy to move levers; touch on and touch off; or no touch infrared controls which respond to hand movements.
How about a smart, accessible shower?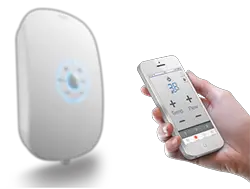 AKW has come up with an electric shower you can control from your phone – possibly not something you have thought about doing before! The iCare shower has lots of accessibility features, such as push-button controls, that are easy to manage with reduced dexterity. It also has audible/LED illuminated indicators for the benefit of users with sensory impairments.
It comes with a Bluetooth® wireless remote control, which means that you can control it from outside the shower area: turn it on or off, set the flow rate and bring it up to temperature, from across the room or even from the comfort of your bed. The remote has tactile raised symbols, and the casing is completely waterproof and easy to grip.
iPhone users can forget about the remote control, and switch it on using the free iShower app. Co-ordinate it with your alarm, for a smooth transition from waking up to hitting the shower – you can have an alert sent to your phone when the water is at the temperature you like…
Bath or shower?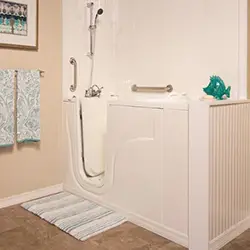 It is the bathroom debate that never goes away, with aficionados on both sides. For some people, a shower is hygienic, efficient and a great way to wake up. On the other side are those who prioritise the soothing ritual of soaking in warm water – which is certainly therapeutic. In an ideal world, we'd say why not both? But considerations of space and accessibility often push you in one direction; towards the shower. The classic space-saving solution of shower over bath simply doesn't work if you can't physically get in and out of the tub.
However, it is now possible to find a walk-in bath combined with shower, if you are able to step in and out safely, so that option is now available to more people. And if bathroom space is generous – if you are planning a new extension, perhaps – then a wetroom which incorporates a bath and ceiling track hoist, or a bath with an integrated chairlift to transfer you in and out of the water, really does give you the best of both worlds.
Toilet technology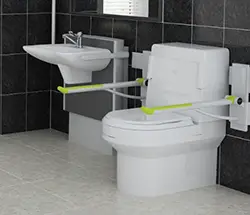 If you think a toilet is just a toilet, then you should take a look at the technologically refined automatic shower toilets and bidet toilet seats, which provide you with washing and drying automatically, eliminating the need for loo paper, and all the flexibility and dexterity that goes with it.
The control options are various, depending on the model and supplier, from flush pads on the cistern to foot switches, and manual or no touch infrared remote controls. You can also get a range of accessories, from padded seats to support arms, as required.
A stand-alone shower toilet may be floor-mounted or wall-hung, or even variable height, thanks to adjustable toilet brackets. If you go for a bidet toilet seat, it can be retro-fitted to your existing loo, in almost all cases. These clever WCs will require an electrical supply, as well as mains water, which you need to take into account when planning the installation.
Toilet lifters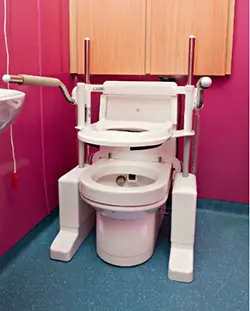 And while we're thinking about toilets, getting on and off is one of the most difficult things we all have to do several times every day: PAs rate helping clients transfer from wheelchair to toilet as their most stressful activity, and handling people in this way is the biggest cause of injuries to care workers.
In my last piece for Disability Horizons, I wrote about safe transfers using hoists, so I won't repeat it here. But I will instead look at dedicated toilet lifters, which can help anyone who doesn't have the strength or flexibility to get on or off the toilet unaided. With support arms, which can be moved out of the way when not required, the seat moves up and down and tilts, so that you are eased into a standing or sitting position as required. There are both mains and battery-operated lifters available.
What do you want from your accessible bathroom?
If your bathroom is less than ideal, what would you most like to change? Is there a bathroom feature that nobody seems to have come up with yet? Add your comments or wish list below, and share with the Disability Horizons community!
By Frances Leckie
Get in touch by messaging us on Facebook, tweeting us @DHorizons, emailing us at editor@disabilityhorizons.com or leaving your comments below.