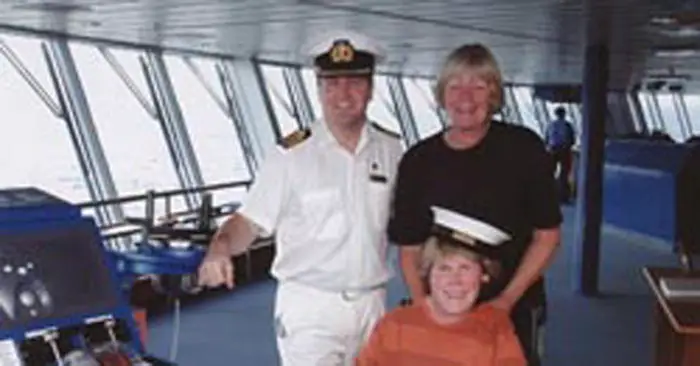 Katy Etherington from London who runs the PA recruitment website PA Pool loves to travel by cruise ship and recently went on a round the world tour! She kindly shares her experiences of cruise travel.
There's a world out there waiting to be explored, but you know, it wasn't until the ripe old age of 30 that I finally found a way to really soothe my itchy feet!
My name's Katy, like Martyn and Srin I've got SMA Type II, but unlike them I've never been that suited to being parted from my wheelchair, which does make travelling by aircraft particularly challenging. I do have a distant memory of the one and only time I tried it – flying to America when I was 10 years old and the difficulties that ensued then. Mum struggling to carry me (literally by the seat of my pants) into the tiny loo and my chair coming out on the baggage conveyor belt in more pieces than when it started the journey! Thankfully 10 year olds don't panic about things like that, but now older, considerably bigger and reliant on more equipment than a bog standard NHS manual chair, the concept of flying fills me with utter horror, certainly not an emotion conducive to a holiday! Worrying about whether my chair and hoist will arrive in one piece, the indignity and not to mention discomfort of being manhandled into an aircraft seat and the impossibility of even trying to use the loo (oh men have it so much easier in that respect!!) Nah, I can't be doing with it! Call me a defeatist if you like, but for me the whole point of a holiday is to be stress free, fun and relaxing! I knew that somehow, some way it was possible to be adventurous whilst still encompassing those things, I just needed time to find the solution!!
So, for 20 years of my life I was (fairly) content enjoying holidays in Cornwall, the occasional trip across the channel by car and more often than not, freebie breaks aboard my Mum's accessible narrowboat (which I suppose you could call quite adventurous)! But with the canals of Great Britain all but travelled and the oh so unpredictable UK weather, I yearned to explore further afield than my car could realistically take me in 2 weeks. Then one day a cruise brochure landed on my doormat. Now the thought of cruising had always conjured up images of unaffordable luxury, something which the rich and retired partook in, not me! However, tempted by the possibility of furthering my travels via water, I did a bit of research, talked to an acquaintance with SMA who had been on several cruises and his exact words were "It is the only way to travel – you will never look back". And he was right!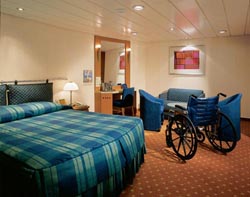 In 2003 I embarked on a week cruise to the Canaries onboard P&O ship Aurora. My first taste of foreign sunshine in 20 years!!! It was amazing! The cabin was perfect, the ship completely accessible and the staff couldn't do enough to help. There was even a dedicated person who was able to offer advice regarding the accessibility of ports and help arrange accessible shore excursions. Aside from the initial trepidation of trying something new, I can honestly say that compared to previous holidays it was completely stress free! All in all I was hooked and suddenly the World opened up to me!
My adversity to flying meant I was restricted to cruises that left and returned to the UK, but in actual fact that didn't limit the extent of my travelling and every cruise after the Canaries got slightly longer as I explored further and further. The Mediterranean for 18 days which took me as far as Egypt – a particular dream of mine. Then a 3 week cruise to the Caribbean with my family for Christmas – white sandy beaches and electric blue sea – I almost had to pinch myself to believe I'd got there with so little effort! My new problem now was I couldn't get enough time off work to go further!
However, when was I unexpectedly blessed with a small windfall it gave me the opportunity to do a much dreamed of World cruise and there was no way I was going to let mere work constraints stop me! I was prepared to quit my job as a graphic designer for an agency if my Boss didn't agree to 3 months unpaid leave, but thankfully he did and off I went on an 80 day trip around the world!! A complete circumnavigation, now that in itself is something for the CV! Who did I think I was, Phileas Fogg?!
It was, as you can probably imagine, a trip of a lifetime. We sailed away from Southampton, across the World's biggest oceans, through the Panama and Suez Canals, and experienced a plethora of amazing things such as sailing under the Golden Gate Bridge, into Sydney Harbour, dining on deck amid the bright lights of Hong Kong and walking the streets of Mumbai. I not only went further than I would have ever dreamed possible, but also visited places that just aren't on the average holiday destination list – let alone for someone in a wheelchair! It opened my mind and my eyes, I'd never have believed that facilities for disabled people would be so recognised – even on the remotest of islands (albeit in a sometimes amusing and unconventional way!). Anything lacking was always made up by the helpfulness and resourcefulness of the locals. How refreshing not to be constrained by the realms of Health & Safety!!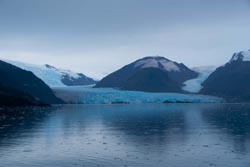 After my first World cruise I never thought I'd do another (not til I reached retirement age anyway!!) financing it, getting the holiday leave, it was a one off, I had reluctantly resigned myself to that fact, but then my life changed – or had the 'World' experience changed me?!! Not long after I'd returned I reached the point where I felt it was time to address the life work balance, which had definitely been tipping heavily towards the latter. I'd not only been working the daily grind at the design agency but also been running PA Pool – a website I'd set up for disabled people who need to recruit PAs and PAs who are looking for work. Besides PA Pool getting to the size where it was demanding more time than evenings and weekends would allow, I wanted some flexibility in my life! I wanted to travel more! And as there was no way I'd get any of this out of my Boss, I quit my job at the agency! It was a risk – PA Pool didn't yet have the capacity to pay me a wage and building a client base for freelance design could take time, but interest rates were low making my mortgage payments next to nothing. If I didn't make the break then I never would, so I jumped!
The risk paid off! My freelance career boomed, I was able to work whenever and wherever I fancied, my health improved and energy levels recovered. PA Pool grew at a more businesslike rate. It was, in retrospect, the best decision I ever made, especially when I spotted the itinerary for Aurora's Grand Voyage around South America and the Pacific and knew that the possibility of exploring the World like never before was an opportunity waiting to be taken again! I started a strict diet of bread and water, cancelled all social outings and saved like a thing possessed. Actually, when you want something so badly it really isn't that difficult! Work went a bit manic the closer I came to departure, with clients panicking that I was going to be away for 3.5 months, but that's another beauty of cruising, it's so easy to stay connected via the ship's satellite. I had my laptop and so I knew that tackling the odd job whilst I was away and continuing the daily running of PA Pool wouldn't be a problem.
Two cars full of luggage (there is no restriction when you're cruising!!!), porters to help us take the important equipment like spare chairs and hoists straight to our cabin, then once unpacked that was it for 95 days! The World was coming to us! We sailed to Argentina, Chile, The Falklands, around Cape Horn (another nautical achievement to add to the CV), up through the Chilean glaciers, across the Pacific to Australia and New Zealand, past tiny Easter Island and Pitcairn and then back across the Pacific and up to North America before heading towards Mexico, through the Panama Canal to the Caribbean and back to Southampton again! It was even better than the first one! I not only had the privilege of seeing many of the wonders the far reaches of this World has to offer, but I made some amazing friends, and partied and drank like I never could without being in close proximity to my hoist! Ah it's great when your accommodation travels with you!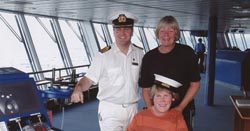 Cruising can cost from as little as £90 a day and that includes accommodation, travel, food and entertainment, so if you look at it that way, it's not as expensive as you may think. Cruise companies have definitely gone to great lengths over the past 10 years to make the cost of cruising more affordable and appeal to a wider audience. There is a growing market of people with mobility or physical difficulties who need an easier way to travel, cruising offers the opportunity to do this and I don't believe that cruise companies have yet realised the potential of this market. A final piece of advice – wheelchair accessible cabins are limited so you do need to book at least a year in advance for one.
Yep, ok, it might not be for everyone, but cruising is my ideal way of travelling and I'm busy saving for the next one already!
By Katy Etherington