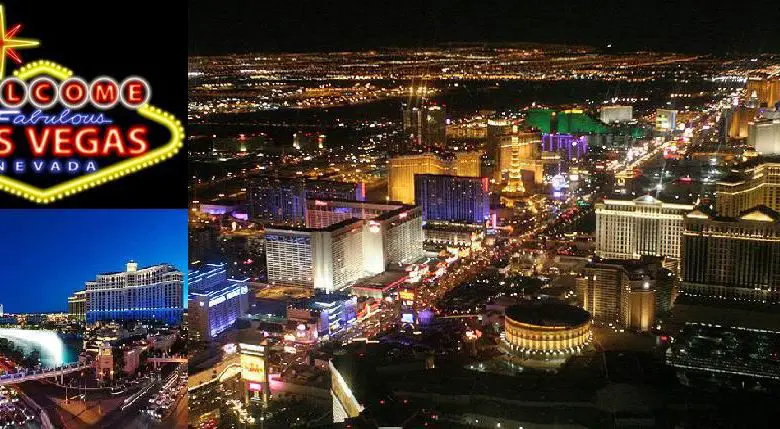 WARNING: THIS ARTICLE CONTAINS CONTENT OF A MATURE AND ADULT NATURE AND MAY BE INAPPROPRIATE FOR YOUNGER READERS. PLEASE CLICK AWAY NOW SHOULD YOU NOT WISH TO READ THIS ARTICLE.
Please note that Disability Horizons and its editors do not in any way condone, encourage or approve the exploits of the author but this article has been published at the authors express request to address a subject that is often considered taboo. As always, we at DH welcome any views that you may have.
New DH contributor, Ben Davies, recently went to Las Vegas, USA on holiday and shares his experience of his time in Sin City!
Hello Horizons readers.  As the nights start to draw in and the cold days and even colder nights are upon us, I'd like to talk to us manual wheelchair users and anyone else interested (not to discriminate otherwise the editors might not post) about my recent trip to the rather sunnier and slightly warmer Las Vegas, Nevada.
I like Vegas because there's so much to do. Of course there's the gambling where every hotel has its own casino. Aside from this there are the pool parties which I will come onto, shopping, night clubs, restaurants, tours of the Grand Canyon and even gentleman's clubs which are pretty popular amongst women as well as men. They call it the adult Disney World, sin city, a city that never sleeps. They say what happens in Vegas stays in Vegas (or gets posted on Disability Horizons!).
As a manual wheelchair user with my own bachelor pad, I often travel on my own. In fact this was my third time in Vegas.  Everyone says to me 'wow you're a pro now' but nothing was to prepare me for what actually happened.
Firstly let's start off with the boring bit, getting to the airport and checking in. I flew from Gatwick; I got a cab to the airport. What I would say is there's no way you can get to check in without help, so ask for assistance. The porter took my bag upstairs to someone near the check in who took my bag to check in.  'Sweet, I'm checked in'. "You have to shout to get what you want" would be my one and only tip throughout check in.  Get noticed because people won't notice you.
I fly Virgin and make my way to the departure gate. I get escorted to the plane to be asked "Sir, does your buggy fold?" Anyway, I ignore that comment as I'm on the plane. If you have difficulty walking to your seat all airlines will provide you with an aisle chair.  My tip here is to sit at the front of the plane, more leg room.
When you land you are usually the last one off as you have to wait for your chair. Make sure when you board your chair remains on the plane and isn't loaded with the baggage as trust me it's not what you want after 11 hours flying.  When I get off I get helped all the way to the taxi rank but of course you have to tip. I get to the hotel and checked it.  It's about 7pm but I've been up 20 hours so I eat and get some sleep.  I'm there for six nights so it didn't bother me.
The next morning I'm jet lagged. Anyway, I finally sort my life out and go shopping at the local mall. You can get 'handy cabs' everywhere in Vegas. Accessible taxis to us 'normal' folk. I get back, it's Saturday, 80 Degrees which means Pool Party time. My hotel, the Cosmopolitan, has a day club and a nightclub, so for 14 hours a day it's just one big party. I jump the queue to get in, as a few girls said I should. I get in but we get split up. I buy a drink, the music is pumping there are a few hundred semi naked humans round the pool just having fun. I've never been to Ibiza but I guess this is the closest to it.
I sit there for a while and then get talking to an American couple, who have to spend $300 for the VIP area, which meant they kept buying me drinks. So I think I had about 4 double vodka and red bulls before another American starts running with me around the pool two or three times. He then stops and I'm surrounded by these drunken girls from Liverpool who decided to give me two cocktails. I found out the next day that they contained double shots of vodka, gin, rum and Tequila!
I remember having a couple more drinks and then BLANK.  The next thing I remember is waking up at 6am the next day.  My bed was covered in sick; I had a bacon roll and a bottle of water beside me. I'm like "what the hell happened?" I don't remember going to bed, "where's my money" I thought? I had all my money still but had the worst hangover since I was 17 and went out drinking for the first time. I just laid there for hours. Then I get a call "Ben we want you at the pool today", same thing, different day. I stayed for a bit and then went for some food and spent an hour at the slot machine. I then went to bed, yes I know, pretty pathetic.
The next day was busy I saw one half of LMFAO a couple of tables away from me at breakfast. I then went to a couple of hotels I've never been to and gambled about $50, spent a few hours where it all began for Elvis, old town Vegas. You often see this in hip hop videos; Cee-loo-Green was the most recent. Again I gambled a bit here and then got a handy cab back. If you can't find one make sure you get a card. I went for dinner and slept for a few hours. I woke up at half 9 and went to the nightclub at 10. It was LMFAO night. Not really my cup of tea, it was rammed, I got told I was a fire hazard, I couldn't operate the lift fully so after 3 hours I left.
What happened next would break down barriers and give me the sort of confidence I never thought I had. I decided to go to a gentleman's club, now I have my opinions on this, but l'm not going into this debate now. In my next blog I will ask the question of whether it's a positive or negative thing. What I will say is if you lack confidence around the ladies which I do as a result of insecurities around my disability, then go and blow your load (can be a few hundred dollars if you can afford to) on building up your confidence and having a good time. If people judge you that's just ignorance. As long as you think you're doing the right thing that's all that matters.
The club I went to was Sapphire's. There are about 30 such clubs in Vegas, but Sapphire is the best with up to 400 girls to choose from. It's about 1:30 in the morning and it's pretty empty. There are not many girls around (guess they must be busy). I sit and chill for a bit and then order a red bull.  As soon as I pay the waitress, I turn round and one of the entertainers is sat next to me.  She was a natural blond. Crystal blue eyes, about 5 foot 5.  Of course such entertainers never leave much to the imagination. So we get talking. In terms of looks, she's right up my street, and if you're going to pay to be entertained for an hour or so, the one you choose has to be the best. However her personality wasn't the best and I was getting bored. But there weren't many other ladies around and it's hard to resist when they start stroking you and nibbling on your ear lobe.
I won't go into too much more detail other than she entertained me in one of the dance booths as well as the VIP area. We talked and got on well. I was surprised to hear that she has ADHD and some other disability and her mum works with disabled kids or so she said. Then she asked me if I wanted her to come back to my room. So we finished up, I gave her my room number and left, not expecting to hear from her again.
Within 20 minutes of getting back to my hotel, she called. I was nervous. I thought to myself "Ben, mate your balls must be made of steel." We met and spent a few hours together. She left and to be honest the next day is a blur. As I lost my virginity, all I can remember is the smile I had on my face. I liked her and I only had two more nights in sin city so I called her and she escorted me to dinner, we spent the night together and shared breakfast, I saw her one last time, the next day in between the gambling and drinking of course.
This really was the best time in Vegas. Yes, I had to pay to be entertained but it built up my confidence to be a lady killer! What I would say is don't go there expecting what happened to me. I've been twice before and that hasn't happened. I got lucky. If you go, go for the bright lights and everything else Vegas has to offer as there is plenty to do for a five night trip.
My next article (coming soon) will open the debate about whether the kind of entertainment I've mentioned above is morally right for both the entertainer and the gentlemen or indeed ladies being entertained from a disability point of view of course!
In the meantime if you have any questions on accessibility or cool places to hang out in sin city please feel free to e-mail me through editor@disabilityhorizons.com.
By Ben Davies