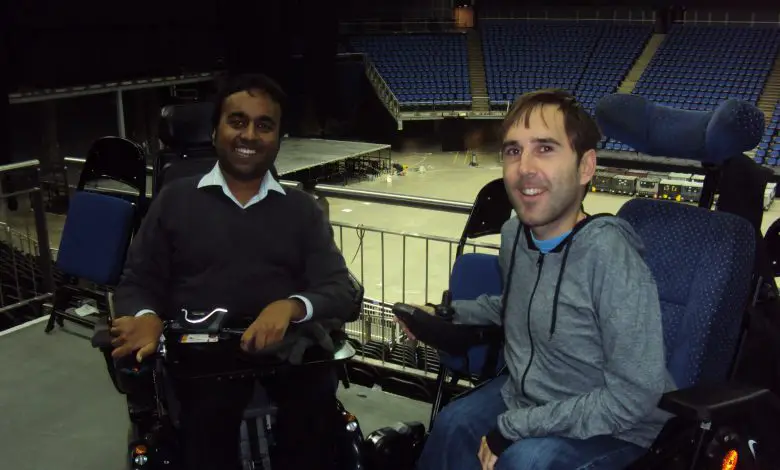 Martyn and I were recently given a tour of The O2, a distinctive landmark on the London landscape that is home to one of world's premier indoor venues which is host to numerous music and sporting events year round and will be a venue at next year's Olympics and Paralympics.
Music venues have traditionally had a notoriously poor reputation for access. Physical impediments, lack of lifts, overcrowding and poor quality seats are just some of the usual complaints that levied.
However, this doesn't have to be the case. To prove this point, we were given a tour of The O2 by the venue's operator, Anschutz Entertainment Group (AEG), and shown around the accessibility features of the venue.
This is the video of our tour! 🙂
As you can see, the arena is spacious, with platforms dotted around the venue and spaces reserved for wheelchair users. Seats with removable armrests are also located around the arena for people who can transfer to a regular seat.  Even the corporate and VIP boxes are accessible!
I've been to The O2 many times, most recently to see Tinie Tempah, and one of the things that I like about The O2 is that you can sit right next to the person you are going with. Numerous venues still require whoever is with you to sit behind, which can make the experience a little less sociable!
The main music venue is just one part of the enormous complex that is The O2.  There a numerous restaurants, a cinema and a number of temporary exhibits that have been constructed to modern accessibility.
Getting there
We both got to The O2 by different means. Martyn drove and used a parking space at the venue (on event nights, accessible parking spaces can be arranged) and I got there by using the London Underground. North Greenwich station, on the Jubilee Line is part of one of a limited number of stretches of the London Underground that are wheelchair accessible. As I was travelling from Waterloo, I was able to comfortably travel down to North Greenwich!
The O2 is a great venue, and when it comes to wheelchair access, I haven't come across many other venues that provide similar ease in terms of accessibility. The O2 is by no means an "intimate" venue due to its sheer size, but its sheer size does provide a great experience and a spectacle in its own way.
A big thanks to AEG for showing us around the venue, and if anyone wishes to find out more about The O2, click here.
Also, we'd love to hear of people's experiences at music venues around the world, so get in touch at editor@disabilityhorizons.com.
By Srin Madipalli