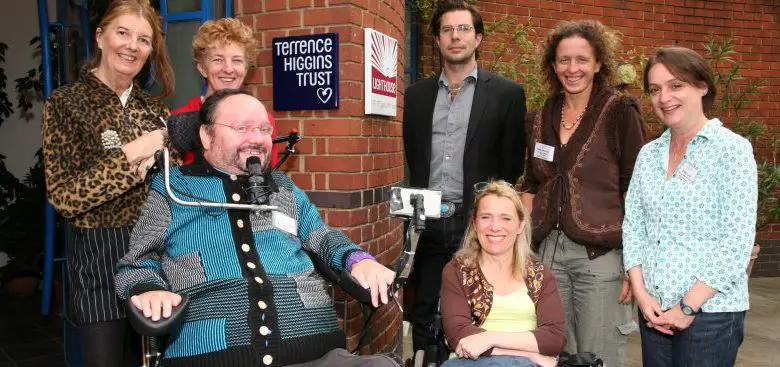 Founder of members club, Outsiders, Dr Tuppy Owens hopes to bring a breath of fresh air to Disability Horizons' readers with her frank discussion on disability and sex.
Some of you might know about Outsiders as we have, after all, been going for over 30 years. We are a nation-wide and even international members club offering a support network that aims to help disabled people to feel more confident, self-accepting and be able to enjoy life. We pride ourselves in being a friendly self-help peer support group that is safe, secure and private for members.
Sex is one area where opening up about the subject is much easier if you are able to talk to someone who knows how it really feels when you have a disability. I myself am a sex therapist and pioneer for the acceptance of disabled people as sexual beings. If you have a question, or just want to talk about your experiences with others who know where you're coming from, Outsiders provides a place to do that.
Also, we've always thought that there's nothing more cringe-worthy than a singles/dating club. It's much better to meet people when you are working or playing alongside them, which is why we run events, meet ups and workshops across the country.
We have monthly lunches around the country (please check our Forthcoming Events page for details of an event near you) and in London on the 2nd Saturday of every month at Paternoster, St Paul's Cathedral, at 1.30pm. It's very relaxed, you can just pop in and we will always ensure that everybody is introduced to one another and that we all have a laugh. We also hold an annual Sexual Freedom Day festival in Dalston Curve around 26th September.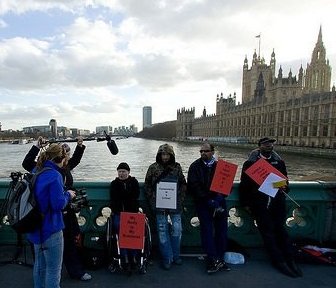 We also run a number of initiatives such as a Sex and Disability Helpline and the Sexual Health and Disability Alliance (SHADA). SHADA works to bring together health professionals who work with disabled people to empower and support them in their sex and relationship needs. We meet twice a year in London and we held our first conference in 2009 at The Royal Society of Medicine. After that, we realised that conferences don't change the world, and we would have to do something more constructive.
Alex Cowen, one of our sex and disability consultants, had the idea for the Sexual Respect Tool Kit. The aim of it is to assist GPs and other health and social care professionals in discussing matters around sex and relationships more comfortably and openly with their patients and clients, disabled and able-bodied. Words, film, audio and posters teach the use of opening lines to discussions, how to cover questions sensitively, and how to refer people to sex therapists, self-help and peer support groups.
In February 2012, my colleague and I met with Alison Austin, the head of the personal health budgets team at the Department of Health. We explained that our members feel unable to voice their desires or ask for help to have their needs met. Things such as the fitting of a rail beside their bed to steady them during sex, a hoist or sex toy in a clamp above their bed, body confidence workshops, or a sex worker to enable them to satisfy their needs are all taboo subjects they are in fear of discussing. They even fear wearing lipstick or high heels as it might threaten their disability benefits. Alison was all ears. Being an ex-nurse, she confirmed that sex is an important part of a human's well-being and making sure disabled people are able to have their needs met is important.
Alison asked that we send something in writing about Outsiders, along with our ideas and the tool kit for the package they hope to roll out through the Department of Health. We're asking them to group all needs under one title, Sexual Expression, making it an easier subject to broach and to lessen any shame or embarrassment. If any readers have any ideas on this, let us know.
If you'd like to be involved, become a member, or would like some advice, visit the Outsiders and SHADA websites.
By Tuppy Owens
Visit our Relationships & Sex section for more  articles on sex and disability, including Co-Editor Martyn Sibley's disability and relationships webinar, meanderings of a single disabled woman, and the honest view of a courtesan.