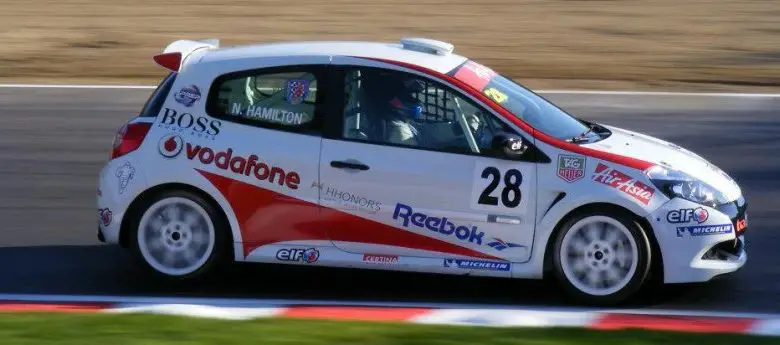 19-year-old Nicholas Hamilton, brother of Formula1 racing driver Lewis Hamilton, has cerebral palsy and has recently begun racing himself. Just over one year ago Nicholas relied on the use of a wheelchair, but his determination and courage to succeed has propelled him into the racing world.
Having only raced a car on a computer game from the comfort of his home, Nicholas took the plunge in 2011 and entered one of the most prestigious races, the AirAsia Renault Clio Cup. Although a bad crash knocked his confidence, his determination to pick himself up and carry on has earned him a place in the 2012 AirAsia Renault Clio Cup, the starting point for a career of his own as a racing driver.
Here's what he told Disability Horizons about his plans, obstacles, successes and love of racing…
How did you first get involved in motorsport?
I have been involved with motorsport my whole life supporting my brother Lewis, but it wasn't until I was invited to drive a BMW M3 at Palmer Sport in late 2010 that I started to seriously think about racing myself. I really enjoyed the day and I think I surprised my dad at how well I could drive. We did another two days at Palmer Sport, before deciding to enter the AirAsia Renault Clio Cup for 2011.
As cerebral palsy has mainly affected the strength in your legs and ability to walk, do you need any adaptations to allow you drive?
A few adaptations have been made to the car in order to help me when driving. The first thing was to have the accelerator pedal pushed back to floor and the brake pedal widened so that I could push down rather that reach away, which is harder for me. I also had the seat raised by 100mm and a hand clutch mounted to the rear of the steering wheel so I didn't have to use another pedal.
What was it like racing for the first time?
Very nerve wracking. I had a lot of media attention around me throughout the whole weekend and, of course, it was my first time ever racing. Once I get in the car I can ignore all the attention that's on me, but then obviously the racing itself was quite difficult because of my lack of experience at the time. However, as the year progressed it did get easier and easier as I learnt what it takes to drive.
Have you ever felt that your disability has been an obstacle to being a racing driver? If so, what has allowed or inspired you to overcome these issues?
My disability has been a massive obstacle, particularly when it comes to my weak legs. I used to rely on using a wheelchair, but I have trained hard to make sure my legs are in top shape so I can not only walk but also race. Now with the adaptions to my car, which reduce the effects of my disability, I'm on a level playing field. I wasn't so much inspired, I was just determined to get my body to the stage where I was able to race. That is a great incentive when training.
What are you up to at the moment in terms of your racing career? What competitions or challenges are you taking part in at the moment?
I've been focusing over the winter break on my fitness training and also working on plans for this year. I haven't really entered any competitions since the end of the season, although I did take part in the ERDF Masters Karting event in Paris alongside various Formula1, Rallying and Sports Car drivers. It was a great experience for me being able to race alongside such established drivers and see how my driving compared and to learn from that.
Throughout history, which driver would you have most liked to race against?
Favourite car?
Lexus LFA.
For other aspiring disabled drivers out there, how would you recommend getting involved in motorsport?
Firstly, I'd say don't be scared of trying to drive without any adaptions. Give it a go and see how you find it. If you do struggle to find ways to overcome them, never give up no matter how big the obstacle is. In this day and age you can get over anything; there is so much technology available to help. Even people who are paralysed can drive, so being disabled should not dictate whether you go racing or not. My advice would be to get in a kart to start with and, if you enjoy that, move on from there.
Thank you Nicholas, we look forward to seeing you win in 2012. 
To see Nicholas in action watch his recent BBC documentary on iPlayer.
If you're an extreme sports junkie then check out our  Sports page for more stories like this. Also, read about DH's Co-Editor, Martyn Sibley's adaptions to his new car, and DH's Co-Editor, Srin Madipalli's trials learning to drive.
Tell us about the sporting activities you're involved in by emailing us at editor@disabilityhorizons.com, tweeting us at @DHorizons or messaging us on Facebook.
Thank you to The Lively Crew for putting us in touch with Nicholas.