Disability Horizons' Co-Editor, Srin Madipalli, and Content Editor, Liz Ransome, were recently invited to watch a contemporary dance performance by dynamic duo Anna Bergstrom and wheelchair user Kimberley Harvey, also known as dance company Subtle Kraft Co.
Resolution, performed at The Place Theatre in London, was an ensemble showcase featuring 3 contemporary dance pieces, each around 20 minutes. Performed by 3 separate dance companies – including Subtle Kraft Co – the aim of each piece was to convey a theme, or emotion, that would speak to the audience.
From a personal viewpoint, contemporary dance is something totally new to me so I am unable to provide any kind of cultured or informed critique. However, I found that all three individual dance pieces contrasted as well as complemented one another in their style and tempo, producing a performance that could entertain even an uninformed viewer like me!
Subtle Kraft Co's performance, named "Cravings of Intimacy & Solitude", communicated the emotions of feeling alone and yearning company. It was fascinating to see how Kimberly's wheelchair was used by both herself and Anna (who is largely able bodied although she has rheumatoid arthritis), as it was entirely integrated into the performance. The wheelchair just seemed like another prop as 'disability' was extracted from a performance that focused only on dance and movement.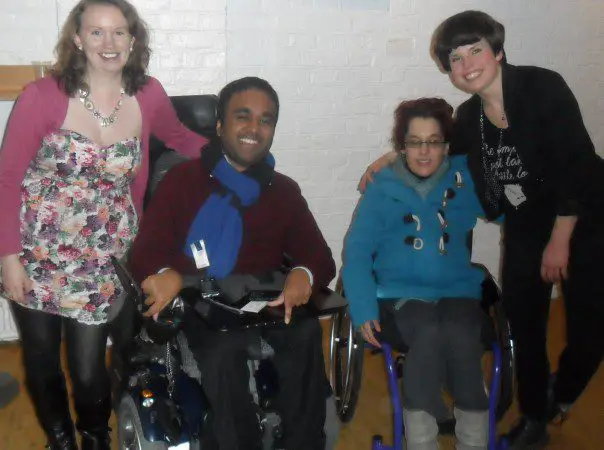 Going back slightly earlier in the evening, Liz and I met Anna and Kimberley before the show started to find out a bit more about the duo behind Subtle Kraft Co.
The pair met while working for Candoco Dance Company's youth company, Cando2. After completing a degree in contemporary dance and having worked with disabled people for 6 years, Anna was inspired to combine the two. Kimberly, who felt unfulfilled trying an academic route, found her 'home' when she started The Candoco Foundation Course in Dance for disabled students at the age of 13. She has since been working for the Candoco Dance Company for 11 years.
Anna and Kimberley formed a special bond and friendship while working together; it was a "performance relationship that we were keen to develop and see where it went." On that basis they decided to take the plunge and set up Subtle Kraft Co. The fact that they are such good friends is something that is integral to their performances, as it comes from a "genuine place because we are two people who really get on. This translates into an unspoken interaction that is powerful for us and the audience… Subtle Kraft Co.  is a dance company made up of the individuals within, exploring the artistic nature of a dancing relationship with trusted intention, detail and challenge."
We discussed how having a disability and having to use a mobility aid can affect dance. From Kimberley's perspective, her wheelchair was something that she – and whoever she danced with – would simply embrace. Anna also pointed out that no matter how limiting a person's disability may be, she firmly believes that anyone can take part in dance in their own unique and powerful way; "one's ability is never an obstacle but always a resource." As someone with significant mobility impairment, I found this very poignant to hear as I had always written off dance as something beyond my physical ability.
In the near future, Subtle Kraft Co plan to take "Cravings of Intimacy & Solitude" to a number of venues, and conduct a variety of workshops so they can get more disabled people involved in dance. Take a look at the Subtle Kraft Co website for exact details.
As an aside, from a purely practical viewpoint, The Place Theatre was a venue with very good accessibility from my perspective as a wheelchair user. The wheelchair space in the theatre had a really good view and getting in and out didn't seem to cause any difficulties.
So if you're interested in getting involved in dance, here are Anna's top 5 tips:
1. Dare to participate in things that might make you nervous at first. Be brave and take the plunge.
2. Work with what you have. Figure out what your strengths are and build on these.
3. Collaborate and form relationships with new people. You can gain so much for working with others, new ways of thinking, invaluable advice and in turn this will help you to develop your own style and strengths.
4. Don't give up. Keep going, believing and showing people what you are capable of.
5. Have fun! Enjoy meeting and working with new people; they will.
You might think that, being disabled, you are unable to dance, but Anna stresses: "there is always a way."
By Srin Madipalli
Interested in dance and the creative arts? Take a look at our Entertainment section. Plus,  take a look at our article on the Candoco Dance Company's 20th birthday. Happy dancing!