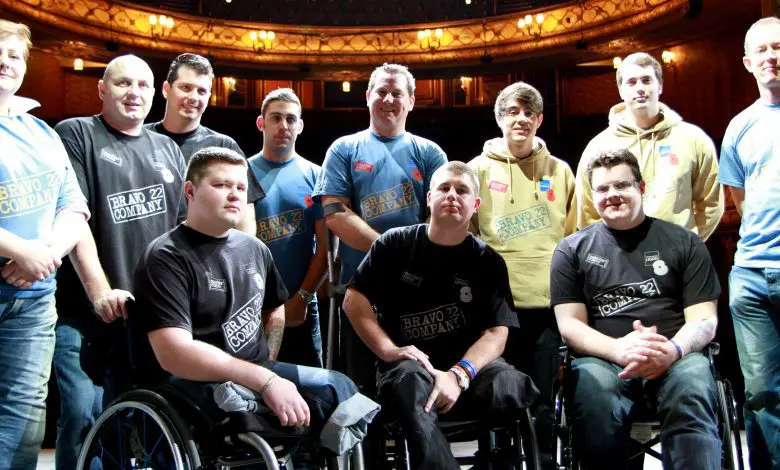 In December 2010, producer Alice Driver created the first theatre project to help wounded, injured and sick (WIS) service personnel. With the help of a partnership between the Theatre Royal Haymarket Masterclass Trust and The Royal British Legion, they went on to form the Bravo 22 Company and produce the play The Two Worlds of Charlie F. Here Alice tells Disability Horizons how the project came about, what it offered those who were involved and the critically acclaimed show they produced.
Where it all began

I spoke to a surgeon based at Queen Elizabeth's Hospital in Birmingham who gave me an insight into the casualties coming back from Afghanistan. Due to medical advances more are surviving their injuries than ever before. Brilliant, of course, but inevitably this means individuals are faced with an arduous, complex, sometimes unknown battle ahead, of rehabilitation, recovery and the prospect of living with these injuries for life.
All dealing with differing injuries, from post-traumatic stress disorder to amputations, I wanted to offer this incredibly brave group of individuals an opportunity to do something totally different and to feel inspired again. To be part of something that doesn't focus on what they can't do, but on what they can. They would all be taken out of their comfort zones and, indeed, so would the professional team, including myself.
Where did the concept come from and why the medium of theatre?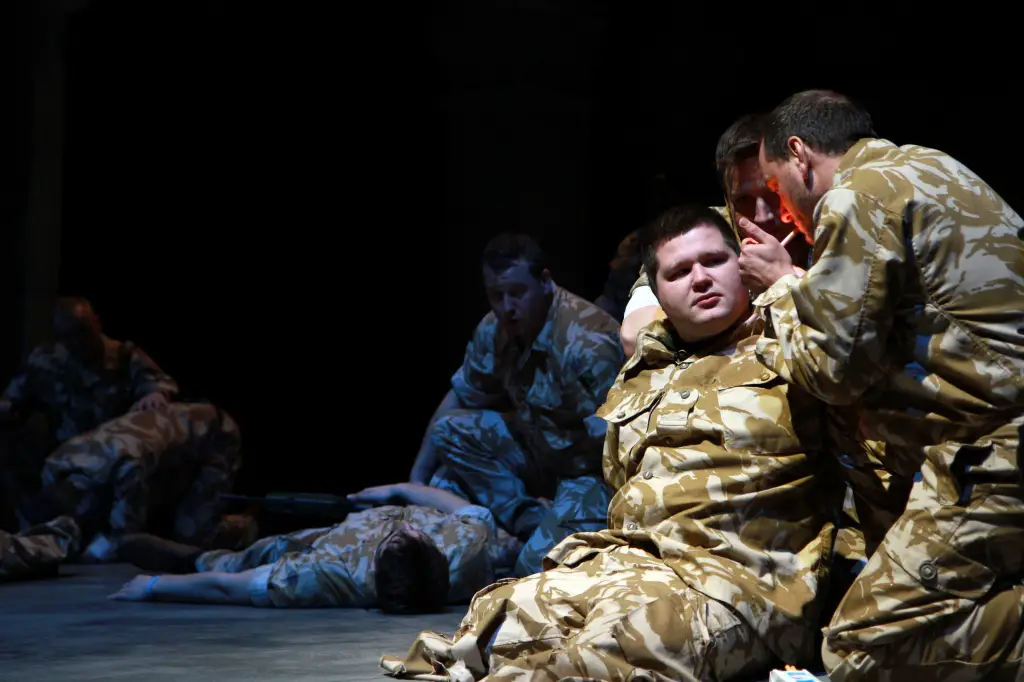 I have spent the last few years developing programmes at the Theatre Royal Haymarket Masterclass Trust (the in-house charity of the Theatre Royal Haymarket), whereby we work to inspire and assist young people by (alongside our other programming) helping them to create a show under professional guidance. This process has allowed me to gain a real insight into the impact of theatre. It can have a huge influence on someone's well being, their confidence levels and self esteem. It allows a participant to be a part of a team, to take risks and, particularly in this instance, to undertake a huge challenge.
By performing in a West End show, where the likes of Dame Judi Dench and Sir Ian McKellen have trodden the boards, it would show others – and the performers themselves – how they are capable of achieving anything in whatever path they choose. It is this self-belief that I want everyone involved in this project to keep and take away with them for the future.
What was the play about and who was involved?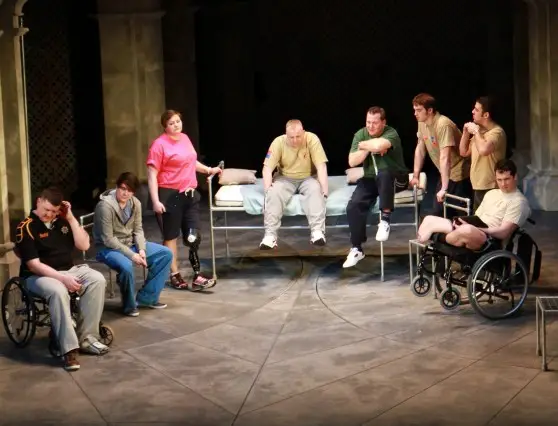 Author and poet, Owen Sheers, interviewed the cast of WIS service personnel, delving into their deeply personal experiences of their time in service, from signing up to the aftermath of recovering from injuries. Portraying this through the mixed mediums of monologue, video clips, harrowing re-enactments and touching comedy, the play goes some way to illustrate what really goes on for those service personnel left with injuries. Having Trevor Nunn support this project was hugely beneficial and he introduced me to Stephen Rayne, a fantastic director who has worked brilliantly with the company.
Why did you want the play to be based on their experiences?
This was absolutely key to this project and doing any old play wouldn't have worked. This project has been about giving this largely unknown community a voice and allowing them to tell their story. Also, by creating a play based on their experiences, it has given this group ownership of the process. Owen Sheers brought their words to life wonderfully.
What are your most memorable moments during rehearsals?
There have been so many! Some great, some incredibly stressful and some absolutely hilarious. It is wonderful to be able to see how people have developed and the amount everyone has improved. I have noticed individuals becoming calmer, managing their pain better, not only through medication but by communicating more effectively, coming to rehearsals everyday even when they have felt low.
What is the future for the Bravo 22 Company?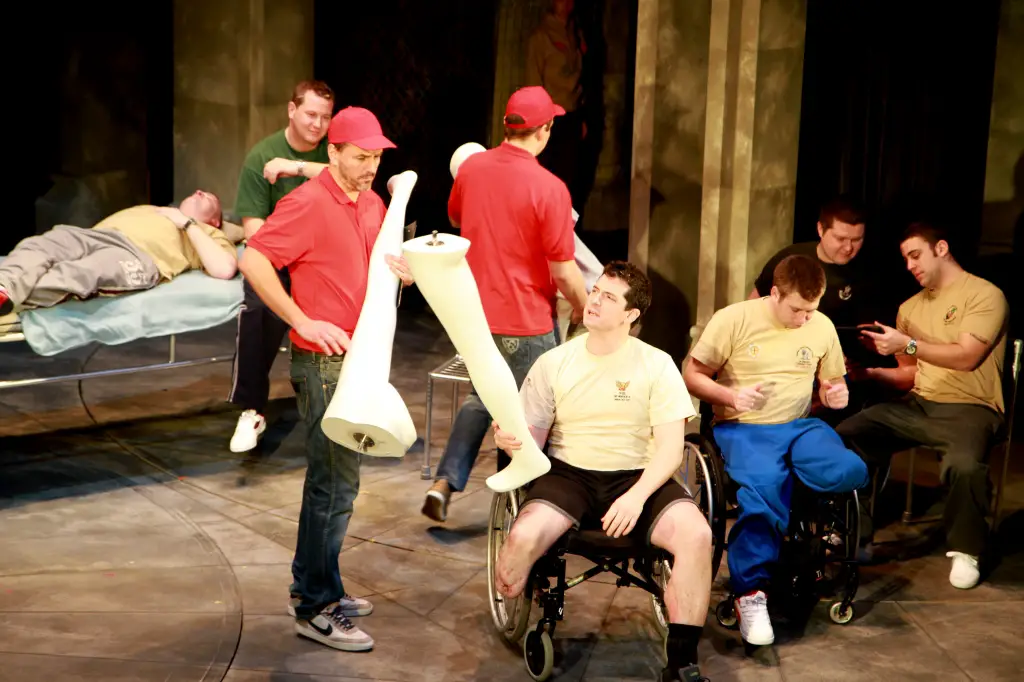 I believe the original objectives of the Bravo 22 Company have been achieved; providing WIS service personnel with a first class work experience, gaining new (and developing existing) skills and focusing on surpassing all their expectations.
But, most importantly, it has been about the positive future of all the service personnel involved. After this, as they carry on their rehabilitation and recovery or go out into in the world to achieve their goals, I hope they are feeling more positive about the future. I hope this has helped them to accept their injuries, and when they are thinking about what to do next or feeling a bit low, that they remember they were a part of this really special project and that they made it happen. Without their belief and determination we wouldn't be here today. They should feel immensely proud of themselves. I am incredibly grateful to them and it has been an amazing journey to go on.
It would be fantastic to work with other community groups in the same way as the service personnel, as the impact it has on the individuals taking part is incredible.
And I am pleased to confirm that The Bravo 22 Company will be going on a national tour this summer. The dates and venues will be announced soon, please visit the website for all listings.
See what the critics and actors had to say:
By Alice Driver
Inspired to work with a local community group and move out of your comfort zone? See our Entertainment section for more projects like this, or share your experiences with us by emailing editor@disabilityhorizons.com.
Also, check out the incredible story of how one amputee drove through 14 cities in 14 days to raise money for the British Limbless Ex Service Men's Association.
Join in the discussions by following us on Twitter and Facebook.