Disability Horizons reader, Judith Merry, went to the preview screening (last Monday) of the new film Rust and Bone, courtesy of Think Jam. Here, she tells us what she thought of the new film about love, passion and disability. 
As a proud self-declared "film buff", I jumped at the opportunity to review the new film Rust and Bone for Disability Horizons, especially as the preview was to be hosted in a glamorous hotel in London, opposite Liberty!
Often with cinemas, the accessibility to the seat and then transfer from my wheelchair can be a bit of a kerfuffle. But thankfully this time was smooth sailing – although I did have to use the side entrance – and I had a lovely spacious seat. If only all cinemas could be as accessible.
Typically a tall fella sat two rows in front of me, and as Rust and Bone is a subtitled French film, and I am of short stature I needed to move or I would have only been able to see the first and last word of each sentence. Giving my new carer, who I was training, a challenge, I transferred to the next seat. No mean feat in almost total darkness, but she rose to the challenge. So enough about me and on to the review of the film!
So, for a brief synopsis (from IMDB): "Put in charge of his young son, Ali leaves Belgium for Antibes to live with his sister and her husband as a family. Ali's bond with Stephanie, a killer whale trainer, grows deeper after Stephanie suffers a horrible accident." The accident leaves Stephanie with a disability, something that we see her come to terms with through the rest of the film.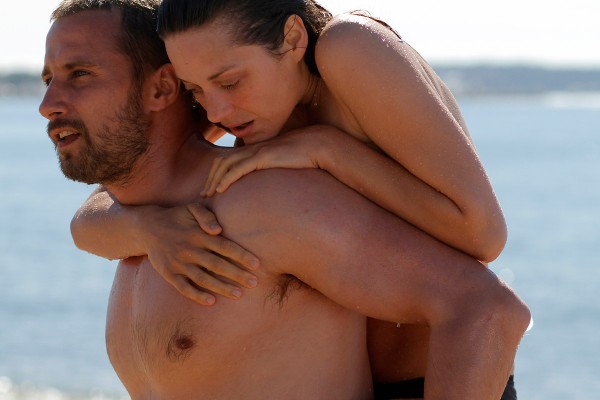 I found Rust and Bone to be a wonderful rollercoaster of emotions; passion, romance and sadness. Set in Antibes, the most south-eastern part of France, the setting was certainly no Cannes. Against a somewhat dismal, depressing backdrop, a beautiful and very poignant love story develops, enveloped in some very affecting music might I add.
The film, at just two hours long, allows enough time to get to know both characters, Ali (Matthias Schoenaerts) and Stephanie (Marion Cotillard), and to see them emotionally 'grow', both separately and together after a chance meeting at a nightclub. As they say, actions speak louder than words, and this film is certainly a testament to that with the gracefully shot camera work allowing the actors to do most of the work as the dialogue is often kept brief.
Marion Cotillard is an enthralling actress. Known for being a method actor, Marion said she wanted to think more about the character rather than researching the disability. Her approach made sure she could better understand how her character would transition from being able bodied to disabled, rather than creating a character based on the disability.
Stephanie is already a very independent, financially secure and strong woman. The accident does change her physically and emotionally. However, her financial stability enables her to adapt and live perhaps more comfortably and easily than most. She turns to Ali for company, starting off as friends. It is his no-nonsense treatment of her that injects some life back into her. Together they benefit each other with emotional and moral support throughout the film.
Ali is a 'hardened' character, appearing as sometimes brutish and emotionally stunted, especially towards his son and sister. Scenes with his family are a stark comparison to his very thoughtful and pragmatic treatment of Stephanie after her accident. He has a very refreshing reaction to disability; he just seems to take it all onboard in a very matter-of-fact way.
As their relationship develops there aren't any awkward moments and the sex scenes are handled and shown with practical finesse. This is a rare thing to see in films; sex scenes involving a main character who is female and disabled. The compasion shown in the treatment of the subject matter meant that at times I found Ali's character hard to understand and heartbreaking to see.
That's not to say I didn't enjoy the film; I loved it. It's a slow burner that pays off tenfold, and a subtitled film I forgot was subtitled.
Rust and Bone at its core is about raw human emotions; love, grief and survival. In the wrong hands – i.e. Hollywood – this loose adaptation of two of Craig Davidson's short stories could have been a slushy romantic comedy with disability being a stereotypical addition. But in the hands of renowned director Jacques Audiard, disability is only a part of a story about basic human emotions.
Rust and Bone is a romantic, albeit dark comedy with undeniable serious issues that only the French could do with panache. It had many hand-to-your-mouth tear-filled eyes moments, and I wasn't alone when I looked around the cinema room! Though not one of the cheeriest films, I would be more than happy to see it again and own it on DVD. Any film that portrays disability in a more positive way, rather than a sob story in mainstream cinema, is always a plus and deserves recommendation in my eyes.
Take a look at the trailer to get a taste for it yourself:
By Judith Merry
Seen any good disability-related films you think we should review, or would like to write about for Disability Horizons? Let us know about it by emailing us at editor@disabilityhorizons.com, messaging us on Facebook, tweeting us @DHorizons or leaving your comments below.