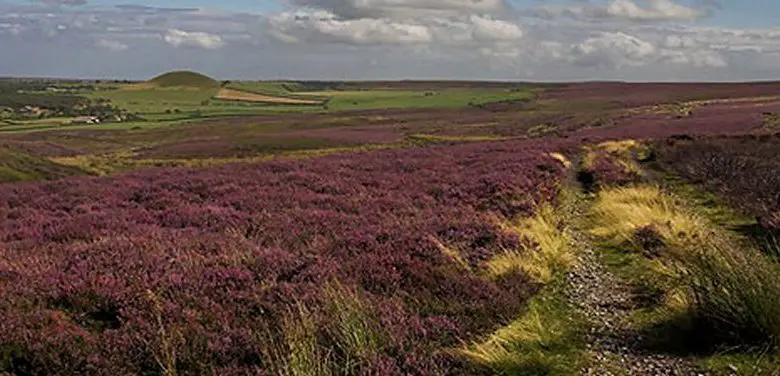 Looking to get away for one of the 2013 bank holiday weekends? Well, you're in luck as we've spoken to Steph Fairfoul, from Enjoybedandbreakfast.com (a small independent travel website showcasing bed and breakfasts and guest houses), about the top 6 accessible places to visit in Yorkshire!
Yorkshire, a.k.a 'God's Own County', is one of England's top spots for fresh air, good grub, English heritage and beautiful scenery. From the dales to the moors there is no shortage of walking routes for wheelchair users and plenty of accessible accommodation options, too.
Solely responsible for pork pies, Kit Kats and Bram Stoker's Dracula, there really is no excuse not to pay the area a visit.
---
Visit the Disability Horizons Shop to find portable mobility aids to make travelling easier.
---
Walks on the Yorkshire Coast
1. Robin Hood's Bay, Cleveland Way
Just 5 miles south of the popular seaside resort of Whitby is the small fishing village of Robin Hood's Bay. Renowned for its history of smuggling and pirates, these days, things are all together more calm and tranquil. Nestled in 109 miles of national trail through the Yorkshire coast and North York Moors, Robin Hood's Bay has some stunning views of the coastline.
This easy going walk (approx. 1.5km there and back again) starts out from the main car park in Robin Hood's Bay. A short journey down the road takes you to the Cleveland Way gate and a compacted limestone path. Following the path, you're brought out to a fabulous viewpoint with seating. From here, you can see how the coastal town is literally teetering on the edge of the cliff face, and entirely at the mercy of the sea's forces. Although a defence wall has been built to protect the cliff-side houses, it's guaranteed to give you the heebie jeebies!
For a detailed route map with gradients and photos see this PDF from Natural England's website.
2. Ravenscar, Cleveland Way
Ravenscar, another coastal village 10 miles north of Scarborough, is known as the seaside resort that never was. In the late 19th century plans were made to rival local Scarborough. Building works started but the developers went bust leaving a rather disjointed, but charming, little village nestled in the Yorkshire coast cliffs.
This figure of eight walk (approx 3km) has some of the best views along the coast where you can see miles up to Boggle Hole to the north, and Burniston Rocks in the south. The meadowland that reaches the cliffs is a haven for wildflowers in the summer, making the area incredibly picturesque.
Foxcliffe tearooms, accessible for wheelchairs users, are on the loop bag into town and a good spot for light refreshments on route.
For a detailed route map with surface descriptions and gradients see this PDF from Natural England's website.
Walks on the North York Moors
3. Esk Valley to Beck Hole
The Esk Valley and North York Moors is famed for having the largest area of heather moorland in England. Come late summer, the valley bursts into vibrant purple when the heather blooms. This medium effort 5km stroll follows the now disused Esk Valley railway line that used to run from Whitby to Pickering, taking you through fields and woodland and past old mining settlements. Chances are, you'll spot one of the North York Moor steam trains going past on route too.
The walk starts out at the Esk Valley car park and takes you alongside the Murk Esk to the small hamlet of Beck Hole. There is plenty of seating along the way making it perfect for a picnic and there are signs along route of the previously flourishing mining community that lived and worked here.
For a detailed route map take a look at this PDF of the route from Esk Valley to Beck Hole.
4. Sutton Bank and the White Horse
Kilburn's White Horse is one of the most famous landmarks in the North of England. The horse, cut in limestone, is humungous measuring in at 96m wide and 70m high and dates back to the 1850s. This meander is about 3km long and takes you from Sutton Bank visitor centre right up to the top of the horse and back again giving you plenty of opportunity to see the figure carved into the landscape.
The Sutton Bank visitor centre is worth spending some time in as well, either before or after your stroll. It's fully accessible by wheelchair and there are some mobility scooters and electric wheelchairs available to borrow. There is plenty of information on the area and a brand new wheelchair accessible view point offering sensational views of the area.
The walk itself takes you through heathland, woodlands and past some serious scar edges with some seating along the way.
For a detailed map of the route see this PDF of the walk Sutton Bank and White Horse guide.
Walks on the Dales
Wensleydale, better known as the valley of waterfalls and made famous for its cheese, is a stunning part of Yorkshire. There are a couple of short strolls you can do from the village of Hawes plus the Dales Countryside Museum and National Park Centre, which are both worth a look in.
5. Cotter Force
A short 500m stroll each way from an informal car park in the centre of Hawes will take you to Cotter Force, one of 12 picturesque waterfalls in the area. In a secluded wooded spot tumbling 2m this waterfall is well worth the wander down the path. The walk is rife with wildlife, so look out for long tailed tits and kingfishers on your way.
Another very short meander, but again well worth it, starting out at the church in Hawes. It follows part of the Pennine Way and the River Ure down to the Wensleydale Creamery. You should be able to see more of the waterfalls in the area on the stroll down. Don't be put off by the cobbles to begin with; after about 50m the path levels out and is less of a bumpy ride!
You can find accessibility information and route maps for the above strolls on the Yorkshire National Park website. But I'll be honest, Yorkshire Dales National Park Authority could do with upping their game on making the information far clearer and easier to decipher!
Certainly not a stroll, but since this is the only spot that has accessible toilets in Hawes, you might as well have a nose around whilst you're there. Housed in the old Victorian railway station, the Dales Countryside Museum tells the tale of the people, landscape and nature of the Yorkshire Dales (both past and present) with plenty of hands on and interactive exhibitions to explore. The museum is fully accessible by wheelchair. Again, visit the Yorkshire National Park website for a detailed access statement.
Where to stay in Yorkshire

Helme Pasture, on the outskirts of Harrogate, is a real rural retreat in the Nidderdale Valley, offering a choice of two new build Scandinavian-style lodges with awesome views out into the woodland. Wildlife is rife and this is a perfect spot for watching the natural world go by.
Both lodges have been rated by the National Accessibility Scheme (NAS) as suitable for part-time wheelchair users and have spacious open-plan living areas perfect for a group of friends of family. You can see the access statement for the lodges on the Helme Pasture website, or give Rosemary a call on 01423 780279.
Thornton Lodge Farm, in Easingwold, a short drive from York city centre, is a 4* farmhouse retreat not to be missed. With an award-winning Yorkshire breakfast to boot, there are 2 ground floor rooms (a twin and a double) both with private entrances that have been rated as suitable for part-time wheelchair users by the NAS.
The stonking breakfast is served in the sunny conservatory with views over the countryside dotted with grazing livestock.
Mel House Cottages, in Pickering, nestling at the foot of the North York Moors, offers 4* self catering accommodation graded by the NAS as suitable for independent and assisted wheelchair users. The cute and homely Mallard cottage (assisted wheelchair users) sleeps up to 6 with 3 bedrooms and an open-plan living area with fully equipped kitchen and wood burning stove.
The Swift Cottage, (independent wheelchair users) featuring exposed brickwork and arched beamed ceilings is a real country cottage to relax in. Sleeping up to 5, this cosy cottage is perfect for a gaggle of friends to enjoy the Yorkshire Moors from.
By Steph Fairfoul
Check out…
We want to make sure that all Disability Horizons readers have as much accessible information about their chosen destination as possible. So, if you have a trip to tell us about, get in touch by emailing us at editor@disabilityhorizons.com, messaging us on Facebook, tweeting us @DHorizons or leaving your comments below.