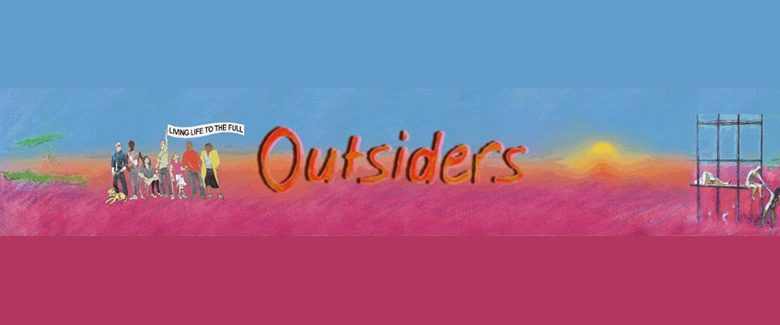 My name is Andy Crowe and on Monday 24th September 2012 at the Doodle Bar near Battersea Park, London, I took a step into the unknown and attended the Outsiders Annual Jamboree.
A few weeks prior to this, during a random internet surf of disability topics, the Outsiders website and, in particular, the work of Tuppy Owens, which re-sparked a current interest in a neglected area of my life: sex and relationships. Despite being a confident person, these are areas that I am not overly confident in, especially as I have received little to no counselling since my spinal injury at age 15 in 1985.
I am quadriplegic, severely paralysed from the neck down, a self declared disabled person, a manual wheelchair user and unable to self propel. I contribute fully to 'society's norm' – I go to work, pay taxes, have a varied social life etc, although all in my own unique way. However, I still often find my disability labeling and feel controlled by its inefficiencies. I therefore always seek a better-for-all life in most circumstances.
As my job involves giving advice, information and guidance to disabled people entering social care, my personal spare time is regularly spent reading and keeping abreast of useful and informative events which may enhance personal life skills. The Outsiders Jamboree came up – a chance to explore the subject of sex and disability, a topic often shied away from. User-led experience adds a voice to the debate, so, here is mine….
Having no idea quite what to expect from the day, I attended the Jamboree with a completely open mind. All I was sure of was that it would be different to the regular conversations that make up my own social normality. It did not disappoint. In addition to allowing me to gain new experiences, it offered the opportunity to perhaps find answers to questions about sex and disability that have been troubling me for over quarter of a century, a subject usually only debated with a chosen and close few!
The day offered members the opportunity to debate sexuality issues, problems and difficulties with relationships, as well as share tips on how they have managed to overcome them. Several members offered stories from their own experience in tackling their difficulties, what Outsiders has meant to them and how it has given them the confidence to move forward and find what they were looking for.
The erotic book sale offered also offered insight with all sorts of interesting reads, both instructional and fictional, all available at very reasonable prices.
But it wasn't all about sex! The afternoon had many events taking place at different intervals. I missed the cello performance, so the first one that I was able to take part in was the tactile fashion show. Almost twenty models of varying abilities, both male and female, circulated wearing very differing tactile costumes.
Each model was introduced whilst walking or wheeling along the catwalk and through the bar, allowing the audience to touch and feel the different materials and shapes of the costumes. Having little sensory feeling it felt very empowering to be offered the opportunity to touch some of the materials on my cheeks rather than on my hands. The models seemed aware that this was to be likely and in fact encouraged and embraced the idea.
The highlight of the day was without doubt the snail racing! It was highly amusing for both contestants and audience alike. Picture an open space of around 5m x 5m within a bare brick warehouse-style room. Between chairs, tables and the audience, lay a sheet of patterned polythene with a massive picture of all types of fruits, extremely colourful and bright, all covered in baby oil for lubrication.
The first contestants were busily prepared for their race, tightly wrapped whilst fully clothed in either cling film or black polythene. Once all leg and arm movement had been restricted, contestants were helped to lie face down on the polythene.
Dressed in white platform shoes, stripy socks, a shocking green/yellow-trimmed black dress with bright turquoise, and black snail shell accessories and a luminous blue cycle helmet, the race-starter squeezed on the air horn giving it a loud shrill to signal that the contestants were off.
Two male, two female snails (some with impairments) wriggled and wormed their way along the slippery course towards the Promised Land and freedom from their bounds!
The room was in fair hysterics and merriment as the contestants briefly struggled in this unusual and carefree game, after only a couple of minutes meeting their ultimate goal, the finish line, for an unwrapping and a good chat whilst recalling the experiences with newfound friends.
Since that day, I have found myself inspired to join the Outsiders Club, attend several events, in particular the London lunches on every second Saturday of the month, write this article and chat, making friends with several of the members.
It is amazing how previous strangers can all give each other support and friendship, and what a difference this can make. I have also become part of the sexual advocacy team which will, among other things, be advising disabled people on how to hire PAs and negotiate with them so that both can work harmoniously in regards to socialising and dating without causing offence or difficulty.
I'm looking forward to the next Jamboree on 5th August – check it out on the new Outsiders website, which includes online registration (free for the first month) and a state-of-the-art members area.
By Andy Crowe
Check out…
Visit our Relationships & Sex section for more articles on sex and disability, and remember to get in touch by emailing us at editor@disabilityhorizons.com, messaging us on Facebook, tweeting us @DHorizons or leaving your comments below.