Huw Thomas, winner of the Stelios Award for Disabled Entrepreneurs in 2011, shares with DH readers his experience of applying, getting to the top 10 and finally winning.

For those who have a disability and have set up a business in recent years, it is time to think about applying for the Stelios Award for Disabled Entrepreneurs 2013. That is what I did 24 months ago and I won £50,000 to develop and expand my business.
I established PROMOVE UK Ltd in late 2007, in partnership with a young friend, we planned to develop and market a new type of manual handling sling for disabled people. A coupe of years later I heard about the award, which is run by Sir Stelios and the charity Leonard Cheshire Disability. I applied and made it as far as the top 10. The process was a painless one; all I had to do was submit our balance sheets and plans for the future. But at this time, the top 10 was the end of the road for me.
By 2011, our business was showing signs of growth and there had been significant developments, so I decided to apply again. This time around I was more successful. Having reached the final three, I was interviewed at work by a really nice lady from the Stelios Philanthropic Foundation. I was then invited to London to be interviewed by Sir Stelios himself, and later the same day to attend a reception where the winner was announced. Meeting the other two finalists, Sir Stelios and his staff was a real pleasure and the experience alone made applying worthwhile.
My heart was in my mouth when Sir Stelios made the announcement that the award would be shared between Rob Smith and myself. And before the evening was over, there was another surprise in store for us – Sir Stelios had decided to award each of us £50,000. Certainly a measure of the man and of his immense generosity.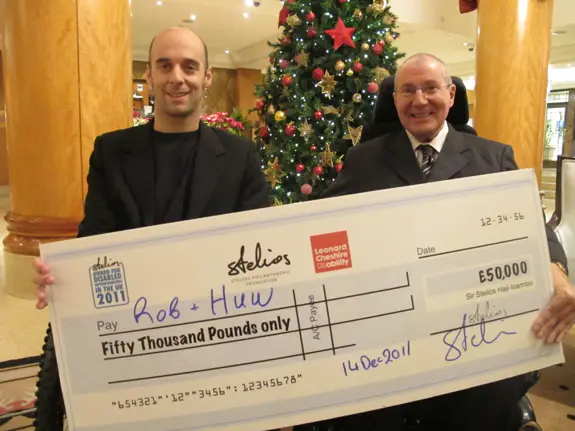 Winning this money meant that we were able to continue with our plans to expand the business, despite poor sales in the months that followed. The business is now on a much firmer footing, with sales in the UK showing substantial improvement, meaning that we are now exporting to Europe, North America, the Middle East, Japan, Australia and New Zealand.
Sir Stelios is one of the world's most successful entrepreneurs and is passionate about encouraging entrepreneurship. Through his Philanthropic Foundation he seeks to raise the profile of people with disabilities, highlighting their achievements and contribution to society.
I urge everyone with a disability who is running a business to enter the competition. The whole experience would be a positive one and someone is going to win £50,000 as a no-strings-attached investment in their business.
To download an application form visit Leonard Cheshire Disability or call 0845 671 7173. Alternative formats are available on request. The deadline is 25 October 2013, but don't wait until then. The sooner you get details of the application process, the better, as you will then have plenty of time to develop and polish your application. Good luck!
By Huw Thomas