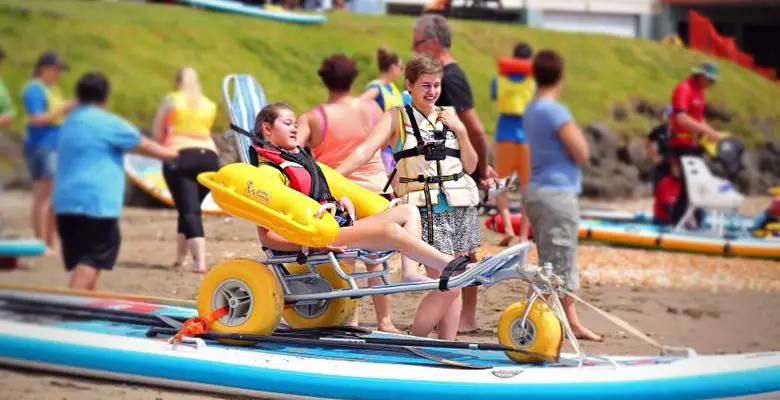 What do you get when you cross two free spirited girls from New Zealand, one wheelchair and one camera? Really wacky adventures, or as our project is named, Wheely Wacky Adventures. Our YouTube project aims to do two things: 1. To show people with disabilities that it is possible to get out there and live your life to the fullest, and 2. To show able-bodied people that a person's disability is not their defining point, and should not affect their ability to access everything that anyone else can.
My name is Leah and I met Alicia in 2012 when she started at the high school I was attending. I would never have guessed how alike it was possible for us to be, and what an amazing bond we would form. Alicia was born with spastic quadriplegic cerebral palsy and uses a wheelchair. Since 2012, I've gone from her maths tutor, to friend, to carer, to best friend and/or adopted sister (as we say).
Since we've known each other we've had a lot of adventures in just four years, including vertical bungy jumping, rafting, abseiling and parasailing. The idea for Wheely Wacky Adventures came from Alicia's Mum, Jo, who said that we needed a place and a purpose for the abundance of videos and footage we had compiled from our activities. So we made an introduction video for the YouTube project and started uploading more from there…
Wheely Wacky Adventures: the best so far
Alicia:
There are many adventures and experiences that stand out, but one of my favourites was our Fiji trip. Every two years my school goes there. Leah was going as an ex student, so we asked the teachers if I could come along too. They happily said yes, even though they knew it would not going to be easy with a wheelchair. That trip made me realise how lucky I am to live in an accessible country like New Zealand. Although it wasn't always accessible, the Fijian people were so welcoming and friendly, and happy to help, which was lovely considering wheelchairs are not a regular sight there.
Leah:
My favourite adventure together was just recently actually! We went to the World's Biggest Waterslide at Jonker's Farm in Auckland. We'd been in touch with the guys that run it and they were super happy to have us come along. They were really accommodating and arranged a 4×4 to get Alicia back up the hill each time she went down the slide. My favourite thing about the event was that it is a charity event for mental health. All of the proceeds go to Live More Awesome, who we support whole-heartedly.
Check out our video from the day…
Wheely Wacky Adventures: the worst so far
Alicia:
The worst adventure we've experienced was our trip to Dreamworld in Brisbane. My best friend used to live over there and she told me that it's a fantastic theme park because it has the most adventurous rides. We thought the rules would be the same there as they are at our local theme park in Auckland, which is basically ride at your own risk, so we didn't do much prior research. But we soon discovered that I wasn't allowed on most of the rides, only a few of the kids ones.
The rules are like they are because the manufacturers of the rides don't want anyone to be able to blame the park if something bad happens. But because every disability is different, we believe they shouldn't lump people together into one giant category of people who cannot ride. I think it should be considered on a case-by-case basis.
It was particularly frustrating to not be allowed on the same rides as I have been on at home in New Zealand. We were really disappointed, but at least now we know for next time. It means we can also help other people by letting them know about our experience, as well as talking to the companies involved and trying to find a workable solution.
The inspiration behind Wheely Wacky Adventures
Alicia:
We want to use the project is to change societies' perceptions of disabled people. We want people to know that we are not vegetables and that they can talk to us like anyone else. Through our adventures we are able to show people the bond between Leah and I, and that I am able to do things that able-bodied people can do.
I also don't want to look back on my life and ask myself why I didn't do more just because I am in a wheelchair. I think this is the same for a lot of people.
Leah:
Obviously for me, my biggest inspiration is Alicia. Without her I would have never had the chance to live such a fun and full life. I'm not your typical 20-year-old student – I'm not much of a party animal, so I get my thrills doing these crazy activities with Alicia! It's also through Alicia that I've learnt more about people from all different walks of life. Now when I see a person in a wheelchair at the mall I don't try and avoid eye contact or ignore them, like so many people subconsciously do.
The hopes for Wheely Wacky Adventures in the future
Alicia:
I hope to help and inspire people to live more exciting lives. In just four months we have grown to have a following of around 500 people and we've had more than 12,000 video views, which is so cool considering how new the project is. Our ultimate goal is to be invited to try new things out so we can show our followers how accessible places are. We hope to become better known internationally and to help people in similar situations to mine to find things that they can do.
Leah:
I hope that Wheely Wacky Adventures continues to grow its audiences and that above all, those who need our videos find them. One of my favourite parts of running a social channel is the messages that we receive saying that we inspire other people and make them want to get out there and do more.
Advice if you're travelling with a wheelchair
Alicia:
My advice to people traveling with a wheelchair is to not feel like you have to do everything on your own. You can ask people for help, even if it is something as simple as pushing the trolley at the airport. When people ask you for help, accept it because it will make your life much easier. They would not ask if they did not want to help!
My other piece of advice would be to research before you go places. There is nothing worse than arriving somewhere and finding out it is not accessible. For the times when that information is not available, approach the new experience with an open mind. Rather than be disappointed if you find it doesn't work for you, don't be afraid to talk to the management and let them know your needs to see if they can help now or to make sure they consider accessibility for the future.
You can find out more about Wheely Wacky Adventures YouTube and Facebook.
By Alicia and Leah
We want to make sure that all Disability Horizons readers have as much accessibility information about their chosen destination as possible. So, if you have a trip, whether a holiday or to a night at a music venue, get in touch by emailing us at editor@disabilityhorizons.com, messaging us on Facebook, tweeting us @DHorizons or leaving your comments below.