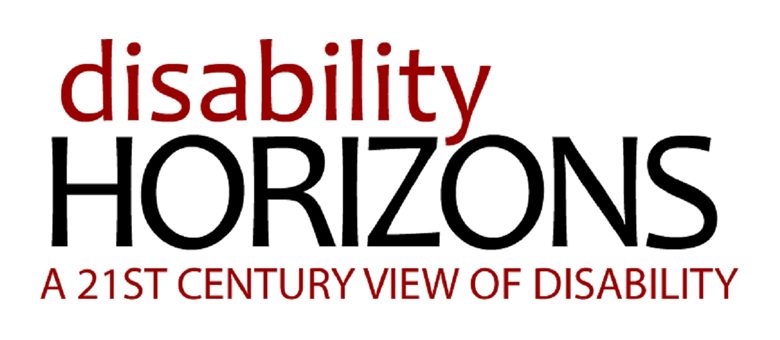 Christmas Day is done, the turkey has been eaten, the presents have been unwrapped and you're probably feeling stuffed and sleepy from eating too much food. Why not, therefore, sit back, relax, and take a look at some of Disability Horizons' favourite articles from 2013.
At this time of year, it's customary to look back at the one just gone, and reflect on what's happened. For Disability Horizons, it's meant an expanding team and community of great readers, who do more and more to not only keep Disability Horizons alive, but to really bring it to life.
Besides our amazing readers, our other crowning glory is our articles. It's not been easy to narrow down twelve months' worth of articles, with two a week that's 48. We're always wanting to cover a range of topics close to our readers' hearts, that excite, intrigue, inform or make our readers laugh, we hope these articles below will show you what we've got, and what's more to come in 2014…
From a stage in Luton to a movie set in LA
Comedian and writer Spike Breakwell, who uses an electric wheelchair, talks to Disability Horizons about his chance to jet off from the comedy stages in Luton to appear in a Hollwood film named Bad Reception.
Disability and the media: free speech is everything
Comedian and blogger Ted Shiress, who recently wrote for us about disability and using escorts, talks about the media and his desire for free speech.
The Last Leg: behind the scenes with Alex Brooker
Have you been watching The Last Leg? We've been talking to Alex Brooker, one of the three dynamic presenters giving a humorous spin to the week's news.
Becky Adams: disability and sex at Para-doxies
By now it's likely that everyone has heard of ex-Madam Becky Adams, who runs a not-for-profit organisation specifically designed for disabled people to fulfill their sexual needs. But where did this all begin? Tuppy Owens, owner of Outsiders, a club where members can discuss sex freely, recently met up with Becky to find out what inspired her.
The List: influential disabled people in modern Britain
John Pring, who provides us with our weekly news round-up, has created The List, a breakdown of influential disabled people in modern Britain. And guess who features on the list… dynamic duo and Disability Horizons Co-editors, Martyn Sibely and Srin Madipalli! Here's how John devised The List.
Motion: stylish accessible interiors
Let's face it, accessible bathrooms, or accessible interiors in general, can sometimes look a little clinical? Well not if they're installed by Motion, a company that specialises in beautiful home renovations to support independent living. Earlier this year, co-founder of Motion, James Taylor, told us about how becoming disabled inspired him to create this accessible interior design company. Here, we hear the story of amputee Scott Blaney, who commissioned Motion to create a new accessible wet room.
Paralympic Games: keeping the flame burning
Co-editor Martyn Sibley is taking up the mantel from last year's Paralympic Games as Britain's Personal Best launches to help keep the spirit of 2012 alive. Here he announces his greatest challenge ever…
We need more disabled women on TV
How many disabled female characters in movies or on TV can you count? Probably not a lot, and especially not ones that are strong and modern woman. Well we need more in the public eye, so we've spoken to actress Shannon Devido about her new film, Good Beer, with, you guessed it, a strong and disabled female lead.
Q&A with record-breaking blind motorcyclist Stuart Gunn
Blind motorcyclist Stuart Gunn, the fastest disabled biker on the planet, talks to Disability Horizon's Zubee about his love of bikes, and how his vision impairment doesn't limit his thirst for speed.
Q&A with Rick Edwards: the Paralympics and beyond
Disability Horizons contributor Margo Milne talks to TV presenter, Rick Edwards, co-host of That Paralympic Show and much of the coverage of the London 2012 Paralympic Games, about disability sport and beyond.
The wonders of technology and accessibility
Technology and gadgets are developing and changing all the time, and the advantages they can bring are awesome. But not everyone can access these tech devices easily. Enter Dr John Dingley who has created a number of solutions for products, from a music player to an e-book page turner.
Deaf and volunteering alone in Africa
Disability Horizons contributor Zubee talks to Colleen McGilpin about being a deaf volunteer helping animals in Africa, and how taking on this adventure on her own meant never giving up on her dreams.
By Disability Horizons
Want to see an article written by you in 2014? Then get in touch by messaging us on Facebook, tweeting us @DHorizons, emailing us at editor@disabilityhorizons.com or leaving your comments below.