Tenerife is the second most visited destination, after Florida, for people with reduced mobility, with thousands of visitors every year. So Louise Brace from Spain-holiday.com had high expectations as to what was on offer, and the island doesn't disappoint. 
Tenerife's Government is well versed with providing accessible tourism after establishing the organisation, the Society for the Promotion of Disabled People on the Island (SINPORMI), in 1993. The organisation works to create a completely barrier-free society. Their objective: to create the European reference for accessible tourism and culture.
Tenerife has classified all of its facilities and services into three classifications, which visitors can refer to for sightseeing attractions, leisure facilities, buildings, transport, restaurants and more.
Accessible: It fits the functional and size requirements which guarantee independent, easy use by those with a disability, mobility issue or communication impediment.
Practicable: A space, facility or service that doesn't match all requirements to qualify as accessible, but it can be used by those with a disability, mobility issue or communication impediment, with the aid of another person.
Inaccessible: A space, or facility, which is considered inaccessible for visitors with a disability, mobility issue or communication impediment
Around Tenerife
Arona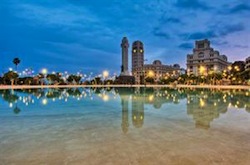 The municipality of Arona covers the southerly resorts of Los Cristianos, Playa de las Américas, Las Galletas and the Costa del Silencio, as well as the city itself, Arona – it has won an award for its accessible beach facilities.
Arona has developed the Integral Accessibility Scheme initiative, covering all types of facilities and services and eliminating architectural barriers in public walkways, public and private buildings, transport, telecommunications and leisure and tourism facilities.
Thanks to ongoing initiatives to create architectural barrier-free towns and cities, main resorts such as Playa de las Américas and Playa de los Cristianos now have a number of obstacle-free public walkways.
Santa Cruz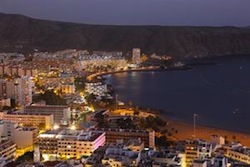 The capital city of Tenerife, Santa Cruz de Tenerife, is jam-packed with cultural, shopping and sports attractions; there's plenty to do for visitors with disabilities. The city's wide promenade-style walkways, plazas, open-space gardens and parks, and museums are for the most part accessible. As are the three sightseeing buses, should you want to see the city at a glance.
Accessible transport in Tenerife
The Universal Accessibility certification scheme allows credit to be given to an organisation that is delivering a system that guarantees the same accessibility opportunities to everyone, regardless of age or disability, so it's worth looking out for this.
Tram: Tenerife's public tram system was the first in Spain to be certified as offering Universal Accessibility. It's barrier-free from the information points, to selling tickets, to transporting passengers. The Tranvia Metropolitan tram system is available in both the north and south of Tenerife. The tram floors and exits are of identical heights to the access from the road and there are reserved spaces for wheelchairs.
Buses: The urban bus company Titsa provide low-floor and kneeling buses with continuous floors and electric ramps, as well as buses with hydraulic wheelchair lifts. The three sightseeing buses in the capital, Santa Cruz de Tenerife, are all accessible.
Airports: All of Spain's airports comply with the European Parliament regulation EC1107/2006 and operate an assistance service for travellers with disabilities. If you require a service you should book it with 48 hours notice. When you arrive at the airport you should either go the agreed meeting point, or alternatively find one of the Sin Barrera sensory intercom stations and call for help. For further information visit the Aena website.
Taxis: There are several taxi companies that offer vehicles with access ramps for wheelchairs. A list of options can be found on the Tenerife Accesible website.
Car Rentals: There are two companies on Tenerife that offer specifically-adapted cars for wheelchair users:
Rent-a-car Hermanns in Los Cristianos
Canary Island Car have offices in the north and south and in Santa Cruz de Tenerife.
Best resorts for transport: Santa Cruz, La Laguna and Puerto de la Cruz
Beaches
Thanks to the collaboration between Sinpromi and the island's local councils, Tenerife's beaches are extremely well-equipped and barrier-free to all visitors. The region of Arona especially, has won an award for its accessible beach facilities.
Los Cristianos boasts Europe's largest barrier-free pedestrian sea promenade, which runs for seven kilometres. Its beach is completely barrier-free with accessible walkways and routes, wooden fixed and roll-up pathways, entrance ramps (6%), accessible toilets and changing rooms, aquatic chairs and crutches, sea accompaniment and amphibian wheelchair services.
Tenerife's beaches offering accessible facilities: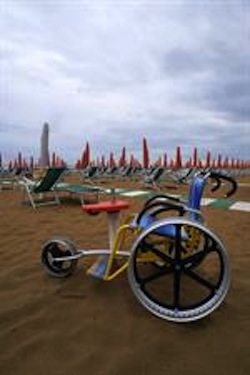 Arona – Playa de las Vistas, Playa de Los Cristianos
Adeje – Playa de Troja, Playa de Torviscas, Playa Fañabé, Playa el Duque
Arico – Playa de El Porís
Granadilla de Abona – Playa de El Médano
Guía de Isora – Playa San Juan
Icod de los Vinos – Playa de San Marcos
Los Realejos – Playa de El Socorro
Puerto de la Cruz – Playa Jardín
Santa Cruz de Tenerife – Playa de Las Teresitas
Santiago del Teide – Playa de la Arena
Cultural Activities
Tenerife has a long and remarkable history and it's worth delving into the island's historical and natural history archives when you visit. There are several museums in the island's capital of Santa Cruz de Tenerife, which have been adapted for all visitors:
Museo de la Naturaleza y el Hombre (Natural History Museum)
This museum takes you right back to 200 BC when the island was first inhabited by the Guanches. The museum is divided into two main areas of study: Natural Sciences and Archaeology.
It's fully accessible, with supported facilities for blind and deaf visitors, including sign language guides, with connections to an induction loop, audio-guides with audio description for the blind, and information guides with oversized lettering and braille.
All of the installations in the museum are accessible, including permanent exhibitions, restaurants, toilets, lifts, etc. But you will need help to use the car park. There are also wheelchairs and pushchairs on loan.
TEA Tenerife Espacio de las Artes (Tenerife Arts Centre)
The centre opened in 2008 and has become a reference for modern art in the Canary Islands. It houses both permanent and temporary art and photography exhibitions. The building itself is a work of art and absolutely worth a visit.
The centre is accessible and there is wheelchair access to all galleries and levels, children's library. There are also accessible toilets in some zones, but not in all. The shop is practicable and the cafe inaccessible.
Auditorio de Tenerife Adán Martín
This uber modern structure is the architectural symbol of the Canary Islands. It's not fully accessible, but you couldn't visit Santa Cruz de Tenerife without paying homage to its architectural brilliance. There are fully adapted walkways and access points, including the lift from the car park. However, most of the auditorium is practicable i.e. accessible with help.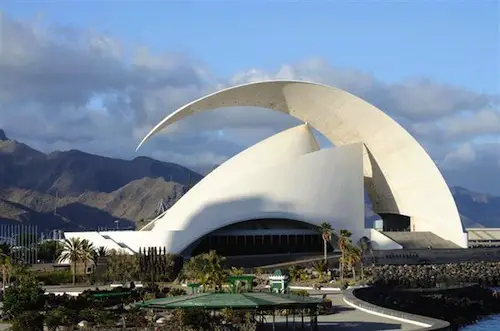 Outdoor & leisure activities
Having a disability doesn't mean you have to miss out on some of the island's best leisure excursions and sports activities, as Tenerife's tourist board and local sports projects have worked together to make accessible trips to even the most inaccessible places.
Teide National Park
There is one completely accessible route – Roque de Caramujo Path. Within it, the Alto de Guamazo path is practicable i.e. it's accessible with the help of a friend or guide. There are several practicable viewpoints, and the botanical gardens, plus the visitors centres are also practicable.
Tenerife's natural routes and paths
A holiday in Tenerife doesn't have to stop at the beach and day trips to the coastal resorts and capital. Aside from a trip to the Teide National Park, there are several recommended routes, which take you through some of the island's most stunning and natural landscapes.
One that has a fully accessible route is the Sendero de Agua Garcia. Situated in the Agua Garcia forest in the region of Tacoronte, you'll find this fully adapted pathway to 850m.  There is an average slope of 6% gradient and five resting spots. Thereafter the rest of the pedestrian route is practicable, as is the car park.
And you don't have to stop there. There are 43 natural protected areas in Tenerife and there is one association working to make them accessible for all. Montaña para todos organises group hiking expeditions for enthusiasts utilising a Joélette all-terrain chair.
You will need to book your space, as the routes are extremely popular. Most excursions include transport and insurance. It's also possible to book a private excursion, which can be adapted to your needs. You will need to make your own way to the meeting point, equipment and insurance is included in the cost of the trip.
Whale and dolphin watching
The waters around the Canary Islands are home to many species of whale and dolphin, including Pilot Whales and Bottle Nose Dolphins. Boats leave from the port in Los Cristianos, Puerto Colón and the Puerto de los Gigantes (Santiago del Teide), where the cliffs soar up to 600 metres. The scenery is spectacular and to be in the presence of a whale is one of the most awe-inspiring experiences. The spotting boat trips are practicable.
Details can be found about the charter trips on the SINPROMI brochure. There is a link to the brochure below in the Recommended Reading section.
Sports for all
Swimming, tennis, archery, athletics, fencing and basketball, are just some of the activities offered at Ademi Tenerife, a sports association for the sports people with disabilities, situated in Santa Cruz de Tenerife.
Shopping
Most of the island's shopping centres are practicable, offering adapted access points, ramps and lifts. The El Corte Ingles department store in Santa Cruz de Tenerife is fully accessible, with adapted toilets, restaurants, lifts to all floors and access to parking.
In conclusion, Sin Promo and the Tenerife Island Council are achieving important landmarks in making the island completely barrier-free and 'the' reference, not just in Europe, but on a global-level, in accessible tourism.
Recommended reading
Guide to Accessible Tenerife from SINPROMO
Tenerife's accessible tourist information website
Barrier-free tourist guide to Arona (this takes a while to download, but it's worth it, as there's heaps of information on beaches, attractions, restaurants and more).
By Louise Brace from Spain-holiday.com
Check out…
• Accessing Centre Parcs
• Accessibility in Dubai: the good, the bad and the ugly
• Deaf and volunteering alone in Africa
Get in touch by messaging us on Facebook, tweeting us @DHorizons, emailing us at editor@disabilityhorizons.com or leaving your comments below.