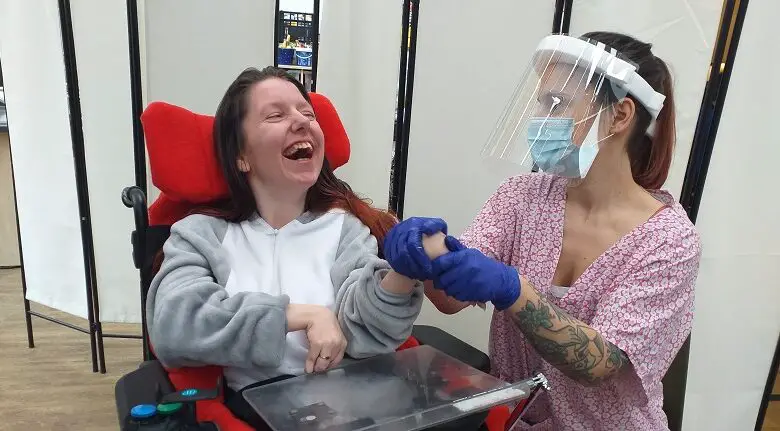 News
Leonard Cheshire reveals funding gap for vital PPE to protect against Covid-19
As new strains of Covid-19 start to spread across the UK, disability charity Leonard Cheshire has revealed a severe funding gap for life-saving protective equipment at its services for disabled people, prompting it to launch an emergency PPE funding appeal.
The more infectious strains of Covid-19, and a sharp rise in numbers of cases mean that we need more personal protection equipment (PPE), as well as increased infection control measures to protect staff and residents across our services.
We support 14,000 disabled people through social care and our community programmes. In addition, around 2,700 disabled people live in our 120 residential and supported living services.
The pandemic has disproportionately affected disabled people across the UK, who often have underlying health conditions and are particularly at risk during this time, so the need to provide enhanced protection has never been more critical.
The cost of PPE
Our additional costs of protecting frontline staff and residents has been immense, with spend on PPE this year to be in excess of £6 million, 20 times more than pre-pandemic levels.
Vast amounts of PPE is continuously needed to keep people safe. An average of 52,000 face masks and 2,500 protective gowns are among the items required every week across our services, in addition to increased infection control measures; cleaning, sanitation and protective screens.
Our successful programmes that support disabled people in communities could now be under threat as a result, with the need to draw on other charity resources to meet unfunded Covid-19 costs from its services in England.
The UK Government is providing some PPE funding to help services in England combat the virus, but with continuing and escalating requirements, a fifth of PPE costs and half of our Covid-19 related costs in England are having to be met by charity funds, around £240,000 per month above monies received*.
Government-provided free PPE is restricted and does not meet the total volume needed. Even after the vaccine becomes available at residential services, PPE use will still be a necessity for the foreseeable future, until the end of the pandemic crisis.
Covid-19 emergency PPE appeal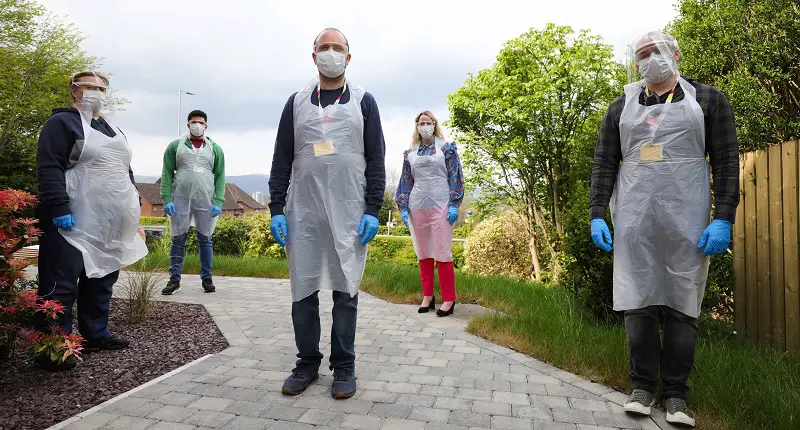 We are asking the public to show its support for frontline staff and residents in the weeks ahead, during what could be some of the darkest days of the pandemic. Our emergency appeal will run across national television and digital channels to raise awareness of the shortfall in funds.
Lyndsey Swarbrick, Service Manager at Greenhill House in Somerset said: "All the staff at Greenhill House have been heroes and the last 10 months have tested us all.
There is perhaps some end in sight but the risks from Covid-19 remain severe and will challenge us daily for a long time yet.
The amount of PPE we get through is astonishing but essential as we pull together to keep people safe. Please get behind services like ours and the charity's fundraising push."
Hugh Fenn, Managing Director of UK Community Services at Leonard Cheshire said: "New restrictions and pressures created by the latest pandemic strains mean there's little respite for us at the frontline.
Despite that, our staff have achieved some remarkable things and continued to deliver an extremely high standard of care. The safety of staff and the people we support is our top priority as always.
Although vaccinations are starting, this pandemic is far from over and we are facing our most difficult months yet as a charity.
Our ability to support disabled people in the months ahead is being undermined by our urgent response to the pandemic and the continued costs of providing essential PPE. We urgently need the public's help during this time."
You can help to support our PPE appeal by donating one-off or signing up to give a monthly amount. 
You can also find out more about how we support disabled people in the community through our employment, skills and voluntary programmes.
By Leonard Cheshire
*The £241,000 per month comprises £108,000 on PPE, as well as other Covid-19 related costs including infection control measures until March 2021.
More on Disability Horizons…